Title: Jane Unlimited
Written by: Kristen Cashore
Published: September 19, 2017 by Kathy Dawson Books (Penguin Group)
(
Amazon
/
Goodreads)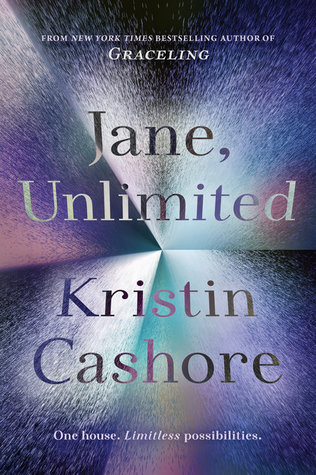 Synopsis: Jane has lived an ordinary life, raised by her aunt Magnolia—an adjunct professor and deep sea photographer. Jane counted on Magnolia to make the world feel expansive and to turn life into an adventure. But Aunt Magnolia was lost a few months ago in Antarctica on one of her expeditions.
Now, with no direction, a year out of high school, and obsessed with making umbrellas that look like her own dreams (but mostly just mourning her aunt), she is easily swept away by Kiran Thrash—a glamorous, capricious acquaintance who shows up and asks Jane to accompany her to a gala at her family's island mansion called Tu Reviens.
Jane remembers her aunt telling her: "If anyone ever invites to you to Tu Reviens, promise me that you'll go." With nothing but a trunkful of umbrella parts to her name, Jane ventures out to the Thrash estate. Then her story takes a turn, or rather, five turns. What Jane doesn't know is that Tu Reviens will offer her choices that can ultimately determine the course of her untethered life. But at Tu Reviens, every choice comes with a reward, or a price.
.
This book totally blew me away. With everything going on in my life I wasn't sure if I was going to read it and honestly I was perfectly fine with skipping it this month. Then I saw some rave reviews and that the audiobook was narrated by Rebecca Soler and I had to listen. And I am so glad that I did because it was seriously amazing.
Probably the most fantastic thing about this book is the writing style. It's not your typical style book and I can honestly say that I have never read a book like this before. For one thing, it is written in third-person present. Those two together made for a very interesting read. It took some getting used to but once I did, I was really engaged. At the end of this book in the author notes section Cashore says that she originally wrote this to be like a Choose Your Own Adventure kind of read and it totally has that feel to it. But it's even more unique than that.
The other really interesting thing about this book is the plot. I wasn't entirely sure what it was about when I picked it. The synopsis mentions a mysterious house which I am on-board for but that was all I knew. And I'm glad that was all I knew because then I was pleasantly surprised by the direction this book went in. I don't want to give too much away but just know that it's incredibly complex. It takes more than one different genre and combines it into something all its own and totally engrossing. I mean there is one reveal towards the end that had me totally floored in the best possible way. I really loved the plot of this book, it was full of surprises.
The characters you were full of surprises. I can't say too much about them because that might spoil the big reveal but the bulk of the characters were very interesting. It's a book that is full of quirky and weird characters but I loved that about it. They were all pretty eccentric plus they all had their own secrets and were complex in their actions and motivations. It made for even more mystery to the book than the plot provided. The one character I do want to talk about is Jane. Just like all the secondary characters she is quirky and complex. I mean for one thing she makes umbrellas. But she still felt really grounded. Jane is the audience surrogate and she was a really interesting one. I felt like I could connect with her but still found her interesting. She was just one of the many complex and interesting characters in this book.
My one main criticism is that I think it took some weird turns. Towards the end it shook things up again and it seemed a bit too late for that in my opinion. I think there was a lot to really like with the plot and the pacing but there was also just a lot. I would have been okay if it had just focused on a few different things rather than doing as many as it did. Plus it's just generally a very weird book. I can see it being one of those either you love it or you hate it kind of reads.
But I think I made a great choice by picking up the audio for this one. I am a huge fan of Rebecca Soler as a narrator and she did a great job with this book. She captured Jane's curiosity and indignation really well as well as the other characters who came from all different walks of like. Plus she did a great job at capturing the magic and mystery of the book. If you like audiobooks I think this one is worth a listen.
But in general I think you should read this book. It was not at all what I expected because it was so much better. It is one of the most unique books I have read in a long time for many reason.
I give Jane Unlimited by Kristen Cashore 9.5 out of 10 stars
Buy/Borrow/Bypass

: BUY!
Definitely get your hands on a copy of this book. It is totally worth your time, If you are looking for a book unlike anything you have read before that will surprise and entertain you, this is that book. And as I said before, audio fans should definitely listen to this one.
Have you read Jane Unlimited? What did you think? Leave me a comment with your thoughts. Thanks for stopping by and HAPPY READING!