Read in November:
Magical Realism
So this will come as no surprise based on the fact that I have only been posting about twice a week this month but it was a rough month for reading. I still haven't had much time to read but I do feel like I am getting back on track not that the month is over. I mean I posted four times this week. That's pretty good! Anyways, I read a total of 8 books this month. Most of them were pretty good read, it's just that it took me much longer to read them than expected.
For challenges, I am doing okay but not as well as I would hope on some of the individual challenges I have official finished my Goodreads goal of 120 books for the year and am feeling good about being ahead. I wanted to finish it this month and I did just that.. But I will definitely finish it in November. I was on track for the
Debut Author Challenge
of 25 debuts, but this month I only read 1 debut, making my total for the year to 20. With the rate I'm going I would have to read only debuts to meet this goal and that isn't happening. For the
Netgalley/Edelweiss Challenge
, I read 3 book this months which makes my total to 34 for the year. My goal is 36 which I can totally do. I so got this. For the
Rock My TBR Challenge
I didn't read any books for that this month towards my goal of 25 for the year bringing my totally up to 12 for the year. I'm definitely not meeting this one. Oh well, you win some you lose some. But either way, here are the books.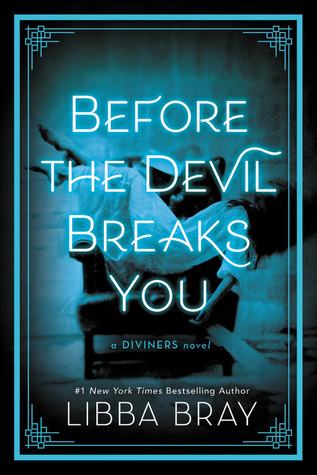 1.) This Mortal Coil by Emily Suvada
Rating: 7.5 out of 10 [
My Review
]
2.) Silent Night by R.L. Stine
Rating: 8 out of 10 [
Podcast Review
]
3.) Renegades by Marissa Meyer
Rating 8 out of 10 [
My Review
]
4.) Runaways Vol. 5: Escape to New York by Brian K. Vaughn
and Adrian Alphona Rating: 9 out of 10
5.) The Empress by S.J. Kincaid Rating: 9 out of 10 stars [Review to Come]
6.) Before the Devil Breaks You by Libba Bray
Rating: 9 out of 10
[
My Review
]
7.) Invictus by Ryan Graudin
Rating: 9.5 out of 10 stars [My Review]
8.)
Artemis
by Andy Weir
Rating: 9 out of 10 stars
To Be Read in December:
Read This Already!
Once again, I am hoping to have more time to read in December but I really doubt it. Plus my plan is to take this month to read all the books I wanted to read for the year but didn't have the time to read. So it's like my catch up month which I am actually kind of excited about.
Forest of a Thousand Lanterns by Julie C. Dao
-
Add to Goodreads
I read the first chapter of this ages ago when I was trying to decide what to read next and I never finished it. I need to stop waiting and actually read it
What has taken me so long with this book? I loved the first book in the series. I got a copy at ALA and yet I still haven't read it. This month for sure.
My friend Michelle let me borrow this book back in September when I was doing a historical mystery month and it's so up my alley. But I haven't read it yet and I really need to. So I can return it.
Mask of Shadows by Linsey Miller
-
Add to Goodreads
I have heard really good things about this book and I really wanted to read it but I haven't yet. I think maybe I can read it as one of my e-books this month
The Inevitable Victorian Thing by E.K. Johnston
-
Add to Goodreads
This is a book by an author that I wanted to read more from. I loved her first book I read and this one sounds super fascinating but I haven't taken the time to read it yet so maybe this month is the time.
You Don't Know My Name by Kristen Orlando -
Add to Goodreads
I had received an e-ARC of this book like a year ago and despite the fact that I love a good mystery and spy story I have not yet read this one.
Hiddensee by Gregory Maguire -
Add to Goodreads
I am a big fan of Gregory Maguire and all of his books. I picked this one up at ALA and it had been completely abandoned like some schmuck didn't even know what they had. But I've been saving it for Christmas time because it's a Nutcracker retelling.
Genuine Fraud by E. Lockhart
-
Add to Goodreads
And once again, a book from an author that I liked and wanted to read more books from, and a book I got at ALA and wanted to read that didn't get a chance. Are you noticing a trend? Just wait.
The Afterlife of Holly Chase by Cynthia Hand
-
Add to Goodreads
Speaking of Christmastime, this is A Christmas Carol retelling and it sounds really amazing. I just got this in the mail from my TBTB Secret Santa and like I'm practically reading it immediately.
The Hate U Give by Angie Thomas
-
Add to Goodreads
No body freak out, but I still haven't read this book. But I was waiting until some of the hype died down and now that they year is coming to an end I really want to take the time so it's in the debut year at least.
Imprudence by Gail Carriger
-
Add to Goodreads
I planned to listen to the audiobook for Imprudence ages ago and I haven't yet. I'm making it my priority. I even just bought the audiobook so I have no excuse.
A Madness So Discreet by Mindy McGinnis
-
Add to Goodreads
I have wanted to read this book for ages and even had a copy but I still haven't read. But this month is all making me read those books that I have been putting off and this is like the best example of that. Well, there are probably better examples but still.
There you have it. Some of the books I hope to read in December. As always, these are subject to change. I may read all of these or I may only read a few and then read a bunch of different ones. But honestly I think this list I can stick to. Thanks for stopping by and HAPPY READING!