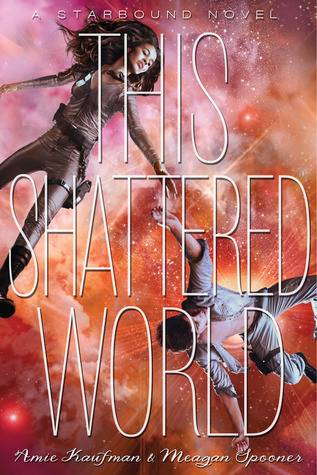 Title: This Shattered World
Author: Amie Kaufman and Meagan Spooner
Published: December 23, 2014 by Disney Hyperion
Synopsis: Jubilee Chase and Flynn Cormac should never have met.
Lee is captain of the forces sent to Avon to crush the terraformed planet's rebellious colonists, but she has her own reasons for hating the rebels.
Rebellion is in Flynn's blood. His sister died in the original uprising against the powerful corporations that terraformed Avon. These corporations make their fortune by terraforming uninhabitable planets across the universe and recruiting colonists to make the planets livable, with the promise of a better life for their children. But they never fulfilled their promise on Avon, and decades later, Flynn is leading the rebellion.
Desperate for any advantage in a bloody and unrelentingly war, Flynn does the only thing that makes sense when he and Lee cross paths: he returns to base with her as prisoner. But as his fellow rebels prepare to execute this tough-talking girl with nerves of steel, Flynn makes another choice that will change him forever. He and Lee escape base together, caught between two sides of a senseless war. As Flynn and Lee attempt to uncover the truth about Avon, they realize that there is a conspiracy on the planet that runs deeper than either of them could imagine, one that Lee's former commander Tarver Merendsen only scratched scratcehd the surface of two years ago. The stunning second novel in the Starbound series is an unforgettable story of love and forgiveness in a world torn apart by war.

**** I received an advance copy of this book from the publisher at BEA for an honest review in return. This fact has not changed my opinion. ****

These Broken Stars, the first book in this series was one of my favorite books I read this year. It had an amazing Science Fiction world, great characters, and a plot that completely blew my mind. Therefore, I had high expectations going into This Shattered World, and I was not disappointed.
What Aime Kaufman and Meagan Spooner do so well is create characters that are well-rounded and interesting. I was almost instantly connected to these characters and their struggle, and a lot of that had to do with the fact that the authors made them empathetic and complex. The revolutionary leader and tough as nails female soldier can easily become tropes but

just like Lilac and Tarver, both Flynn Cormac and Lee Chase were more than they seemed.

Yes, Flynn was tough, intelligent, and determined but he was also thoughtful and a peacemaker. Lee was tough and aggressive but she was also rash and sensitive. These strength and weakness, almost contradictions, make them so empathetic and likable. Plus I have good news for fans of These Broken Stars, myself included, will be happy to know that Lilac and Tarver not only make a cameo but are a bigger part than you would think for a companion novel. And that's just the start of the characters in this book. It is full of complex and interesting and interesting characters, first and foremost the main characters.
However, the romance in this one may have actually been my favorite part, and for me that is huge. But this was the perfect slowburn of the star-crossed variety. There was some definite Romeo & Juliet illusions in this book but it doesn't have the insta-love of that classic. Flynn and Jubille had a meet-cute that was full of adorable flirting but they began their relationship as natural enemies. They started with fighting and hilarious banter and I just wanted to smoosh their faces together! Then over time and their shared struggle it became so much more and I was giddy with joy. But even the romantic moments didn't come with confessions or even admittance of love until much later in the book. Oh and boy were those romantic moments great. For me romance is not something I typically love about a book. But these ladies do it so perfectly that if they were to write a Contemporary Romance, I would read it!
But I don't want them to do anything else, because Kaufman and Spooner do Science Fiction so well! The world they have created here is so interesting and enthralling. In This Shattered World we get to explore more of the galaxy that was created in the first book. And despite the fact that this was a different world entirely, with different problems, it really felt like it was a continuation of the previous book. It was like we were learning more and deeper things about the universe and the forces at play within it. Kaufman and Spooner has this great knack for creating places that seem both logical and illogical. I don't know what I thought I could figure anything out after the way the last one surprised me, but I still attempted to theorize about what was going to happen and spent most of the book trying to make sense of what was happening to these people and on this planet.
And maybe it was because I knew what I was getting into, but unfortunately the plot of This Shattered World was not as much of a mind-fuck. Now don't get me wrong it was just as packed with action and mystery as These Broken Stars but it didn't leave me with quite the same feeling of confusion and shock. But it did keep me on the edge of my seat for nearly all it's close to 400 pages. And I think that was because the plot, like the characters were so multi-faceted. It started out as a basic story of two warring factions but it developed into so much more. And while I loved the story of revolution and those fighting for their freedom, the book didn't get really interesting until it delved deeper into the secrets of the planet and started exploring more of the larger plot lines that began in the first book and I'm sure will continue throughout the series. This is where the book me "huh face" and left me curious and confused, but I liked that.
But unfortunately for me, the length of the book and multi-faceted nature of the story did make the pacing an issue at times. It did start a little slow for me and I didn't truly start feeling interested in the story until about a third of the way in when the plot got more complicated. There seemed like things were a little disconnected and slow until them. In the end it did all make sense and really picked up but there were moments where I was waiting for the action, mystery, or even the romance to kick. Or maybe that was the fact that the plot was a little muddled with the inter-connected storylines that changed and evolved as the book developed.
But despite this minor criticism I really loved this book and it left me with my jaw on the floor desperately waiting for the next book in the series. Aime Kaufman and Meagan Spooner have once again created an amazing and entertaining YA fantasy with amazing characters, a fascinating world, and a thrilling plot.
I give This Shattered World by Aime Kaufman and Meagan Spooner a 9.5 out of 10
Buy/Borrow/Bypass:
BUY!
This book is absolutely not to be missed for everyone. If you were a fan of the first book you will not be disappointed. If you like Science Fiction, Fantasy, or books that mess with your head and leave you both confused and entertained then this is the book for you. Get ready to fall for Flynn Cormac, Captain Lee Chase, and their romance as they hunt for the secrets of Avon!
Have you read This Shattered World? What did you think? Leave me a comment with your thoughts. Thanks for stopping by and HAPPY READING!