A weekly meme hosted by
The Broke and the Bookish
Books I Have Read But Don't Own
1.) Blue Lily, Lily Blue by Maggie Steivfater
(
Amazon
/
Goodreads
)
I read an e-ARC of this one in October and I never bought a copy despite the fact that I really loved it. My Raven Cycle collection is incomplete without this book and that makes me sad. Plus it's so pretty and amazing. Why don't I own this book?
2.) Bitter Greens by Kate Forsyth
(
Amazon
/
Goodreads
)
This was my favorite book of the year and I really intended to buy a copy and never did. I got an ARC at BEA and then I gave it away because I wanted everyone to read it. But now I don't own a copy and really wish that I did.
3.) Never Fade by Alexandra Bracken
(
Amazon
/
Goodreads
)
Again, I own all the books in this trilogy except this one. I got a copy of The Darkest Minds at BEA and then got a copy of In the Afterlight when it came out. I love this series a lot and I really need to have a complete collection!
4.) Fangirl by Rainbow Rowell
(
Amazon
/
Goodreads
)
I'm such a huge fan of Rainbow Rowell and this book is one of my favorites, it was my first Rainbow Rowell so I will always have a special place in my heart for it. But I gave my copy to my best friend so she could read it and I haven't bought myself a new copy yet.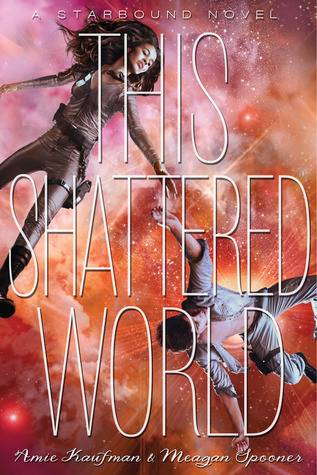 5.) This Shattered World by Amie Kaufman and Meagan Spooner
(
Amazon
/
Goodreads
)
I just finished reading this book a few days ago and it comes out today! It's so fantastic and beautiful I really need a copy. So if there are any last minute shoppers out there, you should go buy this book for me (and everyone else)
Books I Really Want to Read
1.) Yes, Please by Amy Poehler
(
Amazon
/
Goodreads
)
How much do I love Amy Poehler? So much! I've loved this woman and her humor for years. One of my favorite things ever is the audiobooks of really funny women who have written memoirs and I really would love to read Amy's.
2.) Dangerous Women by George R.R. Martin et. al
. (
Amazon
/
Goodreads
)
I'm not a big fan of short stories but this compilation has so many of my favorite fantasy authors in it. It has a Song of Ice and Fire story G.R.R. Martin wrote, a story from Brandon Sanderson, and a Magicians story (about my favorite character Julia) written by Lev Grossman. I wouldn't buy this book myself but if someone buys it for me, great!
3.) Of Metal and Wishes by Sarah Fine
(
Amazon
/
Goodreads
)
I learned entirely too late about this book that is a retelling of The Phantom of the Opera (one of my favorite classics). Plus I have heard good things and it sounds interesting and fantastic. The second book in this series comes out soon and I would love to read them both.
4.) Dangerous Girls by Abigail Haas
(
Amazon
/
Goodreads
)
I'm planning to read this YA mystery in January when I do a mystery themed month. I have heard nothing but great things about this book and I'm really excited to read it. I just need to get my hands on a copy, so if someone were to buy it for me that would be great!
5.) The Diviners by Libba Bray
(
Amazon
/
Goodreads
)
I'm a huge fan of Libba Bray. I read the Gemma Doyle trilogy and Beauty Queens but I seriously need to read this series. I know a lot of people really like it and it sounds amazing. The second book in this series comes out in April and I'm planning to read it then.
ARCs That Could Be Slipped Into My Mailbox
1.) An Ember in the Ashes by Sabaa Tahir
(
Amazon
/
Goodreads
)
This is one of my most anticipated debuts of the year and it sounds amazing. The few people I know who have read have said that they really liked it. I mean it's YA Fantasy about "brutal Romanesque world:" I need this book in my life and would love an ARC in my mailbox.
2.) A Court of Thorns and Roses by Sarah J. Maas
(
Amazon
/
Goodreads
)
I feel like everyone in the blogosphere is reading this book right now except me and it's making me jealous and sad. I only recently got into stories about Fae and this one is NA written by Sarah J. Maas. *dies* I requested a copy and I really hope Bloomsbury will slip it in my mailbox.
3.) A Wicked Thing by Rhiannon Thomas
(
Amazon
/
Goodreads
)
I'm doing a retelling month in February and I'm so excited to get my hands on this one. I love the concept, it's like a sequel of Sleeping Beauty and I love the idea of the not-so-happily ever after. I also requested a copy of this one and have seen a few copies around but I will remain hopeful.
4.) NIL Unlocked by Lynne Matson
(
Amazon
/
Goodreads
)
I loved NIL and the mysterious island was my favorite character. I'm really excited for this sequel that I didn't even know was happening because I can learn more about NIL and what's going on on this crazy and creepy island.
5.) All Fall Down by Ally Carter
(
Amazon
/
Goodreads
)
I never finished the Gallagher Girls series but I really liked it and this is the kind of book I am a sucker for. A mystery that takes you halfway across the world, yup! Plus I really did like Ally Carter's writing and am so excited about this book I signed up to be an Ally Ambassador.
So there you have it, the books I would love for Santa to place under my tree or in my mailbox. I know, I cheated again but I had too! I couldn't pick just 10, I mean I want all the books! What books are you hoping to get this Christmas? Leave me a comment with your thoughts. Thanks for stopping by and HAPPY READING!