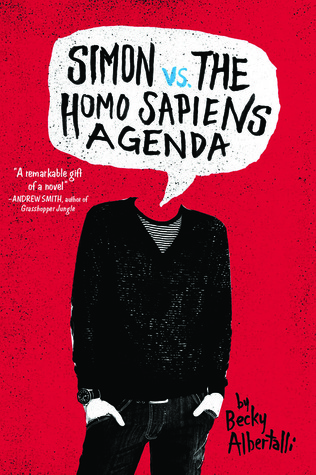 Title: Simon Vs. The Homo Sapiens Agenda
Author: Becky Albettalli
Published: April 7, 2015 by Balzar + Bray (HarperCollins)
(Amazon / Goodreads)
Synopsis: Sixteen-year-old and not-so-openly gay Simon Spier prefers to save his drama for the school musical. But when an email falls into the wrong hands, his secret is at risk of being thrust into the spotlight. Now Simon is actually being blackmailed: if he doesn't play wingman for class clown Martin, his sexual identity will become everyone's business. Worse, the privacy of Blue, the pen name of the boy he's been emailing, will be compromised.
With some messy dynamics emerging in his once tight-knit group of friends, and his email correspondence with Blue growing more flirtatious every day, Simon's junior year has suddenly gotten all kinds of complicated. Now, change-averse Simon has to find a way to step out of his comfort zone before he's pushed out—without alienating his friends, compromising himself, or fumbling a shot at happiness with the most confusing, adorable guy he's never met.
I'm pretty sure I have a toothache from this book, it was that sweet! And I mean this in the best possible way. Because Simon Vs. The Homo Sapiens Agenda is the cutest, sweetest, and most adorable book I have read in a long time. I am not usually a fan of contemporary romance novels. It takes a very specific and well-written book to blow me away and Simon Vs. The Homo Sapiens Agenda completely did!
The best thing about this book for me was the characters. Becky was able to create some of the most genuine and likable characters I have ever come across. It didn't take long for me to fall hopelessly in love with Simon Spier. He's feels like a real seventeen year old. He's quirky and fun with a snarky sense of humor. He makes mistakes and does stupid things. He swears and makes sexual innuendos. Throughout the novel he is figuring out who he is and who he wants to be but being a gay teen he can't completely be himself. He's a bit awkward and uncertain at times but at other times he's confident and intelligent. He also shows a tremendous amount of inner strength with his situation. But there was also an amazing cast of secondary characters that were just as realistic and likable. Simon's friends Abby, Nick, and Leah were fantastic and so were his family.
I think I liked the characters because of the way that they interacted. This book is non-stop witty banter, awkward conversations, and emotional heart-to-hearts. And sometimes they all happened at once. First I have to mention how amazing Simon's parents were. In a lot of YA the parents are minimally involved, if they are involved at all. But Simon's parents were totally involved in his life. In fact they may have been a little too involved. But that really made things all the more realistic. They were a little over-protective but it felt genuine because of their love and support for Simon. Same thing with his sisters. They interacted the way that siblings interact. I also really enjoyed the way that Simon interacted with his friends. They had very real conversation and they did real teenage things like going to parties and playing video games. But they also didn't always get along. It wasn't always sunshine and puppies for Simon, especially with these relationships, but it was great to see that there was a real support system for him. That support system is what allowed Simon to be brave enough to be himself and that really can't be anything other than heartwarming.
But my favorite interaction in this book was the ship. I seriously ship Simon and Blue so hard! When we are first introduced to Blue it is through emails. He and Simon have been talking anonymously for the past few months after Simon saw a post of Blue's on the school tumblr. Their interactions are the cutest and swooniest emails I have perhaps ever seen. Their flirty and full of thinly veiled sexual inneudos that had me giggling and feeling all warm and fuzzy. As the book develops so does their relationship and I found myself just as invested in their success as Simon was. Then when we finally find out who Blue is, it makes things even more exciting and adorable. You see, the underlying plot point in Simon is this mystery about Blue. I wouldn't necessarily call it a mystery but it was a great dimension to an engaging and fun story.
Because that is what Simon Vs. the Homo Sapiens Agenda is, it's fun. I like my contemporary novels to be on the lighter side of things but with a balance of the more serious moments of life. That's what this book does. Don't get me wrong, it deftly and honestly deals with some very serious and thought-provoking issues. But instead of getting bogged down in the heavy subject matter of being a gay teen and coming out (or being forced out) to your friends and family, it has a real humor and effervescent quality to it. It's a lighthearted and entertaining read that you will want to read in one sitting. I read it in just a few days and I will admit that at least one of those days I stayed up much later into the night than I intended. That never happens to me with contemporary romances. But I was so invested in Simon and his story, I couldn't stop reading until I found out who Blue was and found out if Simon got his happy ending. And that to me says how well-written this book is more than anything else. Sure, it's fun and deep and the writing is lyrical and interesting, but more than that you just connect with this story. You connect with the story, you connect with the characters, and you connect with the romance.
I give Simon Vs. The Homo Sapiens Agenda by Becky Albertalli a 10 out of 10



Buy/Borrow/Bypass

: BUY!

This book is not to be missed for fans of contemporary romances. It's on the lighter side of things so if you aren't a big fan of the genre but are looking for a sweet and fun palate cleanser then check this one out as well. Simon Vs. is an absolutely adorable read with amazing characters, a flawless ship, and an engaging plot. One of my favorite debuts of the year so far!