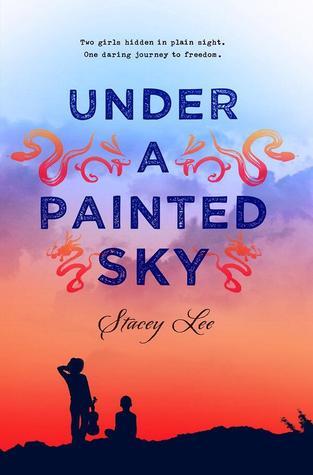 Title: Under a Painted Sky


Author: Stacey Lee




Published: March 17, 2015


(Amazon / Goodreads)



Synopsis: Missouri, 1849: Samantha dreams of moving back to New York to be a professional musician—not an easy thing if you're a girl, and harder still if you're Chinese. But a tragic accident dashes any hopes of fulfilling her dream, and instead, leaves her fearing for her life. With the help of a runaway slave named Annamae, Samantha flees town for the unknown frontier. But life on the Oregon Trail is unsafe for two girls, so they disguise themselves as Sammy and Andy, two boys headed for the California gold rush. Sammy and Andy forge a powerful bond as they each search for a link to their past, and struggle to avoid any unwanted attention. But when they cross paths with a band of cowboys, the light-hearted troupe turn out to be unexpected allies. With the law closing in on them and new setbacks coming each day, the girls quickly learn that there are not many places to hide on the open trail.





This beautifully written debut is an exciting adventure and heart-wrenching survival tale. But above all else, it's a story about perseverance and trust that will restore your faith in the power of friendship.
Slowburn is the watchword for this book. Everything about Under a Painted Sky was slower but that's how it works it's way into your heart. Before you even realized what is happening, you're emotionally invested in the story and the characters. When it comes right down to it, this book is a fantastic piece of historical fiction with diverse characters you can't help but love and an engaging plot that will keep you reading from beginning to end.
One of the things that really surprised me about Under a Painted Sky was how much I enjoyed the plot of the book. I often talk about how much I hate travel as a plot point so I should have not liked this expedition. but it worked. Perhaps that was because the stakes were still very high. It wasn't just let's get from point A to point B, it was about how do we survive along the way. This was as much about survival as it was about travel. There is so much uncertainty and danger for our characters which really gave the book a lot more excitement and suspense. But that may have been because the historical fiction aspect of the story. I have always wanted to read a YA novel set on the Oregon Trail because it's a time period that has fascinated me since I was a kid playing that computer game where my oxen died fording the river. And like the game, Stacey Lee perfectly combined adventure with history. But the history is subtle. So subtle that it almost felt like an afterthought. It mentioned locations and experiences but that wasn't really the focus of the story (more on the focus later). However, along the way there was enough thrilling and interesting moments that I was not only engaged but I couldn't put it down.
The fact that I couldn't put the book down is all the more interesting because of the pacing. Like I said, slowburn is watchword. It wasn't a fast-paced story. Things slowly plotted along until the climax. But when it did hit that climax, it really kicked into high gear. There were a few moments where I just couldn't stop reading, I had to keep going to find out what happened to our intrepid characters. But one thing that I didn't love about the pacing or well maybe plot of this book is the way that it ended. It didn't necessarily end on a cliffhanger but it really left things wide open. As far as I know this is a standalone but it didn't wrap everything up the way I prefer (in a neat and tidy package). I would really love a sequel because honestly I need to find out what happens to these characters.
And it was those characters that made this book so enjoyable. Under a Painted Sky was full of amazing and complex characters that I couldn't help but love, even when they were doing stupid things. And boy did they do stupid things. This book is full of characters that were far from perfect, but that was what made them all the more realistic and endearing. There is a lot of talk in the YA community about the need for diverse characters. This book definitely has them. Of the five main characters, three of them were persons of color and none of them were stereotypes. In a time where being anything other than white made you inferior, these characters were unabashedly themselves and showed that no matter what you look like, you can do anything. The other great thing about these diverse characters is that we get to learn about their culture. There was so much about Chinese culture in this book and it was such a fascinating dimension. And that is because our main character is Samantha or Sammy, a Chinese-American girl who has to flee out West after an unfortunate event occurs. Along for the ride is Annamae or Andy, an escaped slave. The girls take to the trail as young boys, a concept I don't always like because I'm constantly wondering how others can't figure it out, but it worked for this story. Both girls are very different but they are both extremely strong mentally and emotionally. But they have help along the way in the form of three cowboys: Cay, West, and Petey. The cowboys, who are clearly more experienced and knowledgeable never treat Sammy and Andy like they incapable of anything. They are hilarious and tough but encouraging and helpful. Each of the boys are fantastic in their own way but they are even better as a group.
But the best part of these characters is how they interact and work together. That was the real focus of this story, there is a heartwarming friendship and commradere here. A shared event brings Sammy and Andy together but throughout the book they find solace and friendship in one another. Their relationship is incredibly sweet and supportive. Female friendships like this are not always common in literature and it is such a great thing when it happens. But then there was the friendship with the cowboys. The three of them together were fantastic but then with the girls the dynamic was even better. They took them under their wings and taught them all these amazing things like roping, shooting, and horseback riding. Things that seemed like they were just fun, but were ultimately about survival. It was an odd sort of mentorship but it was a delightful one. And just as delightful was the romance. I'm not always a fan of romance when gender-bending is part of the story. It can sometimes come off as odd but here it really worked. I absolutely shipped the ships and like a lot of my favorite romances it was a fantastic slowburn with a great endgame.
Everything combined for a really phenomenal read. Stacey's writing was engaging and beautiful. I didn't think that I was going to read this as fast as I did but I couldn't put it down and found myself staying up much later than I expected. When the book was done I was left wishing there was more.
I give Under a Painted Sky by Stacey Lee 9.5 out of 10



Buy/Borrow/Bypass:

BUY!

This book is not to be missed for fans of YA historical fiction. 90's kids will love the connection with the computer game from our youth and even if you don't normally like historical fiction you will love the story of friendship this book contains. Under a Painted Sky is one more of the amazing 2015 debuts with fantastic characters and an engaging plot. A must read.

Have you read Under a Painted Sky? What did you think? Leave me a comment with your thoughts. Thanks for stopping by and HAPPY READING!