A weekly meme hosted by
Breaking the Spine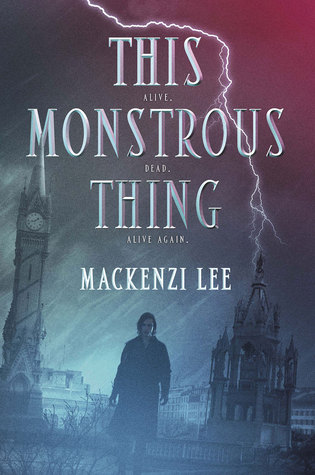 Title: This Monstrous Thing
Published: September 22, 2015 by Katherine Tegen Books (HarperCollins)
Synopsis: In 1818 Geneva, men built with clockwork parts live hidden away from society, cared for only by illegal mechanics called Shadow Boys. Two years ago, Shadow Boy Alasdair Finch's life shattered to bits.
His brother, Oliver—dead.
His sweetheart, Mary—gone.
His chance to break free of Geneva—lost.
Heart-broken and desperate, Alasdair does the unthinkable: He brings Oliver back from the dead. But putting back together a broken life is more difficult than mending bones and adding clockwork pieces. Oliver returns more monster than man, and Alasdair's horror further damages the already troubled relationship.
Then comes the publication of Frankenstein and the city intensifies its search for Shadow Boys, aiming to discover the real life doctor and his monster. Alasdair finds refuge with his idol, the brilliant Dr. Geisler, who may offer him a way to escape the dangerous present and his guilt-ridden past, but at a horrible price only Oliver can pay…
Among the genres I love reading: historical fiction, retellings, fantasy, and steampunk. You guessed it. The genres featured in this book: historical fiction, retellings, fantasy, and steampunk.
I learned about this book a few months ago and I knew I needed to read it. First things first is the historical elements. Historical fiction is one of my absolute favorite genres and I love books that are set during the 19th Century. It's such a fascinating period of European History.
The most fascinating thing about this book is the retelling angle. Not only is this book based on Frankenstein but the actual book is part of the story. I read Frankenstein in college for a class and I was surprised how much I enjoyed it. It's such a complex and interesting story with a great analysis of good and evil. It's definitely a beloved classic but I can't say I have ever read a retelling of it. I know Mackenzi loves Frankenstein so I'm really excited to see her take on the story. I also recently chatted on Twitter with her about our shared love of Young Frankenstein so I'm really excited to hunt for references and Mel Brooksian humor.
But I think I'm most excited about the steampunk angle. I hadn't read any steampunk until about a year ago but every one that I have read since I've totally loved. It always makes for a really engaging world building. STEAMPUNK FRANKENSTEIN! I seriously cannot wait!
What about you? What are you waiting for this Wednesday? Are you waiting for This Monstrous Thing with me? Leave me a comment with your thoughts. Thanks for stopping by and HAPPY READING!