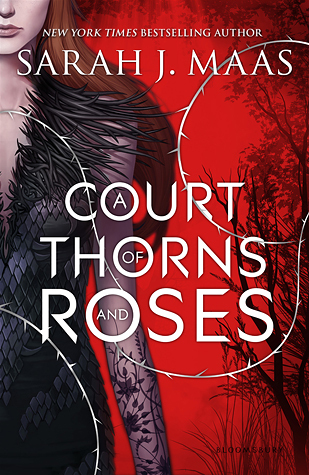 Title: A Court of Thorns and Roses
Series: A Court of Thorns and Roses #1


Author: Sarah J. Maas




Published: Mat 5, 2014 by Bloomsbury


(Amazon / Goodreads)

Synopsis: A thrilling, seductive new series from New York Times bestselling author Sarah J. Maas, blending Beauty and the Beast with faerie lore.



When nineteen-year-old huntress Feyre kills a wolf in the woods, a beast-like creature arrives to demand retribution for it. Dragged to a treacherous magical land she only knows about from legends, Feyre discovers that her captor is not an animal, but Tamlin—one of the lethal, immortal faeries who once ruled their world.





As she dwells on his estate, her feelings for Tamlin transform from icy hostility into a fiery passion that burns through every lie and warning she's been told about the beautiful, dangerous world of the Fae. But an ancient, wicked shadow grows over the faerie lands, and Feyre must find a way to stop it . . . or doom Tamlin—and his world—forever.





Perfect for fans of Kristin Cashore and George R. R. Martin, this first book in a sexy and action-packed new series is impossible to put down!
Oh hello there hype monster, I can't say that I'm happy to see you again, I feel like you have been visiting me a lot lately. I really really wanted to say I loved A Court of Thorns and Roses and give it all the stars. That's what everyone is saying, I want to be like everyone. Plus I mean I love Sarah J. Maas, I love the Throne of Glass series. And while I really enjoyed this book, it took me a little longer to get into it than I expected. But that being said, despite a slow start A Court of Thorns and Roses ended up being a beautifully written story with fantastic characters, an interesting world, and an engaging plot.
My favorite thing about this book was definitely the characters. That has always been where Sarah shines for me. From the kickass, to the dubious, to the sinister she creates some amazing and complex characters. That was the case again in ACOTAR. Our main character is Feyre, a huntress who has been supporting her family. Feyre is not your typical strong female protagonist kicking ass and taking names. Nope, she is incredibly vulnerable, prickly, and stubborn. But she's also tough and resourceful. But the best part about Feyre is she doesn't go it alone. First she had Tamlin, the High Fae who she is forced to stay with. In true Beast fashion, Tamlin is overly-aggressive but kind and protective. Then there is Lucien, a High Fae in Spring Court who is essentially comic relief but is also kind and helpful in more ways than one. But my personal favorite was Rhysand, the High Lord of Midnight Court. What I loved about Rhys was how dubious he was. He was full of surprises helping Feyre despite being connected to Amarantha and I really wanted to know why. He was so intriguing. Oh and did I forget to mention Amarantha? What a devious and sinister antagonist. I love a good Evil Queen and she definitely filled that role. For half the book she was an abstract concept and then when she came into the book it was even better. Every character was interesting and likable in their own and different ways. They made the book come to life.
But sadly one of the things that didn't entirely work for me was the romance. I had been hearing talk about how steamy and swoony this book was so I had high hopes.
I haven't read any New Adult books yet so I wasn't entirely sure what that would mean for the romance of ACOTAR. With YA it is mostly a fade to black when it comes to anything sexual. In ACOTAR there were some serious make out scenes and it was definitely very sex-positive but it wasn't explicit. That isn't a bad thing at all, in fact it's really awesome.
And while I didn't actively dislike the romance I didn't feel any heat either. I'm not even sure why it didn't work for me, it has all the trappings of romantic subplots that I enjoy. Maybe because the romance here was such a huge part of the actual plot of the book. I think I just don't ship it yet.
In general I would say the romance left me wanting more.
The plot of A Court of Thorns and Roses also left me wanting more too. It definitely finished strong but for me it started a little slow. If you are expecting a book with kickass action like Throne of Glass you are going to have to be patient.
The beginning of the book was a more traditional retelling of the Beauty and the Beast fairy tale. I loved the subtle references to the classic story but I wasn't very engaged at that point. We are introduced to Feyre and her story. All that exposition had to happen before we got to the action. When that action did kick in I was totally hooked. It was definitely worth the wait and had a huge payoff. But t
he pacing for this one is on the slower side. It very slowly built to an exciting conclusion but it took it's time getting there. If you read my discussion post yesterday you know that I'm more of a plot-driven reader so it took me awhile to get into the book. I knew it was going to get good because of all the glowing reviews I had seen, for me it just took awhile.
I also think it took me a little while to get into ACOTAR because the first half of the book was mostly world-building. I have no problem with world-building. I understand that the first book in a new fantasy trilogy has to set up the world. But at times it felt a little overwhelming and like it was a bit of an info-dump. To me it felt like they were telling me important thing about the fae after another important thing about the fae. It was just so much all at once. But thankfully that information was all really interesting. The world that Sarah created was definitely a compelling one. Pythian had a history and a mythology to it. It is a world formerly at war with humans and still dealing with their own internal issues. But it is also a complex world of fairies seperated into seven courts. I loved exploring a few of the courts and I'm really excited to see more of them in the second book. While the world-building was problematic for me, the actually world was a fascinating part of this story.
And while A Court of Thorns and Roses had a bit of First Book Syndrome for me me it was an interesting and engaging read that had fantastic characters, an interesting world, and a thrilling conclusion.
Buy/Borrow/Bypass

: Buy/Borrow

. If you are a fan of Sarah J. Maas then definitely pick this book up. If you are fans of fae stories and Beauty and the Beast this is worth a read. I'm not sure I would really recommend it to fans of more traditional fantasy, it has more romance elements and is less of a thrilling read that I typically enjoy in my fantasy.
Have you read A Court of Thorns and Roses? What did you think? Have you read much NA? Is this what the romance is like in NA novels? Leave me a comment with your thoughts. Thanks for stopping by and HAPPY READING!