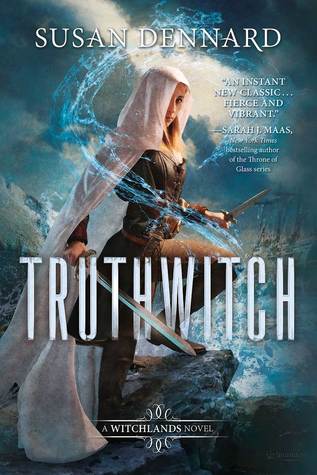 1.) Truthwitch by Susan Dennard
(Amazon /
Goodreads
)
Published: January 5, 2016 by Tor Teen
Synopsis:
On a continent ruled by three empires, some are born with a "witchery", a magical skill that sets them apart from others. In the Witchlands, there are almost as many types of magic as there are ways to get in trouble—as two desperate young women know all too well.
Safiya is a Truthwitch, able to discern truth from lie. It's a powerful magic that many would kill to have on their side, especially amongst the nobility to which Safi was born. So Safi must keep her gift hidden, lest she be used as a pawn in the struggle between empires.
Iseult, a Threadwitch, can see the invisible ties that bind and entangle the lives around her—but she cannot see the bonds that touch her own heart. Her unlikely friendship with Safi has taken her from life as an outcast into one of reckless adventure, where she is a cool, wary balance to Safi's hotheaded impulsiveness.
Safi and Iseult just want to be free to live their own lives, but war is coming to the Witchlands. With the help of the cunning Prince Merik (a Windwitch and ship's captain) and the hindrance of a Bloodwitch bent on revenge, the friends must fight emperors, princes, and mercenaries alike, who will stop at nothing to get their hands on a Truthwitch.
Why I'm Waiting:
Epic Fantasy, elemental magic, strong female protagonists, and a roguish prince all written by Susan Dennard
2.) Six of Crows by Leigh Bardugo
(Amazon /
Goodreads
)
Published: October 6, 2015 by Macmillan
Synopsis:
Game of Thrones meets Ocean's Eleven in this brand-new book in the world of the Grisha by New York Times-bestselling author Leigh Bardugo.
Ketterdam: a bustling hub of international trade where anything can be had for the right price—and no one knows that better than criminal prodigy Kaz Brekker. Kaz is offered a chance at a deadly heist that could make him rich beyond his wildest dreams. But he can't pull it off alone...
A convict with a thirst for revenge.
A sharpshooter who can't walk away from a wager.
A runaway with a privileged past.
A spy known as the Wraith. A Heartrender using her magic to survive the slums.
A thief with a gift for unlikely escapes.
Six dangerous outcasts. One impossible heist. Kaz's crew is the only thing that might stand between the world and destruction—if they don't kill each other first
Why I'm Waiting:
More from Leigh Bardugo set in the Grishaverse. Plus I seriously love heist stories. OHMYGOD I need this book!
(Amazon /
Goodreads
)
Published: January 5, 2016 by Disney Hyperion
Synopsis:
Violin prodigy Etta Spencer had big plans for her future, but a tragedy has put her once-bright career at risk. Closely tied to her musical skill, however, is a mysterious power she doesn't even know she has. When her two talents collide during a stressful performance, Etta is drawn back hundreds of years through time.
Etta wakes, confused and terrified, in 1776, in the midst a fierce sea battle. Nicholas Carter, the handsome young prize master of a privateering ship, has been hired to retrieve Etta and deliver her unharmed to the Ironwoods, a powerful family in the Colonies--the very same one that orchestrated her jump back, and one Nicholas himself has ties to. But discovering she can time travel is nothing compared to the shock of discovering the true reason the Ironwoods have ensnared her in their web.
Another traveler has stolen an object of untold value from them, and, if Etta can find it, they will return her to her own time. Out of options, Etta and Nicholas embark on a perilous journey across centuries and continents, piecing together clues left behind by the mysterious traveler. But as they draw closer to each other and the end of their search, the true nature of the object, and the dangerous game the Ironwoods are playing, comes to light -- threatening to separate her not only from Nicholas, but her path home... forever.
Why I'm Waiting:
More from Alexandra Bracken! Plus you guys it's an epic adventure through time! Plus look at that cover and the synopsis and *dies*
4.) After Alice by Gregory Maguire
(Amazon /
Goodreads
)
Published: October 27, 2015 by William Morrow
Synopsis:
From the multi-million-copy bestselling author of Wicked comes a magical new twist on Alice's Adventures in Wonderland, published to coincide with the 150th anniversary of Lewis's Carroll's beloved classic
When Alice toppled down the rabbit-hole 150 years ago, she found a Wonderland as rife with inconsistent rules and abrasive egos as the world she left behind. But what of that world? How did 1860s Oxford react to Alice's disappearance?
In this brilliant new work of fiction, Gregory Maguire turns his dazzling imagination to the question of underworlds, undergrounds, underpinnings—and understandings old and new, offering an inventive spin on Carroll's enduring tale. Ada, a friend of Alice's mentioned briefly in Alice's Adventures in Wonderland, is off to visit her friend, but arrives a moment too late—and tumbles down the rabbit hole herself.
Ada brings to Wonderland her own imperfect apprehension of cause and effect as she embarks on an odyssey to find Alice and see her safely home from this surreal world below the world. If Euridyce can ever be returned to the arms of Orpheus, or Lazarus can be raised from the tomb, perhaps Alice can be returned to life. Either way, everything that happens next is "After Alice."
Why I'm Waiting:
More from Gregory Maguire. He has written some of my absolute favorite fairy tale retellings. I love the ones with more high concept fantasy stuff so I'm excited to see his take on Wonderland.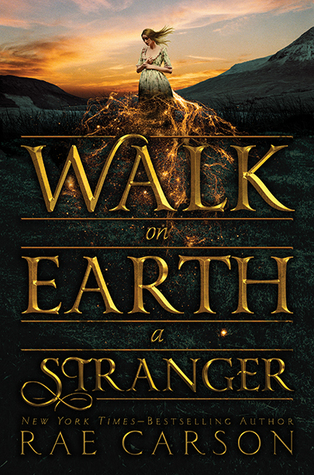 5.) Walk on Earth a Stranger by Rae Carson
(Amazon /
Goodreads
)
Published: September 22, 2015 by Greenwillow Books (HarperCollins)
Synopsis:
The first book in a new trilogy from acclaimed New York Times bestselling author Rae Carson. A young woman with the magical ability to sense the presence of gold must flee her home, taking her on a sweeping and dangerous journey across Gold Rush–era America.
Lee Westfall has a secret. She can sense the presence of gold in the world around her. Veins deep beneath the earth, pebbles in the river, nuggets dug up from the forest floor. The buzz of gold means warmth and life and home—until everything is ripped away by a man who wants to control her. Left with nothing, Lee disguises herself as a boy and takes to the trail across the country. Gold was discovered in California, and where else could such a magical girl find herself, find safety? Rae Carson, author of the acclaimed Girl of Fire and Thorns trilogy, dazzles with this new fantasy that subverts both our own history and familiar fantasy tropes.
Walk on Earth a Stranger
, the first book in this new trilogy, introduces—as only Rae Carson can—a strong heroine, a perilous road, a fantastical twist, and a slow-burning romance. Includes a map and author's note on historical research
Why I'm Waiting:
I haven't read any Rae Carson before (shhh, I know) but I've heard amazing things and a historical fantasy set in the gold rush with a girl who can sense gold. I want to go to there.
What are you waiting on this Wednesday? Are you at BEA with me? Will I see you in any of these line? Leave me a comment with your thoughts. Thanks for stopping by and HAPPY READING!