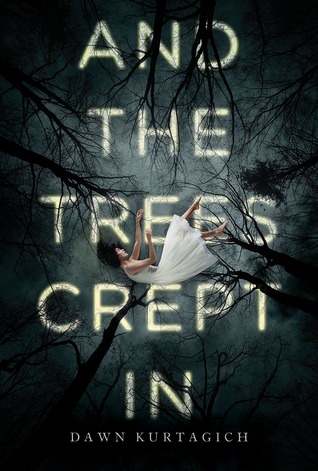 Title: And the Trees Crept In


Written by: Dawn Kurtagich




Published: September 6, 2016 by Little Brown Books for Young Readers




(

Amazon

/

Goodreads

)



Synopsis: A stunning, terrifying novel about a house the color of blood and the two sisters who are trapped there, by The Dead House author Dawn Kurtagich



When Silla and Nori arrive at their aunt's home, it's immediately clear that the "blood manor" is cursed. The creaking of the house and the stillness of the woods surrounding them would be enough of a sign, but there are secrets too--the questions that Silla can't ignore: Who is the beautiful boy that's appeared from the woods? Who is the man that her little sister sees, but no one else? And why does it seem that, ever since they arrived, the trees have been creeping closer?





Filled with just as many twists and turns as The Dead House, and with achingly beautiful, chilling language that delivers haunting scenes, AND THE TREES CREPT IN is the perfect follow-up novel for master horror writer Dawn Kurtagich.

*** I received an advance copy of this book from the publisher at BEA. This fact has not changed my opinion. ***

I read and loved Dawn's debut The Dead House and I was so excited to read her next book. And wow, does this author know how to write a great YA psychological thriller. It has taken me two days to review this book (something that rarely happens anymore) but I seriously needed that time to wrap my head around what happened in this book and how I felt about it.

There is so much about this book that I want to talk about but I don't want to spoil you on it. Suffice it to say that there is a really interesting plot here. It's not quite a mystery, not quite a psychological thriller, and not quite horror either. It combines all three though to make a story that is so compelling. There are little clues along the way and points throughout the book that come together in a big way when you reach the eventual conclusion. And what a conclusion it was. It wasn't a total surprise but it did have me reeling. It was fantastic in that way.

A lot of the enjoyment of the plot and this book came from the tone and atmosphere. This is definitely a book full of confusion and suspense. I am the type of reader who likes being confused, I like not knowing what is happening so this book gave me that. There are a lot of unexpected twists too. Moments where you're not super scared but you're worried and looking around your shoulder. It made for an interesting and atmospheric read.

But most of the confusion I think came from the characters. This is a book with an unreliable narrator which I typically enjoy. And I did enjoy that aspect of Silla. She has definitely been through a lot and you want to see her and her sister Nori, who was so sweet, win in the end. However at the same time you see Silla slowly lose her grip on things. It was incredibly interesting but there is just something hard about connecting with a character like that. But mostly I found it hard to connect with the romance of the book. Despite liking Gowan, the male lead, the romance just felt strange to me and I think maybe that was because of my feelings of Silla. But in general I loved the unreliable narrator and the characters were complex.

And the Trees Crept in is a fast and engaging story full of mystery and suspense. It's an atmospheric read with an unreliable narrator and a plot that will mess with your head and keep you guessing until you finish reading. It only took me a few days to read this and I honestly didn't want to put it down.

Buy/Borrow/Bypass:

Borrow/Buy.

If you like Dawn's debut then check this out or if you are looking for a unique read that combines mystery, horror, and psychological thriller in a subtle kind of way than check this out. It's be a good introduction to these kinds of books.