On Rereads is a monthly feature on My Thoughts Lit where I talk about the books I reread during the month. It's an opportunity to share some new thoughts on a book I read before and usually to prepare for a new release. For the foreseeable future I plan to do one reread a month so I want to share my thoughts on these books the second time around. This a little bit late for July but I've been super slow on my rereads lately (and well reading on the whole but shhh!!!)
All the amazing books are coming out in the next couple months, amiright? In particular, there are some great sequels and series enders coming out in February, many of which are on my most anticipated books of the year. So to prepare I am reareading the books in their series. As usually these are my audiobooks for the month. But here is my thoughts on these rereads....
Ink and Bone by Rachel Caine
(
Amazon
/
Goodreads
/
Audible
/
My Review
)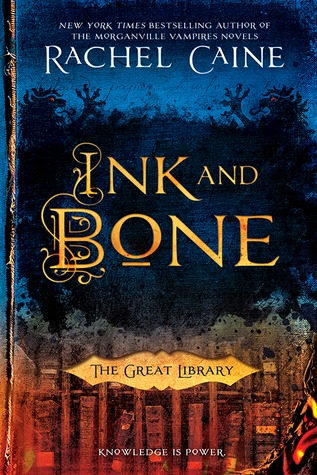 I love this series so much, you guys! It constantly surprises me but how complex and engaging it is. I had an ARC of the second book in the series, Paper and Fire, which I read over the 4th of July weekend so in preperation I of course had to read the first book in the series to refresh my memory. And as usually with my rereads, I listened to the audiobook.
Usually with rereads I am excited to read them because I forget little details about the book and I need a refresher but that was not the case with this book. I remembered so much about this book. I mean, I may have remembered too much. There were moments where I wanted them to just go right to the exciting and action-packed parts at the end of the book. It also made the book a little less mysterious. But that doesn't mean the book was ruined. Honestly, I liked it just as much as I did the first time around. It's such an atmospheric and complex book with so many different elements that I did pick up a few things that I may have missed the first time around.
But I think that maybe that was because I loved the audiobook. I was so excited to listen to it because the world is so atmospheric and that usually translates really well to the audio format for me. And it was absolutely the case here. The book had a really great immersive quality with the audio format. Not to mention that this is a book with a diverse cast of characters and the narrator did a good job establishing them. Some of the accents weren't perfect but he did a good job with the characterizations, especially with Jess.
On the whole, this was a great reread. I'm so glad I took the time to listen to the audiobook and refresh my memory before I read Paper and Fire. Mostly, I'm just glad for the time to get back into this world and experience it again.
The Jackaby Series by William Ritter
Jackaby -
(
Amazon
/
Goodreads
/
Audible
/
My Review
)
Beastly Bones
-
(
Amazon
/
Goodreads
/
Audible
/
My Review
)
I mean you all probably know that I am super obsessed with this series if you have been around awhile. Both Jackaby and Beastly Bones were on my favorites of the year lists last year and the year before. I expect no different for Ghostly Echoes which I am about to start tonight.
So naturally I needed to have what is becoming my annual reread of Jackaby. And while I did still really love it, I laughed and was thoroughly entertained, I'm not sure three years in a row is the best thing to do when it comes to a mystery. Some of the suspense was lost as I remembered so much of the book that I wasn't as impressed with the plot development. It wasn't just me seeing the foreshadowing and clues anymore, it was me just going through the motions. But none of the charm was lost. So much of this series is about the humor and fun which was not lost in my reread.
In contrast, with Beastly Bones I remembered very little of the book. There is just something about second books that I just forget all about them. I of course remembered the big stuff but not the little details so it was a really nice refresher before Ghostly Echoes. I also think on that note, that much of the storyline from Ghostly Echoes was introduced in the beginning of Beastly Bones so it will have a good flow within the series for me.
Plus I do really like the audio for this series. I think Nicola Barber does a fantastic job with the series. She totally gets the tone and humor of the series. From the absurdity that is Jackaby, to the effervescence and inquisitiveness that is Abigail, to the sarcasm and exasperation of Jenny. She even does a great job with Charlie and Hank Hudson. I'm a big fan of her as an audiobook narrator and this series on the whole.
Have you read Ink and Bone or The Jackaby series? Did you reread in preparation for their sequels? Have you done any rereads lately? What books? Do you like doing rereads or not? Tell me why. Thanks for stopping by and HAPPY READING!