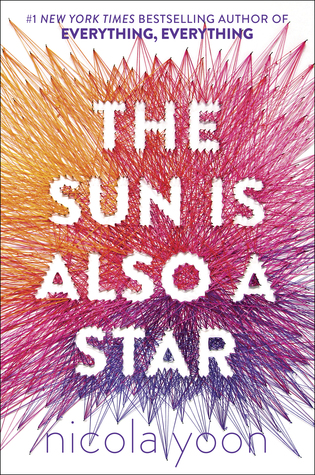 Title: The Sun is Also a Star
Written by: Nicola Yoon
Published: November, 3 2016 by (Random House)
(
Amazon
/
Goodreads
)
Synopsis: Natasha: I'm a girl who believes in science and facts. Not fate. Not destiny. Or dreams that will never come true. I'm definitely not the kind of girl who meets a cute boy on a crowded New York City street and falls in love with him. Not when my family is twelve hours away from being deported to Jamaica. Falling in love with him won't be my story.
Daniel: I've always been the good son, the good student, living up to my parents' high expectations. Never the poet. Or the dreamer. But when I see her, I forget about all that. Something about Natasha makes me think that fate has something much more extraordinary in store—for both of us.
The Universe: Every moment in our lives has brought us to this single moment. A million futures lie before us. Which one will come true?
*** I received an advance copy of this book from the publisher at BEA in exchange for an honest review. This fact has not changed my opinion. ***
I really enjoyed Yoon's debut, Everything Everything, so I was really excited to read her second book. The Sun is Also a Star did not disappoint. This was definitely a cute contemporary with fun characters and an interesting and engaging plot.
This is one of those books that takes place over the course of a day. An important day in the lives of the characters, it's almost like a turning point for both of them and they share the day together in a way that was interesting and engaging. I sometimes feel like these kinds of storylines feel a little far-fetched that this much could happen in a day but I thought that this did a really good job at making things dramatic and impactful without going overboard. It was engaging and complex.
It's also one of those books where different lives interact and weave together to create a more full-bodied and complex story. I love those kinds of contemporaries. Stories that show how we can make an impact on a person without even realizing, stories how people who are seemingly unconnected can actually connect in a big way. And that aspect of the story too was told in an interesting way. The narrative was told through very short chapters that alternated perspectives between many people giving us a peak into the lives of the people who were interacting. It was very unique and I really appreciated that.
The main perspectives however were the main characters, Natasha and Daniel. I really liked both characters individually. Daniel who was trying to make his parents happy despite the fact that what they wanted was different from who he wanted was incredibly relatable, not to mention the idea of immigrant parents wanting more for their child. Natasha too was really easy to empathize with as she was trying to keep her family from being deported. They were both really likable characters and I wanted them to succeed.
I will say however, my romancephobic heart wasn't totally swayed by the romance. It wasn't terrible, I didn't hate it, but I did find myself rolling my eyes and a little annoyed at it sometimes. I find of agreed with Natasha's very scientific view of love vs lust and attraction and appreciate the inclusion of that in a book of this nature. It just felt too fast at times. But in the end I think they wore me down a little bit and I enjoyed the way the romance concluded.
In the end, this was a really good contemporary read. It dealt with some really interesting issues and had an engaging plot along with likable characters. It was the perfect read for this time of year with lighthearted fun and romance but still complex and engaging. I really enjoyed it.
I give The Sun is Also a Star by Nicola Yoon 9 out of 10 stars



Buy/Borrow/Bypass

: Buy.

Fans of Everything Everything should check this out or anyone looking for a cute contemporary read. It reminded me a lot of some of my favorite contemporaries in the way it balanced fun and serious moments. Fans of Rainbow Rowell and Morgan Matson will enjoy this one too, I think.

Have you read The Sun is Also a Star? What did you think? Leave me a comment with your thoughts. Thanks for stopping by and HAPPY READING!