My initial goal for the year was to read 25 books from Netgalley and Edelweiss. I nded up doing really well on this during the first half of the year and thinking I could read 50 by the end of the year but that did not happen. Although I did read 40 books from Netgalley/Edelweiss which is not to shabby for the Netgaklley/Edelweiss Challenge hosted by
Falling for YA
. That's a total of about 1/4 of my books for the year.
And I really did like many of these books but to be entirely honest, most of my least favorite books of the year also came from this challenge. You can't win them all, I guess. And because of this reason, I think this was the hardest one for me to make a list about. There were a few that I loved loved, but for the most part there were a lot of really good books that I wasn't sure about including on a best of list. But I did my best so here is the list of some of my favorites.
1.) The Skylighter by Becky Wallace -
My Review
(
Amazon
/
Goodreads
)
This was one of my most anticipated books of 2016 so I was over the moon when I was approved for the book on Edelweiss and sent a physical ARC from the publisher. I read both so I could read it everywhere and anywhere and finish it as fast as possible.
And it did not disappoint. It made it's way onto my best of the year list because it was such an amazing and action-packed sequel. What I loved so much about this series is that it's one that from the outset seems like a typical YA fantasy but is super creative and unique. I loved the world inspired by Portugal, the really unique magical system, and the characters, Oh man, these characters, and these ships. So good. So so good. It was one of many books I read this year that wrecked me emotionally in the best possible way. I really wish it wasn't a duology and that there was a third book coming next year.
I would absolutely recommend this series. If you are like me and love YA fantasies and are looking for something a little different but still familiar, check this one out. Check it out and fall for Joanna, Rafi, and Dom with me. DOM!!!!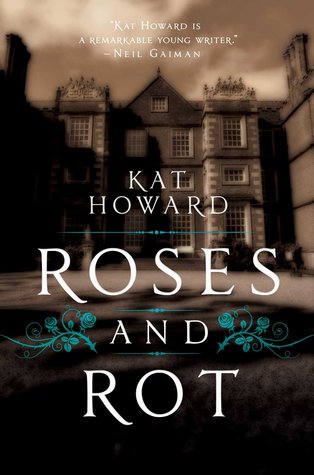 2.) Roses and Rot by Kat Howard - My Review
(
Amazon
/
Goodreads
)
When looking at my favorite books of the year, many of them are books that surprised me. Books I was interested in reading but didn't expect to love as much as I did. Books I did not expect to blow me away. Roses and Rot is one of those books. I was intrigued by it, yes, but I really loved it and that kind of surprised me.
I don't want to say too much about this book because part of it's charm is going in without knowing too much. I went in knowing very little about what this book was about and it caught me off guard. It was fascinating and captivating. I really loved the setting and the way that this book was written. it is beautiful and lyrical with a really fantastic Gothic vibe. It a;so has great characters and a completely realistic interaction between family and particularly sisters. I could totally really and was so enthralled by this book.
This is a book that I think flew under the radar a little bit this year and I wish it got more attention because it is really good. If you are a fan of Gothic fiction and/or modern classics I think you will enjoy this. I also this it has a great modern fairy tale kind of vibe. Honestly, it's great. Read it.
3.) Nevernight by Jay Kristoff - My Review
(
Amazon
/
Goodreads
)
This is a book that got some mixed reviews. I know a lot of people didn't really enjoy it or ended up DNFing it because they couldn't get into it. And I get that, I do. I am one of the people who pushed through the slow start and weirdness in the beginning and was rewarded with an amazing book.
Yes, this is a dense and slowly paced book but the payoff was intense and fantastic. It was super thrilling with tons of action and plot twists that I did not see coming. Not to mention it also has an totally interesting magical system that I think we have only just started to understand and I am really interested in seeing develop. This book is also not for someone looking for something fluffy and lighthearted. It's dark. Very dark. There is more sex and violence in this book than some of the books and TV shows that are known for being violent and sexual. But despite the fact that it was pretty erotic, I enjoyed it. A lot.
This is not the kind of book for everyone, but if you are looking for a fantasy that is dark and violent and don't mind putting in the time to read this one you will be rewarded just like I was.
4.) Ghostly Echoes by William Ritter - My Review
(
Amazon
/
Goodreads
)
This is another book that I had a copy from Edelweiss but also got a physical ARC (this time from BEA) but like The Skylighter it was a very anticipated read and I was so incredibly excited to read it when I was approved on Edelweiss.
If you have been around for awhile you know that I am a huge fan of the Jackaby series. These books always make it on to my favorites of the year list. They are such amazing mysteries and perfectly balance humor and action. Seriously, they are so funny. Plus they combine historical fiction, fantasy, and mysteries in a way that I am hopeless to resist. Ghostly Echoes is not my favorite in the series but it was amazing and resolved some questions from the first book while bringing up even more questions for the series. Plus it was about Jenny who I adore so much.
If you haven't read this series and you are a fan of historical fantasy or historical mysteries, or Sherlock, or nice things, you must read these books. They are seriously one of my all-time favorites. They're the perfect palette cleanser too because they are engaging but so fun and silly. But if I haven't convinced you to read these books yet I have failed you.
5.) The Long Game by Jennifer Lynn Barnes - My Review
(
Amazon
/
Goodreads
)
I really liked The Fixer, which I read last year. This was another sequel that I was really excited about and was so pumped when I got approved on Netgalley. I couldn't wait to find out what happened next and to solve a new mystery with Tess.
I often hate comparisons like this but it really is Veronica Mars meets Scandal. It's just such a good mystery and political thriller with a tough and snarky teenage protagonist. But the best part of this book is the twists and reveals. Even when I predicted them they were still amazing and hit me so hard. It's such a good and fantastic read.
I would definitely recommend this book. If you are a fan of mysteries or political thrillers and are looking for a good YA one then definitely read this. But I seriously need you to read this and buy this book because I need a sequel. There are so many things that I need to see followed through on, even though there is a resolution. At this point it's a duology but I want more. I need more and the author has plans for more but it needs to sell well. Help a sister out!
6.) Enter Title Here by Rahul Kanakia - My Review
(
Amazon
/
Goodreads
)
This is a book that I honestly should have included on my list of favorite debuts of the year but in an attempt to not repeat myself too much I swapped this one with one that is on my honorable mention here because I liked that one more.
But this is another one of those books that I loved more than I was expecting. I'm not a huge contemporary reader but I have been reading a lot more lately and honestly really enjoying many of them. This is one that I enjoyed. One of the things I really appreciated about it was that this is a book that plays with the tropes. It's kind of got this book within a book vibe because of the main character trying to live the ideal life so she can write a book about it to get into college. But the best thing about this book is how unbelievably unlikable the main character is. She's kind of a terrible person and yet at the same time, you root for her. It's amazing.
This is another book that is not for everyone, but if you are looking for a contemporary that is really different and plays with the tropes then check this one out. But again, this is a book that is not really for everyone. This is a book that is more towards people who are not big contemporary fans or are looking for something a little bit more of an issue book.
Honorable Mentions:

7.) The Smell of Other People's Houses by Bonnie-Sue Hitchcock - My Review
One of my favorite debuts of the year was a book I got as a Read Now on Netgalley. It's another book that surprised me, another book that flew under the radar, and another book that was amazing. It's a great book about how people's lives interweave. I loved it.
8.) The Steep and Thorny Way by Cat Winters - My Review
This was my first Cat Winters book. Can you believe it? It was. I should have been reading her books for years but I didn't. I'm glad I read this one though. It is one of the many amazing Shakespeare retellings I read this year,
9.) Heroine Complex by Gail Sarah Kuhn - My Review
I'm a sucker for books about superheroes. I was really intrigued by this one because it's from the perspective of the hero's assistant. Super interesting, man. And it was definitely interesting but also really fun and action-packed.
10.) Gena/Finn by Hannah Moskowitz and Kat Helgeson
-
My Review
I was not going to include this book because it's kind of similar to Enter Title Here. A lot of what I liked about it is similar. But it was also a really good under the radar book for the year.
There you have it, all my favorite books that I got for review from Netgalley or Edelweiss. If you want to see the full list on all the review books I read to this year and to find my thoughts, check out the
Netgalley/Edelweiss Challenge page HERE
. Thanks for stopping by and HAPPY READING!