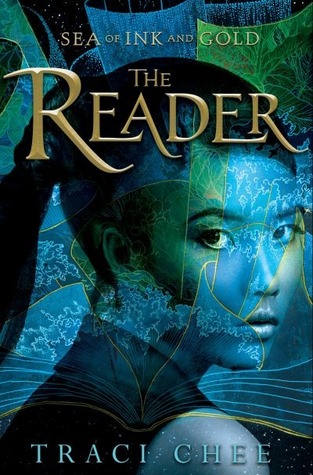 Title: The Reader
Series: Sea of Ink and Gold #1
Written by: Gail Carriger
Published: September 13, 2016 by Putnam (Penguin Group)
(
Amazon
/
Goodreads
)
Synopsis: Once there was, and one day there will be. This is the beginning of every story.
Sefia lives her life on the run. After her father is viciously murdered, she flees to the forest with her aunt Nin, the only person left she can trust. They survive in the wilderness together, hunting and stealing what they need, forever looking over their shoulders for new threats. But when Nin is kidnapped, Sefia is suddenly on her own, with no way to know who's taken Nin or where she is. Her only clue is a strange rectangular object that once belonged to her father left behind, something she comes to realize is a book.
Though reading is unheard of in Sefia's world, she slowly learns, unearthing the book's closely guarded secrets, which may be the key to Nin's disappearance and discovering what really happened the day her father was killed. With no time to lose, and the unexpected help of swashbuckling pirates and an enigmatic stranger, Sefia sets out on a dangerous journey to rescue her aunt, using the book as her guide. In the end, she discovers what the book had been trying to tell her all along: Nothing is as it seems, and the end of her story is only the beginning.
This was a fantastic read. I had heard amazing things so I bought a copy shortly after it came out but I have been dragging my feet on reading it for some reason. But I finally took the time and I'm glad I did. It's a really well-plotted and interesting fantasy.
I think my favorite thing about this book is the world. Right off the bat I knew I was in for a treat with a gorgeous map, and almost from there I was intrigued. Throughout the book we get to explore the world a little bit and it was all so interesting. It certainly did not disappoint with a world full of magic and adventure. There's a great magical system here that I liked seeing in action and some interesting themes about knowledge as well and good and evil, which I always love exploring in fantasy. But it's not too overwhelming with the explanation and exploration of the setting and the world. The author does a great job with the show instead of tell style of world-building. This is a world that I would say would reply to both hardcore fantasy fans and those who are new to the genre.
But my biggest criticism of the book is also about the world building though. I wanted so much more. I like the show instead of tell style but if that's the case then I need to be shown things. I've said it before but if you ask me, sometimes more is more. Even things I loved like the exploration of good and evil and who deserves knowledge, didn't get the attention I was hoping for in the end. I know this is the start of a series and you can't show us all your cards already but I have so many questions still. Even when we reached the end of the book I felt like they had explained almost nothing. There is so much more to learn and I'm a little annoyed that I didn't get answers to my questions. The only answer I did get was to one I thought was kind of obvious.
Although I may have just been reading too much into this because of how this story was told. It's definitely a really creative kind of storytelling. For one thing it's an incredibly layered story. It's one of those books where things that don't seem at all related eventually come together in the end. About halfway through the book I was really struck by how connected it all really was. It was like pieces of a puzzle falling into place to make something totally different. As a plot driven reader who loves solving mysteries I really appreciated that. The need to find out what was going to happen next and to see how it all connected is what kept me reading and was one of the best things about this book. I may have actually loved it a little too much and was hoping for connections where there weren't any. This wouldn't be the first time I did that.
Finally, I want to talk about the characters. This is probably the hardest thing for me to talk about. I did really like the characters but I would have liked them to be fleshed out a little bit more. They were interesting and engaging which isn't always easy to do when you have a ton of moving plotlines but Chee did a good job of establishing some mystery and intrigue with each of them. A lot of this rested on the shoulders of the main character of Sefia, who I liked. I was invested in her quest and found her easy to connect to but I think she could have been a little bit more layered. And don't get me started on Archer and how many questions I have about him and his past. I feel like there is a lot going on here with the world and the plot and it maybe didn't leave a lot of room for character development.
On the whole, this was a really good read. It's got a fascinating world, a layered and engaging plot, and likable characters. There is a lot more to learn however and I'm excited for book 2 to get some answers.
I give The Reader by Traci Chee 9 out of 10 stars



Buy/Borrow/Bypass:

Buy/Borrow.

I really enjoyed this book. It wasn't perfect but it was thoroughly entertaining. I think this is the kind of book that will appeal to a large audience. It may be a little more geared toward fantasy newbies but whether you are an old hand at the genre or want to explore it a little more this is a great read. I would recommend it.

Have you read The Reader? What did you think? Leave me a comment with your thoughts. Thanks for stopping by and HAPPY READING!