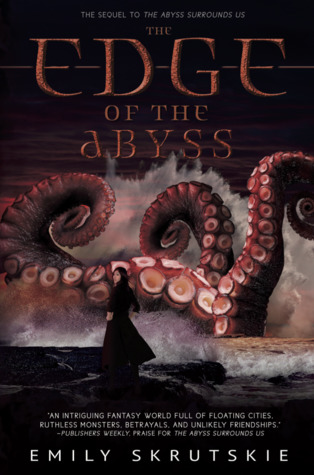 Title: The Edge of the Abyss
Series: The Abyss Surrounds Us #2
Written by: Emily Skrutskie
Published: April 18, 2017 by Flux
(
Amazon
/
Goodreads
)
Synopsis: Three weeks have passed since Cassandra Leung pledged her allegiance to the ruthless pirate-queen Santa Elena and set free Bao, the sea monster Reckoner she'd been forced to train. The days as a pirate trainee are long and grueling, but it's not the physical pain that Cas dreads most. It's being forced to work with Swift, the pirate girl who broke her heart.
But Cas has even bigger problems when she discovers that Bao is not the only monster swimming free. Other Reckoners illegally sold to pirates have escaped their captors and are taking the NeoPacific by storm, attacking ships at random and ruining the ocean ecosystem. As a Reckoner trainer, Cas might be the only one who can stop them. But how can she take up arms against creatures she used to care for and protect?
Will Cas embrace the murky morals that life as a pirate brings or perish in the dark waters of the NeoPacific?
*** I received an advance copy of this book from
Michelle
who got it from the publisher at ALA in exchange for an honest review. This fact has not changed my opinion. ***
I really liked the first book in this series and I was so excited to be able to read an advance copy of the second book. And while it's very different, it's just as good and maybe even better.
The Edge of the Abyss for one thing has and amazing and action-packed plot. I mean it's a book about pirates and sea monsters, how can it not be thrilling! And boy was it. There are so many amazing action scenes throughout the book and it really builds to an exciting climax. There was even so much build up that in the last twenty pages I made the decision to go somewhere late rather than not finish. It was that exciting. It took me just a few days to finish it because I really couldn't put it down.
The other great thing about this book is the world. I would say that much of the first book was about the Reckoners or sea monster, but most of this book is about the pirates. We get to see so much more about the inner workings of he pirate society here and even get to meet more of them. It was really interesting and I loved seeing Cas trying to figure out her place as a Reckoner trainer turned pirate. But don't think there are no sea monsters because there are. Oh man, there are plenty. Even that is expanded a little bit and we get to see them in action both wild and trained and it was really cool. These two things work together really well and definitely made for a fantastic and engaging world.
This book too has some great characters. In the first book we slowly got to know the crew of the Minnow. They're pirates so obviously they walk that fine line between good and bad. That line definitely got explored further in this book and I loved that. But no one got that exploration more than Cas. I really like her as a character. She's so complex. She's one of those characters who really tries to do the best thing even if that means doing some bad things for a good reason. I love those kinds of characters and it's one of the things I like about Cas. Plus she's so sassy. But all the characters here are great.
And honestly, I even like the romance here. The best part about it is that it's not easy. You can tell that the characters are deeply for one another but they are still constantly fighting. It's so on-again and off-again which I actually appreciate. It felt realistic and not forced. It's great to see that in a relationship. Plus it's a f/f relationship which added an even better level of awesomeness. In the end I totally ship it.
I thoroughly enjoyed this book. It's a fast and action-packed read. I loved the first book in the series and this book is just as good if not better with a thrilling plot, an interesting world, and complex characters.
I give The Edge of the Abyss by Emily Skrutskie 9.5 out of 10 stars



Buy/Borrow/Bypass

: Buy.

If you enjoyed The Abyss Surrounds Us you will love this book. And if you haven't read that and you are looking for a thrilling book about pirates check this series out. It's great.

Have you read The Edge of the Abyss? What did you think? Leave me a comment with your thoughts. Thanks for stopping by and HAPPY READING!