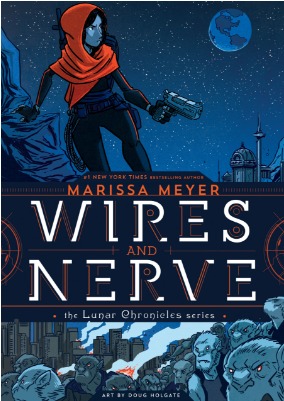 Title: Wires and Nerve, Vol 1
Series: Wires and Nerve #1 (also basically The Lunar Chronicles #6))
Written by: Marissa Meyer and Douglas Holgate (illustrations)
Published: January 31, 2017 by Feiwel and Friends (Macmillan)
(
Amazon
/
Goodreads
)
Synopsis: In her first graphic novel, #1 New York Times and USA Today bestseller Marissa Meyer follows Iko, the beloved android from the Lunar Chronicles, on a dangerous and romantic new adventure -- with a little help from Cinder and the Lunar team.
In her first graphic novel, bestselling author Marissa Meyer extends the world of the Lunar Chronicles with a brand-new, action-packed story about Iko, the android with a heart of (mechanized) gold. When rogue packs of wolf-hybrid soldiers threaten the tenuous peace alliance between Earth and Luna, Iko takes it upon herself to hunt down the soldiers' leader. She is soon working with a handsome royal guard who forces her to question everything she knows about love, loyalty, and her own humanity. With appearances by Cinder and the rest of the Rampion crew, this is a must-have for fans of the bestselling series.
I'm a huge fan of The Lunar Chronicles and so I bought a copy of this shortly after the book came out, but I have been waiting to read it until this month because of my science fiction theme. And I'm glad I read it because it's amazing and adorable. I loved it. It took me just a few hours to read this graphic novel that is a must read for fans of The Lunar Chronicle series.
For one thing it was great to revisit the world of the series. I love the science fiction world that Marissa created and here we get to explore it even more. There are just as much space ships, cyborgs, and political intrigue as the main series and it made for an interesting read and fun world.
The best part about this book is also the best part of The Lunar Chronicles and that is the character. In this graphic novel series our main character is Iko. I could not be more excited about that. Iko finally gets the attention she deserves. She's back with a vengeance and so is her trademark humor and fangirl attitude. On top of that we get to see her be the hero and let me tell you, kickass Iko is my favorite Iko. She's such a great and complex strong female protagonist and I'm really glad to see her in the spotlight and not in the background.
But if you were worried that we wouldn't get to see he other characters in the series fear not because this very much feels like a Lunar Chronicles story and features all your favorites from the original series. Cinder is of course a big part of the book as is Winter and it was great seeing them be leaders on Luna and Earth. Scarlet and Wolf were also back and being as cute as ever. But the characters that had the biggest role are the two I was hoping to see and that is Cress and Thorne. They are my favorite characters and they reminded me just how much in this book.
This book also has the trademark Lunar Chronicles humor. It's such a fun read and the tone of the series translated so well to a graphic novel format. There was tons of action and adventure as well as light-hearted and even silly moments. But when it comes right down to it, there was a really engaging plot as well. The book built to an exciting conclusion and I honestly did not want to stop reading to find out what was going to happen next. It was just as exciting and engaging as the original series.
My only criticism is with the artwork. If you don't read a lot of comics and graphic novels you probably won't care about this because it is really accessible when it comes to the drawings. But I found them a little bit basic. I know I'm asking for a lot in my hopes for full color drawings with lots of details but that's what I wanted and that's not what I got. The art is simple and cute which is fine but I wish it was a little more complex.
I am so glad this graphic novel exists. It was great read and a fantastic addition to the Lunar Chronicles. The characters are amazing, the plot is full of action, and adventure, and it's a fast an fun read you will finish in just a few hours.
I give Wires and Nerve, Vol 1 by Marissa Meyer and Douglad Holgate 9.5 out of 10 stars



Buy/Borrow/Bypass

: Buy

. If you love The Lunar Chronicles series you must pick this one up. I'm not sure I would recommend this to people who like graphic novels and have not read the main series. It's a fun book but you need to be familiar with the series and the characters to really enjoy it. And enjoy it I did.

Have you read Wires and Nerve, Vol. 1? What did you think? Leave me a comment with your thoughts. Thanks for stopping by and HAPPY READING!