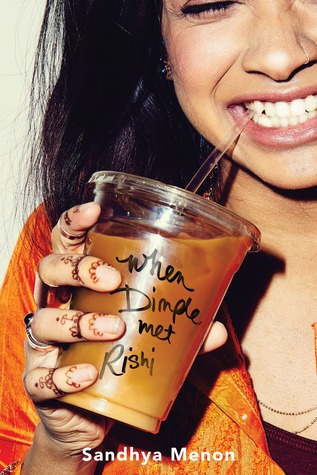 Title: When Dimple Met Rishi
Written by: Sandyha Menon
Published: May 30, 2017 by Simon Pulse
(
Amazon
/
Goodreads
)
Synopsis: Dimple Shah has it all figured out. With graduation behind her, she's more than ready for a break from her family, from Mamma's inexplicable obsession with her finding the "Ideal Indian Husband." Ugh. Dimple knows they must respect her principles on some level, though. If they truly believed she needed a husband right now, they wouldn't have paid for her to attend a summer program for aspiring web developers…right?
Rishi Patel is a hopeless romantic. So when his parents tell him that his future wife will be attending the same summer program as him—wherein he'll have to woo her—he's totally on board. Because as silly as it sounds to most people in his life, Rishi wants to be arranged, believes in the power of tradition, stability, and being a part of something much bigger than himself.
The Shahs and Patels didn't mean to start turning the wheels on this "suggested arrangement" so early in their children's lives, but when they noticed them both gravitate toward the same summer program, they figured, Why not?
Dimple and Rishi may think they have each other figured out. But when opposites clash, love works hard to prove itself in the most unexpected ways.
I know so many of you loved this book. It's one that I saw a lot of talk about when it came out in May. I wanted to let the hype die down a little bit before reading it. But then all the drama over the character came out and so I decided it was time. I don't read a ton of YA contemporaries but every once in awhile it's nice to take a break from the genre fiction and read a cute romance. And that's exactly what this book was, cute.
The story was built on the relationship between Dimple and Rishi so I have to start with the characters. As far as Dimple goes, I really liked her. She is a bit on the rebellious side wanting to be more of an American teenager and less of the Indian teenager her parents want her to be. She's sassy and tough, fiercely independent, and will do anything for the people she cares about. She's also incredibly ambitious, working hard to get what she wants. I respected her for this and rooting for her. Rishi on the other had is the traditional Indian teenager his parents want him to be. He's also incredibly sweet and kind but with a bit it mean streak that appreciated. I did however like Dimple way more than Rishi. I think Rishi was just too perfect. What's the male equivalent of a Mary Sue because that's what a Rishi was. I liked him so much better in the rare moments he did something that wasn't cautious and according to plan.
But honestly, so much of this book was about these characters realizing you can't entirely plan out your life because the unexpected could be much better than what you ever imagined. Both of them have great development throughout the book as they learn and grow into more well-rounded individuals. It felt very genuine and honest to see two teenagers feel conflicted about their futures, make mistakes, and figure what it was they really wanted. Not what their parents wanted for them or what was expected of them, what they wanted.
And of course I have to talk about the romance. It was incredibly cute. I am quite romancephobic and when it comes to romances it's often hard to please me. And if I am being entirely honest, this wasn't my favorite romance. It was very sweet. Like overly sweet at times which just isn't my thing. But in the end it won me over. I think because it didn't stay perfect the entire time. Even though it was a short span of time, this relationship definitely had its ups and downs and I appreciated that. This very easily could have been a wish fulfillment kind of relationship and at times it seemed like it was going there but in the end it was something more genuine and complex.
Before this review is over though I want to take a second to talk about the secondary characters. That is definitely another place where this book shined. First of all I really enjoyed Dimple and Rishi's parents. Both sets of parents were involved and invested in their children's lives. They cared so much for them and would do anything to see them happy. That's not super common in YA so I appreciate it when I see it. I also really like Ashish, Rishi's brother. They had such a realistic sibling relationship. Plus Ashish was hilarious and is already so likable. I hear he's getting his own book and I can't wait for him to get a little more depth.
I did enjoy this book but it didn't totally blow me away in the way it has for most people. I think just in general it's not my favorite kind of read. It was just a little on the sweet side for me. But it had great characters and the romance won me over in the end.
I give When Dimple Met Rishi by Sandhya Menon 8 out of 10 stars



Buy.Borrow/Bypass:

Buy/Borrow

. If you like really cute YA contemporary romances and are looking for a new one to read definitely check this book out. It is totally adorable and I think will really appeal to fans of romance.

Have you read When Dimple Met Rishi? What did you think? Leave me a comment with your thoughts. Thanks for stopping by and HAPPY READING!