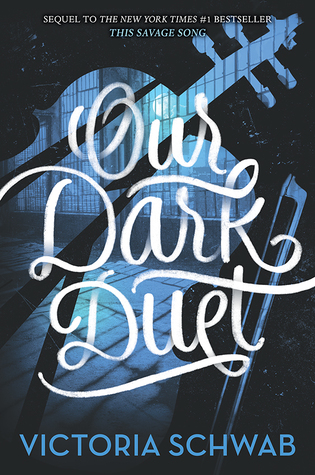 Title: Our Dark Duet
Series: Monsters of Verity #2
Written by: Victoria Schwab
Published: June 13, 2017 by Greenwillow Books (Harper Teen)
(
Amazon
/
Goodreads
)
Synopsis: THE WORLD IS BREAKING.
AND SO ARE THEY.
KATE HARKER isn't afraid of monsters. She hunts them. And she's good at it.
AUGUST FLYNN once yearned to be human. He has a part to play. And he will play it, no matter the cost.
THE WAR HAS BEGUN.
THE MONSTERS ARE WINNING.
Kate will have to return to Verity. August will have to let her back in. And a new monster is waiting—one that feeds on chaos and brings out its victims' inner demons.
Which will be harder to conquer: the monsters they face, or the monsters within?
I loved This Savage Song, it was one of my favorite books of last year, so I was beyond excited that find out what would happen next to Kate and August. Our Dark Duet was a great sequel full of amazing world-building, a thrilling plot, and great characters.
With Our Dark Duet Victoria once again proved she is a master at world building. I have never read one of her books that didn't have an incredibly fleshed out world. I was very impressed with the world in the first book and here it was even better. In Our Dark Duet we get to explore more of the world at large as we follow Kate who starts the book in Prosperity hunting monsters. It was nice to see what things were like outside of the city we were introduced to in the first book, but Verity is what I cared about. Specifically the monsters of Verity. The groundwork was laid in the first book so here we could just kind of see the monsters in action. Plus we got an all new monster, one that was just as cool and dark as those in the previous books. The Chaos Eater was so interesting and the more we learned about the more interesting it became. I loved seeing it in action and how the characters interacted with it. It added an interesting new dimension and expansion of the world. I have always loved how Victoria creates a fascinating and unique world in her books and Our Dark Duet did just that.
But the other thing I loved about this book, and Victoria's writing, is the characterizations. These are some of the most complex and likable characters I have ever read. I absolutely loved August and Kate in the first book and the more time we spend with them, the more I like them. These are characters who walk that line between good and bad, doing the wrong things for the right reasons. August had really interesting development in this book. The effects of the first book have hardened him a little bit but he is still grappling with who he is and who he wants to be. He has to come to terms with being a monster while still doing the right thing. It made him incredibly likable and interesting. But if TSS was August's book this one was Kate's. She was the more engaging character here for many reasons. Kate is a smart and tough character full of snarky one-liners but still very vulnerable and here she showed us her best side and her worst. She always wanted to be a monster and here she kind of got her wish. We explore her humanity a lot throughout the book and it was fascinating.
And that is just the good guys. With "good" guys like this you can only imagine how dark the antagonists were. The bad guys of this book were seriously complex too. They were devious and I loved them. Sloan is back in this book and scheming and plotting for control of Verity as well as to get revenge on Kate. Then there was Alice, the new Malachi that Kate created in the last book. She was amazing! So devious and deadly. The contrast between her and Kate was fantastic. It was like Kate being unleashed and uninhabited. She was a great foil for all the main characters, even Sloan. Victoria just has a great way with villains and character development for dark and complex characters. Our Dark Duet was a great example of that. Every character here is dark, complex, and so engaging as the walked that fine line between good and evil.
This is also a book that has an incredibly thrilling plot. The events of This Savage Song left a power vacuum in Verity that was explored in the plot of Our Dark Duet. The monsters have been unleashed and are reeking havoc on the city. It made for some really great action scenes as we followed Kate and August as they hunted the monsters. And then there was the Chaos Eater. A new monster that possesses people and stirs them to violence and to destroy everyone around them. That too led to some really thrilling moments and a good mystery as we learned how it works and how to destroy it. Everything really built to an exciting conclusion that had me totally reeling. Seriously, THAT ENDING! I really can't with that ending.
I will say, however, that the pacing on this book wasn't my favorite. It took me much longer to get through this than I expected. I am used to the fact that fantasy books have a high amount of exposition but sometimes I think it was just too much. I definitely think it was too much. It took almost 200 pages before it really hit the plot of this book and it was really hard for me to get into it until that point. It wasn't until Kate got back to Verity that I was really engaged. I spent a week reading the first half of this book but then I finished the second half in two days. I wish it was just a little more balanced but that is really my only criticism.
Our Dark Duet is a great sequel to a fantastic YA fantasy duology. It has a Dark an fascinating world, likable and complex characters, and a thrilling plot full of action.
I give Our Dark Duet by Victoria Schwab 9 out of 10 stars



Buy/Borrow/Bypass:

Buy.

If you liked the first book in this series you definitely need to read the sequel. It was fantastic and worth a read. Plus I absolutely recommend this book to fans of dark fantasies.

Have you read Our Dark Duet? What did you think? Seriously, what did you think. I need to talk to someone about this book and what happened. Leave me a comment with your thoughts. Thanks for stopping by and HAPPY READING!