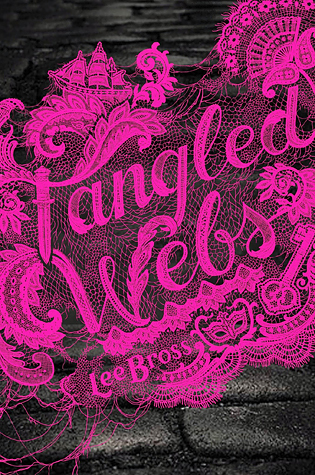 Title: Tangled Webs


Series: Tangled Webs #1




Author: Lee Bross




Published: June 23, 2015 by Disney Hyperion


(Amazon / Goodreads)



Synopsis: London, 1725. Everybody has a secret. Lady A will keep yours—for a price. This sumptuous, scandalous YA novel is wickedly addictive.





Lady A is the most notorious blackmailer in the city. With just a mask and a gown to disguise her, she sweeps into lavish balls and exclusive events collecting the most valuable currency in 1725 London—secrets.





But leading a double life isn't easy. By day Lady A is just a sixteen-year-old girl named Arista who lives in fear of her abusive master, Bones, and passes herself off as a boy to move safely through the squalor of London's slums. When Bones attempts to dispose of his pawn forever, Arista is rescued by the last person she expects: Jonathan Wild, the infamous Thief Taker General who moves seamlessly between the city's criminal underworld and its most elite upper circles. Arista partners with Wild on her own terms in the hopes of saving enough money to buy passage out of London.





Everything changes when she meets Graeden Sinclair, the son of a wealthy merchant. Grae has traveled the world, has seen the exotic lands Arista has longed to escape to her whole life, and he loves Arista for who she is—not for what she can do for him. Being with Grae gives something Arista something precious that she swore off long ago: hope. He has promised to help Arista escape the life of crime that has claimed her since she was a child. But can you ever truly escape the past?
**** I received an ARC from the publisher via Netgalley in exchange for an honest review. This fact has not changed my opinion. ****
How many times do you see those Buzzfeed or other website doing these expectations vs. reality posts where you see something pretty and shiny but then you attempt it yourself and it's not as easy as it looks. I feel like reading Tangled Webs was like the book equivelant of expectations versus reality. Now before we go any further I'm not saying that it was bad, it just wasn't what I was expecting. In fact, there was a lot to really like about Tangled Webs, from the complex characters to the mystery and action, it was definitely an interesting read.
As far as the characters go, I expected a kickass female protagonist manipulating those around her to her own ends, a thief and a femme fatale. But that is not what I got at all. Nope, Arista is a broken and vulnerable girl who is just trying to survive the only way she knows how. She is trying to get out of the life she was forced into by terrible people who treat her as a pawn in their twisted game. This may not jive with a lot of people who want a tough female character who doesn't doubt her every move and has to force herself to be tough, but I loved it. You guys know I have a soft spot for these types of females, it's evident in my love of Sansa Stark. And despite the fact I was expecting something very different, I found Arista incredibly refreshing. I liked how complex she was in that what she presented to the world was very different from what she was like inside. Getting in her head made her easy to root for. However, I would have liked a little more character development. I felt a bit like she emerged from the struggle exactly how she started it. There was so much opportunity to make her become a least a little bit like that strong female character, but it didn't get there even though it tried.
I was expecting Arista to have a dubious moral character but that part was played by everyone else in the book. That was the first thing that really struck me about Tangled Webs, and what kept me reading. I honestly didn't trust anyone. I knew that Arista's vulnerabilities and the fact that everyone was using her to their advantage would blow up in her face because all the secondary characters were so complex and down right devious. Each one of them was odious at best and while Arista was concerned about taking care of the people around her, they were concerned about taking care of themselves. It really made for a lot of conflict and endeared me to Arista even more.
For the setting of the book, I expected a lush historical setting that was full of social inequality especially for women. And despite a little bit of that and some attempt at historical context, I got a book that felt like it could taken place anywhere and any time. Now that not necessarily a bad thing, it's sometimes nice to have a book that has that kind of versatility but with Tangled Webs it left me wanting more. I think because it is supposed to be historical fiction. I am a big fan of the genre and I like when books transport you to a particular time and place, I wanted that from this book. But more that that, it just felt like there wasn't enough world building. All I know about the world is that there is a lot of shipping via boats and that there are a lot of mascarade balls. I think what didn't work for me about it is that the setting and world seemed to serve the plot rather than standing on it's own.
Speaking of the plot development, I was expecting a book full of mystery, intrigue, and shocking twists. Not necessarily political intrigue but that kind of scheming and manipulation. In reality, I'm not really sure what I got. I mean I should know, I felt like most of this book was plot. It's very fast-paced and a quick read that you'll want to keep reading to find out what happens. And there was a lot of plot development, almost too much plot development. There was a lot going on that's for sure. And yes, it was a lot of mystery and suspense. But there was honestly so much going on that it was hard to follow. But I'm glad I stuck with it, because while the ending didn't surprise me, it did have a big payoff. When the conclusion drew near, it all lead to a big climax that pulled elements from different parts of the story, something that I love, and that really strong ending left me with a good taste in my mouth when the book was over.
Despite the fact that Tangled Webs was not what I was expecting, and with a few bumps along the way, I enjoyed reading it. It's an engaging book with a character that you can empathize with and lots of mystery that will keep you reading until the very end.
Buy/Borrow/Bypass: Borrow
. There was a lot to like about this book including the characters and the fact that it's so readable but there is just as much that didn't work for me. I would recommend this book to fans of dystopia who prefer plot driven stories and like characters on the vulnerable side. That's my kind of thing and if it's your then pick this up.
Read this if you liked:
Red Queen by Victoria Aveyard
The Witch Hunter by Virginia Boecker
The Kiss of Deception by Mary Pearson
The Young Elites by Marie Lu
(Arista reminded me a bit of Adelina but she doesn't have the villainous turn, she stays pretty demure)