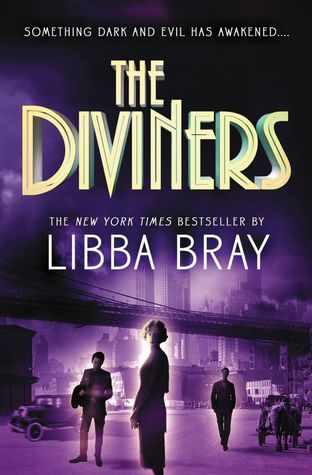 Title: The Diviners
Series: The Diviners #1


Author: Libba Bray




Published: September 8, 2012 by Little Brown Books for Young Readers


(Amazon / Goodreads)

Synopsis: Evie O'Neill has been exiled from her boring old hometown and shipped off to the bustling streets of New York City—and she is pos-i-tute-ly ecstatic. It's 1926, and New York is filled with speakeasies, Ziegfeld girls, and rakish pickpockets. The only catch is that she has to live with her uncle Will and his unhealthy obsession with the occult.



Evie worries he'll discover her darkest secret: a supernatural power that has only brought her trouble so far. But when the police find a murdered girl branded with a cryptic symbol and Will is called to the scene, Evie realizes her gift could help catch a serial killer.





As Evie jumps headlong into a dance with a murderer, other stories unfold in the city that never sleeps. A young man named Memphis is caught between two worlds. A chorus girl named Theta is running from her past. A student named Jericho hides a shocking secret. And unknown to all, something dark and evil has awakened.
I have never met a Libba Bray book that I have not loved. It doesn't matter if it's contemporary, historical fiction, or fantasy she is seriously an autobuy author for me. That being said, I waited entirely too long to read this book. I heard about it a few years ago and for some reason I never picked it up. I picked up her other books. And after finally reading it, I am definitely wondering why it took so long for me to read it because it was just absolutely brilliant.
What I adored most about this book is the historical fiction aspect of the story. Libba Bray is able to perfectly transport you into the world of New York City in the 1920's. She of course combines real people, ideas, and events of the period with fictional people and events. The setting comes alive with gorgeous detail as We're taken to the seedy prohibition era clubs, the jazz music, the vaudeville shows, and meet flappers and Bright Young Things out for a good time. I read a lot of historical fiction and never before have I found such an immersive experience, so much so that I found my manner of speech changing to adopt the slang of the time (but this is the second book set in the 20's I read in the past two weeks so take my opinion with a grain of salt). It's such a great representation of the era that I think the manner of speech and slang
may annoy some readers, it does feel a little bit like jargon at times, but for me it felt all the more authentic and interesting. Not to mention that this is a period that I love reading about. It's a time of change and excitement that leads to a lot of really interesting and adventurous stories.
And that is exactly what the plot of this book was, interesting and adventurous. Sure, it's an immerse historical fiction novel but it's also a fantastic supernatural mystery. There is a disclaimer at the beginning of the book that warns the
reader to keep the lights on and they are not kidding. This book is incredibly spooky. It's a fantastic ghost story that will forever change the way I view whistling when I'm walking down the street alone at night. But it's also an intricate murder mystery about the hunt for a serial killer. You know me and mysteries, I like solving them and I'm pretty good at it. I thought I had the mystery here figured out and I had a few elements of it solved but it still managed to surprise me and build to an amazing conclusion that had me on the edge of my seat completely riveted.
But the mystery plot and the ghost story were not the only supernatural elements of the story. The book also had a fascinating magical system that was a lot like the superpower stories that I love. Many of the characters in this book have powers that they are trying to keep secret, powers that connect them to a dark past, powers that get them into or sometimes out of trouble. I love characters with secrets and what Libba Bray does so well here with them is the dramatic irony of their secrets and their connections. The book is told in a third-person perspective from a lot of different perspectives and is intricately well-written. We slowly get to know each character and watch them interact with one another in positive and negative ways as their stories intertwine with the many different plot points of the book. Books with so many perspectives can be hit or miss for me and there were times where it felt a little too vast sometimes but it really did work.
The fact that I enjoyed the alternating perspectives so much may have been because each and every character here was fascinating and complex. No matter which character we are following at the time you are engaged and invested in their success. I particularly loved our main character Evie and her fun-loving spirit and plucky personality but I also loved that she's smart and probably the best detective in the bunch. But the book also had an amazing and dark antagonist. Naughty John may have just become one of my favorite villains, he is terrifying! Did I mention the whistling? Because, the whistling! Libba Bray is a master at characterization and The Diviners definitely proves it. But even so I feel like we have only begun to learn about each of them, their histories, and their powers. I can't wait to learn more. Maybe I should push Lair of Dreams up on the TBR.
The Diviners is a beast (if you've read it, you may laugh at this) of a book weighing in at almost 600 pages but it doesn't really feel that way. It's a book you will not want to put down as you hunt for clues about the supernatural mystery and the characters. Libba Bray further proves why she is one of my favorite authors.
I give The Diviners by Libba Bray 9.5 out of 10 stars



Buy/Borrow/Bypass

: BUY!

Whether you are a fan of historical fiction, horror, mysteries, and/or fantasies this book is worth the read. It has a vivid historical setting, complex and engaging characters, a thrilling plot that will keep you on the edge of your seat and up all night. It was dark and spooky and wonderful!

Read this if you enjoyed:

The Gemma Doyle trilogy by Libba Bray The Young Elites by Marie Lu Miss Peregrine's School for Unusual Children by Ranson Riggs The Raven Boys by Maggie Steifvater The Golem and the Jinni by Helene Wecker

Have you read The Diviners? What did you think? Leave me a comment for your thoughts. Thanks for stopping by and HAPPY READING!