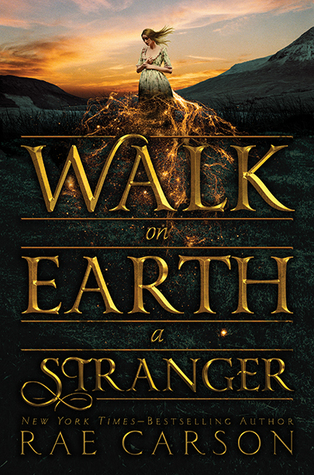 Title: Walk on Earth a Stranger
Series: The Gold Seer Trilogy #1


Author: Rae Carson




Published: September 22, 2015 by Greenwillow (Harper Collins)


(Amazon / Goodreads)

Synopsis: The first book in a new trilogy from acclaimed New York Times bestselling author Rae Carson. A young woman with the magical ability to sense the presence of gold must flee her home, taking her on a sweeping and dangerous journey across Gold Rush–era America.



Lee Westfall has a secret. She can sense the presence of gold in the world around her. Veins deep beneath the earth, pebbles in the river, nuggets dug up from the forest floor. The buzz of gold means warmth and life and home—until everything is ripped away by a man who wants to control her. Left with nothing, Lee disguises herself as a boy and takes to the trail across the country. Gold was discovered in California, and where else could such a magical girl find herself, find safety? Rae Carson, author of the acclaimed Girl of Fire and Thorns trilogy, dazzles with this new fantasy that subverts both our own history and familiar fantasy tropes.





Walk on Earth a Stranger, the first book in this new trilogy, introduces—as only Rae Carson can—a strong heroine, a perilous road, a fantastical twist, and a slow-burning romance. Includes a map and author's note on historical research.
*** I received an advance copy of this book from the publisher at BEA in exchange for an honest review. This fact has not changed my opinion. ****
Fantasy fans absolutely rave about Rae Carson's work. The Girl of Fire and Thorns trilogy is one of those series that I hear over and over again that I need to read (it's on my TBR so stop hassling me!) but when I heard about Walk on Earth a Stranger I knew that I needed to read. It sounds like a book I would love. And while I wasn't blown away, it was a thrilling and entertaining ride.
One thing that did blow me away in Walk on Earth a Stranger was the historical setting. I have only read a few books set during the pioneer era but I am rarely disappointed by them. It's such a fascinating time period. But even better than that, this is books set on the California Trail (which is similar to it's better know cousin, the Oregon Train). I recently read Under a Painted Sky and I loved the way that Stacey Lee built the dangerous world of traveling west and Rae Carson did it even better here in this book. The stakes are incredibly high and you can tell that this is well-researched. It is the kind of book that fans of historical fiction will love. Throughout the book, we are taken to locations that come alive with vivid imagery and detailed explanations. Whether it's small town Georgia, the thriving town of Independence Missouri, or spots along the trail like Fort Laramie, Independence Rock, or the Platte River it all is so visually explained and vivid that you feel like you are right there. You also feel the hardships of the trail. It was a risky endeavor that many did not survive and Carson perfectly captures that within the setting of this book.
But despite a really great setting, portions of the world were kind of lacking for me. One of the things that I didn't enjoy as much as I was hoping was the magical system of the book. Now don't get me wrong, the ability to feel gold is a really interesting power and during the gold rush, it seems like it could be both useful and dangerous. Lee uses her powers for good instead of evil though and I liked all the opportunities she took to use them. But it just felt like this elephant in the room that no one was talking about. There was no explanation for and it was so much in the periphery that I would often forget that it existed. It just didn't feel fully-formed to me. And maybe as the series develops then we will get to see more of the power but at this stage, I just didn't fully connect with it.
The hardest thing for me to articulate about this book is my feelings on the characters. The book is told in first-person limited from Leah's perspective. Leah is the kind of female protagonist that I love. She's strong and determined but with weaknesses and vulnerabilities. Her father has taught her to be independent and not constrained by gender norms so her disguising herself as a boy makes a lot of sense. Gender-bending is another thing that I don't always love but here it worked. Even the reveal worked and the people's response to it was different from the norm which I found kind of refreshing. I also really liked Jefferson, Leah's best friend. He has a bit of a tortured past but he doesn't let it keep him from succeeding. They had a great relationship and I liked their friendship and how they would do anything for each other. But besides Leah and Jefferson, the rest of the characters blended together for me. There were a lot of different characters and most of them didn't feel fully-formed to me. They weren't bad but I would have liked to see a little more from the secondary characters. The only exception however was Therese, a young women on the trail with them, and Mrs. Joyner who Leah is working for. Therese may have been my favorite character besides Leah and she had great development. Her and Mrs. Joyner may have been the only ones with a really strong character arc. On the whole, the characters were likable enough but I would have liked to see a little more development.
Walk on Earth a Stranger is a fast read despite the plot and pacing being on the slower side. I say this because I just cruised through reading this book, easily plowing through 100 pages a day which is more than my average rate but it didn't feel like that was because it was a page turner until the last 100 pages. It pulled you in with enough moments of action (and a few gruesome injuries) to keep you reading but it was really just one big travel monologue with the character trying to get to a different location so that the rest of the series can happen. But I do feel like I'm warming up to travel as a plot point. If it's done well, it can be really interesting. Here it mostly worked. Despite moments where I felt like things were on the slower side, it pulled you in and took you on an exciting ride. I think a lot of my trepidation from this book is that it's the first in a series. I typical feel like first books suffer from First Book Syndrome for me. I understand that it has to spend a lot of time building the world and setting the scene for what will happen later, it's they don't always work for me. But I did like the fact that it was a full and complete story with likable characters, a fascinating and vivid setting, and an engaging plot.
I give Walk on Earth a Stranger by Rae Carson 8.5 out of 10 stars.
Buy/Borrow/Bypass:

Buy/Borrow.

Fans of historical fiction should definitely pick this book up and be ready for a vivid setting and well-researched plot that takes you on a trip down the Oregon Trail with all the high stakes action. If you are more of a plot-driven reader like me you probably enjoy this a little more than if you want a strong character-driven story.
Have you read Walk on Earth a Stranger? What did you think? Do you plan on reading it? Leave me a comment with your thoughts. Thanks for stopping by and HAPPY READING!