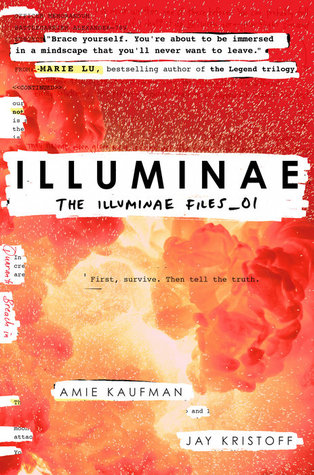 Title: Illuminae
Series: Illuminae Files #1
Author: Aime Kaufman and Jay Kristoff
Published: October 20, 2015 by Knopf (Random House)
(
Amazon
/
Goodreads
)
Synopsis: This morning, Kady thought breaking up with Ezra was the hardest thing she'd have to do.
This afternoon, her planet was invaded.
The year is 2575, and two rival megacorporations are at war over a planet that's little more than an ice-covered speck at the edge of the universe. Too bad nobody thought to warn the people living on it. With enemy fire raining down on them, Kady and Ezra—who are barely even talking to each other—are forced to fight their way onto an evacuating fleet, with an enemy warship in hot pursuit.
But their problems are just getting started. A deadly plague has broken out and is mutating, with terrifying results; the fleet's AI, which should be protecting them, may actually be their enemy; and nobody in charge will say what's really going on. As Kady hacks into a tangled web of data to find the truth, it's clear only one person can help her bring it all to light: the ex-boyfriend she swore she'd never speak to again.
Told through a fascinating dossier of hacked documents—including emails, schematics, military files, IMs, medical reports, interviews, and more—Illuminae is the first book in a heart-stopping, high-octane trilogy about lives interrupted, the price of truth, and the courage of everyday heroes.
**** I received an advance copy of this book from the publisher via Netgalley in exchange for an honest review. This fact has not changed my opinion. ****
I am very rarely at a loss for words. I am full of opinions usually. Good, bad, indifferent. If you ask me what I think about something, especially books, I will tell you. But I really can't even begin to find the words to explain how brilliant Illumine was. I have read Aime Kaufman's work and I know that can write an absolutely amazing science fiction novel. I've also heard good things about Jay Kristoff and after reading this book I think I may need to read his fantasy. Together these two authors created something brilliant and creative that I loved reading.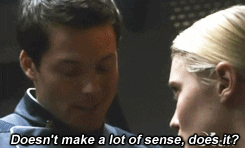 One of the things that made this book so brilliant is the format. It is one of the most creative an interesting books I have ever read. Until recently I don't think I have really read a book written in the epistolary format but I've read two in as many months now and I have to say, I love that style. Illuminae is written from hacked records. Journal entries, emails, IMs, video footage. It all works together to create the story of a space adventure gone horribly wrong (more on that later).
From the blacked out works to the white writing on a black background, to the word art, to the commentary, to the vocabulary it was like nothing I had ever read. I
t took a little while to get accustomed to the style but once I did, I was absolutely hooked. I realize this style is not for everyone but I loved it. It's not that I would call it realistic but it was definitely immersive. And because it is so immersive when things go horribly wrong it gives you an extra punch to the feels. Maybe because it was almost like being part of the narrative.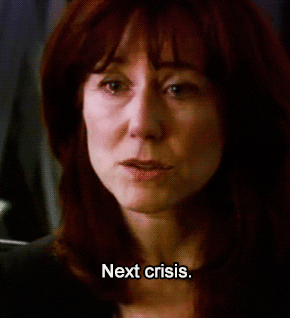 And there definitely was a narrative here. Sometimes these kinds of books can get a little muddled and complex in a bad way. And yes, it did take me a little while to get used to the format and really get involved with the plot of the book. I mostly think that
when you're creating exposition and context in an epistolary format it's hard to make the story interesting and not confusing. But this was still a very compelling story Fans of hard sci-fi will love this space adventure. There is a lot of computers and technology here but the most interesting plot point for me and the real story was about survival. And I mean this in more ways than one. There are so many other concepts and plot points at play here that threaten the safety of our characters like the threat of another spaceship arriving and destroying the fleet as we know it. But there are also threats from within the fleet including a really nasty virus that adds a lot of action and conflict plus one of the ship's artificial intelligence that thinks he is helping but he's really kind of making things worse. It was a complex and intricate plot but it was well-planned and executed in a way that build to a thrilling conclusion.
But what really had me invested in this book was the characters. There was a lot of different people and "voices" throughout the book but they all felt distinct and interesting. Our main characters of course are Kady and Ezra who I both liked. Kady is this computer prodigy who uses her powers for her own personal gain until her survival is at risk but then again that could also be personal. Kady is not the easiest character to like but she is still really sympathetic and has a great character arc. Ezra on the other hand is easy to like. He's got a great sense of humor and just as interesting a backstory and development. But I also really loved them together. They had great banter and when they interacted I was waiting for the moment I could smooch their faces together.
But the book was also full of complex and compelling secondary characters including Ezra and Kady's compatriots, military leaders, and members of the fleet. The best secondary character however was AIDAN, the ship's artificial intelligence who after suffering some damage in an attack become an antagonist for the book. And boy is he a great one. I've been loving AI villains lately because their cold nature makes them creepy in a way that is so entertaining. Plus AIDAN's logic and actions make him so sinister and yet somehow he's not a caricature because throughout the book his explanations about why he's doing this sometimes even makes sense. He's the kind of villain who is doing the wrong thing for the right reasons, a concept I always enjoy in my antagonists. With AIDAN, sometimes he's diabolical and sometimes he's downright sympathetic. That to me is the mark of a great villain. You are rooting for our heroes while also not rooting against the antagonist. And that to me is also the mark of great characterizations, something I think was abundantly clear here.
But that's just one more example of why Illuminae is so unique and compelling. It's unlike anything I have read and it was so thrilling and compex. It may seem like an intimidating read. Seriously, this thing is a beast coming in at over 600 pages (something not often seen in YA novels) but it's also the kind of book that you will fly through both because the format makes it it quicker to read then a lot of descriptions and dialogue but also because you will not want to put it down. Then when you finally do finish it, it will probably wreck you. I mean it did me.
Buy/Borrow/Bypass

: BUY! If you are a fan of science fiction then you must read this book. Even if you aren't a fan, if you are looking for a unique book that has complex characters and tons of action then pick this up. It really is a phenomenal and beautiful peice of literature.
Have you read Illumine? What did you think? Leave me a comment with your thoughts. Thanks for stopping by and HAPPY READING!