It's already October? When did that happen? I had a great month reading in September though. I read some really great books. If you didn't see my recap yesterday check it out here. In August I unveiled a new monthly feature where I talk about a few of the books that I got to reread. With so many series enders and series continuations happening this fall and winter I decided I needed some refreshers before I done back into the series. For the foreseeable future I will be doing one reread a week so I thought I would do a new feature I'm calling On Rereads. They will be mini reviews where I talk about the books I reread and any different impressions I may have had after reading them a second time. This month I read three first books in a series in preparation for their sequels.
Jackaby by William Ritter -
(
Amazon
/
Goodreads
/
Audible
/
My Review
)
I absolutely loved this book when I read it last year. I thought it was incredibly fun with an engaging plot full of mystery, a atmospheric world full of fantasy, and likable characters full of humor. It still does. The second time around I was not at all disappointed by this book. It was just as fantastic and enjoyable.
I also thoroughly enjoyed the audio on this one. Nicola Barber does this boook justice which was a big concern of mine. But she captured Abigail's enthusiasm, Jackaby's snark, and Charlie's mystery. She also captured the supernatural world and I felt like I could perfectly visualize New Shoreham and all the characters. My only criticism is that because I knew how it was going to end it didn't have as much mystery and usually I'm okay with that but this time I didn't really pick up some extra plot points that I missed the first time around. But on the whole it was a fantastic read.
I was so glad I read this before
Beastly Bones
. It reminded me how much I liked the characters and how fun this series is. I picked up a few references from the book that I may not have noticed if I had not reread Jackaby.
The Young Elites by Marie Lu
-
(
Amazon
/
Goodreads
/
Audible
/
My Review
)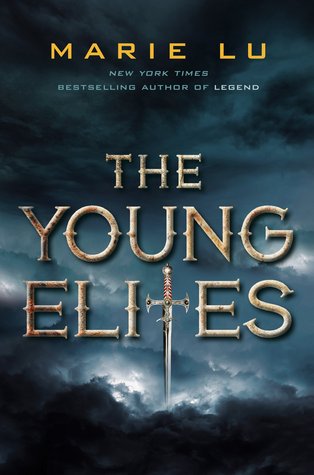 This was another favorite book of 2014 and another really anticipated sequel. I cannot wait for my copy of The Rose Society to get here. I need more Adelina and her descent into madness. I seriously love how dark this book is and it was just as dark the second time. I didn't forget how ruthless these characters are and it didn't affect me any less. Neither did that climax. I didn't sob as much but the anticipation killed me. But that being said the dramatic irony sort of made it so that I didn't like the characters as much. I held a few of them at arms length knowing what they would do so that was a change I didn't like the characters as much.
But I did really like the audio in this case. I knew that the world is influenced a lot by Italian/Renaissance history and that was so much more obvious with the audiobook. The narration was fantastic and the way they pronounced the names and certain words really helped to immerse me in the world. And I really love this world and magical system so that was great.
I wish I had waited a little bit before I read this though. I now need The Rose Society so badly and I still have to wait two weeks. Three from when I finished my reread. I need book two like... yesterday.
The Alloy of Law by Brandon Sanderson -
(
Amazon
/
Goodreads
/
Audible
/
My Review
)
It should come as no surprise to you that I love the Mistborn series if you have been here for awhile. Mostly I am obsessed with this world. The Alloy of Law is not my favorite in the series but it's a fantastic series that's more like a police procedural. I had completely forgotten so many elements of the mystery so it was great to reread and refresh on that note. One thing I didn't forget about is the characters. How much do I love Wayne? SO MUCH! And Ranette. And Marassi. And Wax. Ah, they are all so fantastic.
I didn't listen to all the audiobooks for the first three Mistborn novels but I did listen to a bit of them and the narrator is fantastic. They use the same one for this one which is nice. He gets the world so well and I can immerse myself in it along with his voice.
But now I am so ready for Shadows of Self. It comes out next week and I am starting the preview from Netgalley today. I cannot wait for more crazy hijinx, more mystery-solving, and more allomancy and feruchemy. But mostly more Sanderson because obviously!
Have you done any rereads lately? What books? Do you like doing rereads or not? Tell me why. I hope you like this new feature. I'm hoping to do it once a month or when I finish a reread of a series. Thanks for stopping by and HAPPY READING!