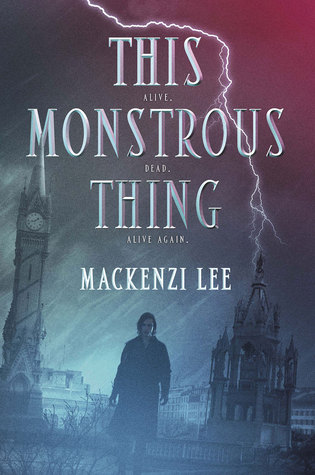 Title: This Monstrous Thing


Author: Mackenzi Lee




Published: September 22, 2015 by Katherine Tegan (HarperCollins)


(Amazon / Goodreads)

Synopsis: In 1818 Geneva, men built with clockwork parts live hidden away from society, cared for only by illegal mechanics called Shadow Boys. Two years ago, Shadow Boy Alasdair Finch's life shattered to bits.



His brother, Oliver—dead.




His sweetheart, Mary—gone.




His chance to break free of Geneva—lost.





Heart-broken and desperate, Alasdair does the unthinkable: He brings Oliver back from the dead.





But putting back together a broken life is more difficult than mending bones and adding clockwork pieces. Oliver returns more monster than man, and Alasdair's horror further damages the already troubled relationship.





Then comes the publication of Frankenstein and the city intensifies its search for Shadow Boys, aiming to discover the real life doctor and his monster. Alasdair finds refuge with his idol, the brilliant Dr. Geisler, who may offer him a way to escape the dangerous present and his guilt-ridden past, but at a horrible price only Oliver can pay…

**** I received an advance copy of this book from a giveaway from Bookiemoji (thanks ladies!). This fact has not changed my opinion. ****

This Monstrous Thing was one of my most anticipated debuts. As soon as I heard about this book I knew it would be right up my alley. Historical fantasy yes, but better than that, Steampunk Frankenstein. It sounded incredibly creative and that's exactly what it was. This Monstrous Thing is an interesting retelling with a compelling plot and complex characters that I really enjoyed.

But there was so much conflict in this book in general. It seemed like almost everyone was against the main character of Alasdair. Every time I turned around another antagonist was being exposed and our hero had his find his way out of one scrape or another. It made for a book that wasn't particularly mysterious but was really engaging. There was lots of action and adventure in the book, more than I expected if I'm being honest. And you would think that this would lead to a rather disconnected plot development but it really didn't. There were a lot of different plot points but they all worked together and flowed in a way that created a cohesive and interesting story. It was a much faster read than I expected because it did flow so well and the plot was so full of action. I wanted to keep reading and find out what happened.

This Monstrous Thing was a engaging and entertaining read that was so readable. There were so many great themes about humanity, a fascinating world, and great characters. When it was all over I closed the book with this conflicted desire though. I loved it a lot but as a standalone it left me wanting more. More from Mackenzi and more about these characters. But that is a mark of a good read to me and on the whole that's what this was.

Buy/Borrow/Bypass

: Buy/Borrow.

This is a really interesting and engaging retelling that I think fans of Frankenstein should definitely check out. But even if you aren't a fan and you like steampunk, science fiction with themes about humanity, or just want a good story about family then get your hands on this one.

Have you read This Monstrous Thing? What did you think? Leave me a comment with your thoughts. Thanks for stopping by and HAPPY READING!