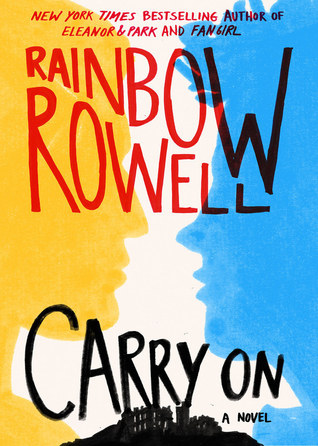 Title: Carry On
Author: Rainbow Rowell
Published: October 6, 2015 by St. Martins Griffin (Macmillan)
(
Amazon
/
Goodreads
)
Synopsis: Rainbow Rowell continues to break boundaries with Carry On, an epic fantasy following the triumphs and heartaches of Simon and Baz from her beloved bestseller Fangirl.
Simon Snow just wants to relax and savor his last year at the Watford School of Magicks, but no one will let him. His girlfriend broke up with him, his best friend is a pest, and his mentor keeps trying to hide him away in the mountains where maybe he'll be safe. Simon can't even enjoy the fact that his roommate and longtime nemesis is missing, because he can't stop worrying about the evil git. Plus there are ghosts. And vampires. And actual evil things trying to shut Simon down. When you're the most powerful magician the world has ever known, you never get to relax and savor anything.
Carry On is a ghost story, a love story, a mystery and a melodrama. It has just as much kissing and talking as you'd expect from a Rainbow Rowell story — but far, far more monsters.
We don't get a lot of YA authors coming to Pittsburgh. So when I found out that Rainbow Rowell, who is someone that I adore and have missed meeting at two BEAs, was coming to town I was absolutely ecstatic. Two days after the release of Carry On she came to the Carnegie Library of Pittsburgh for a short talk and book signing. She was unsurprisingly delightful and kind, staying for three hours to sign books. During the signing we chatted about awkward author encounters (she'll make this list now) and how I figured out she was writing this book when she tweeted about doing something new. She talked about everything from writing and reading, to fantasy, to fanfiction, and even some movie updates. I was originally going to write a whole separate thing about the event but I figured I would just pepper in some things she said throughout.
I absolutely love Rainbow Rowell and all her books. The one that introduced me to her writing was Fangirl which I will always have a special place in my heart for. I love Fangirl for multiple reasons. For one thing I always connected with Cath and her love of fantasy. So when I found out that Rainbow was writing a book about the characters that Cath loved, I was very excited to fall in love with them too. And that is exactly what I did.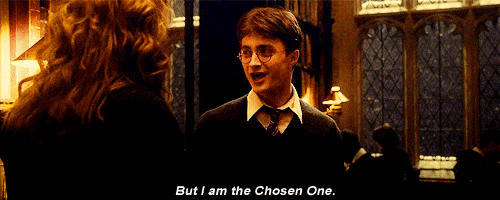 One of the things that I always love about Rainbow is her characterizations. Every book has brilliant and realistic characters who you can't help but love and Carry On was no exception. In her talk Rainbow mentioned that one of the things she noticed while writing Carry On is that she had to have a lot of character perspectives because each character needed a little bit of information. I think there are seven different POV characters here. Usually that is something that annoys me but here it mostly worked. Each character had their own distinct voice and did in fact bring something that felt essential. Rainbow said one of her favorite characters to write about was Baz and he was definitely my favorite to read about. He has so much inner turmoil but so much humor and intelligence. He was fun and dark and so interesting. Simon was also really interesting. He's such a complex character and I really enjoyed his development and the way Rainbow played with the Hero's Journey through Simon. But I think my other favorite character was Penelope. She's the overly intelligent Hermione-esque character here but I love the way she flouts the rules and helps Simon. They had a great friendship.
But all the relationships here were so fantastic. For one thing they were incredibly complex, especially the romances. I often think that term "love triangle" is a misnomer. It's usually a love line with the MC in the middle and the two love interests on either side. Here it could genuinely be called a triangle. Most of the characters did in fact like the other two which made for a lot of drama. But the OTP here was the best part. We're all on the same page here, right? The ship here is Simon and Baz. And wow, I loved it so much. Baz isn't in the first part of the book and Simon's obsession with him was a little frustrating because I just wanted them to interact. I wanted the banter and the romance. And when I did get it I couldn't be happier. Because when it did finally happen it was so sudden. They went from enemies, to a begrudging teammates, to in a romantic relationship. I do kind of wish there was more romance though because the kissing scenes were pretty top notch.
But that wasn't the only thing about the book I loved. The world was also fantastic. This is Rainbow's first fantasy book and I have to admit that I was a little nervous about a favorite author who writes in a genre I don't usually love, writing in a genre I do love. I don't know why, I should have trusted Rainbow because she did an amazing job with this aspect. She said in her talk that she reads a lot of fantasy so she "had the vocabulary" and also mentioned a love of Lev Grossman and how he played with the tropes so after that I was really excited. And what is created in Carry On is a really unique fantasy world that does play with the tropes in a fun way. The magical school is quite common in YA fantasy but that was really just the backdrop here. Although Watford was a cool place. The locations within the castle felt Hogwartsian but they still felt unique. But what I really liked about the world was the magical system. It was such a complex and interesting system. Here Mages had to be magical which is a mostly hereditary skill. And then to control their magic they also have to have some sort of magical object like a wand, a ring, or even a sword which was interesting. But even more creative was the fact that their magical words were nursery rhymes, song lyrics, and even some cliches. It was really unique and fun to see. The world and magical system of Carry On was one of my favorite parts.
But unfortunately there were some things about the book that didn't quite work for me. One of those is the plot development. There is a lot going on in this book. I usually love that, a complicated book makes for an interesting book. But the most interesting plot point was the "Chosen One" storyline and sometimes it was overshadowed or muddled by other plot points. At first it read more like a mystery and less like an epic fantasy, whic I liked. The mystery unfolded in an interesting way that made logical sense. It was solvable but not predictable which was really refreshing. However even the central mystery had a little too many facets. Rainbow mentioned in her talk that she gave different pieces of the mystery to different characters which is fine but often it felt like they weren't sharing that info. As the reader we had privileged knowledge that helped us solve things but that kind of dramatic irony is not my favorite. I think on the whole there were too many minor storylines. From Baz trying to find out who killed his mother, to the political intrigue of families arguing about who should be able to attend Watford, and even some stuff about vampires. There was a lot of different things that sometimes took away from the main story which I was enjoying. Plus when it was all said and done there were lose ends and plot points that just fizzled out. If this was a series then I could maybe see why they were included for them to become important down the line but here it kind of just made things a little muddled. But in the end I did really like the big reveals and resolutions.

And while the ending did redeem things it still made for a book that had some pacing issues. Things started out a little slow for my taste. I understand that when you are creating a new fantasy you have to set the scene and introduce the characters. A little bit of that is fine. But because there were so many different plot points there was a lot of exposition until they got to the meat of the story. Then when things did build to the thrilling conclusion it seemed like it was over a little too soon. And like I mentioned before, some plot points just fizzled out. There were no resolutions on some while others just ended without any follow up. The more complicated plot I think just resulted in a book that had a little too muddled pacing for me. A little less is more perhaps.

But on the whole Carry On was a thoroughly entertaining read. Rainbow Rowell created a world full of magic and mystery that she populated with some fantastic and complex characters. Fantasy fans will love the way she plays with the tropes and the unique magical systems and fans of her contemporary work will adore the romance and humor here.

Buy/Borrow/Bypass

: Buy

. This was a great read that I think will appeal to a lot of different people. I may not really recommend it to fantasy fans because of my concerns with the plot development but it is worth it to see how she plays with the classic tropes. If you are a fan of Rainbow's contemporary novels you will probably also enjoy this one. It's a big change for her but I'd like to see her do more fantasy. I wouldn't mind if there was more Simon and Baz either.

Have you read Carry On? What did you think? Leave me a comment with your thoughts. Thanks for stopping by and HAPPY READING!