Hi Everyone. So today's topic is Halloween freebie. I was going to do bookish costumes like I did last year but I thought I would do something a little different. That's when it hit me. Pumpkins. That's what fall is all about, right? Pumpkin everything. So here are the ten book covers I think would make amazing jack-o-lanterns.
1.) These Broken Stars by Aime Kaufman and Meagan Spooner
I mean all the covers in the Starbound trilogy would be amazing but just imagine how gorgeous Lilac's dress will look on a pumpkin with Tarver trying to reach out to her. Plus the stars in the background. Yup, amazing.
2.) A Gathering of Shadows by V.E. Schwab
A Darker Shade of Magic would look amazing as well (I mean I love maps) but I think AGOS is more Halloweeny. The hands reaching out from the bottom. Plus it has Lila and she deserves to be on a pumpkin in all her pirate glory.
3.) The YA tie-in Mistborn trilogy by Brandon Sanderson
The world needs all the Vin pumpkins. I absolutely love these covers. They are some of my favorites. Imagine three pumpkins: one has Vin in mostcloak with glass daggers, one has vin with the koloss sword, one has Vin on a dead koloss.
4.) Jackaby and Beastly Bokes by William Ritter
In the hands of a skilled pumpkin carver this will be amazing. They could do that whole shading thing so you can see the figure inside the silhouette. It will look really amazing. And an unskilled carver could just do the silhouette.
5.) Throne of Glass series by Sarah J. Maas
I was going to pick one book from this series but I couldn't pick one because they seriously would all be amazing. All the Celaena pumpkins. Celeana in her cloak, Celeana with her daggers, Celeana with a bow, Celeana with Damaris.
6.) The Raven Cycle by Maggie Stefvater
I take it back. Nothing says Halloween like a bunch of pumpkins with ravens on them. Plus I just like the design of these covers. They are whimsical and dark which I think would be really fun on a pumpkin.
7.) The Grisha Trilogy by Leigh Bardugo
And this is another one where I couldn't pick just one. With the palace on the bottom and the flowing and intricate designs (like antlers, sea dragon, and firebird) going up from there they would look so amazing as jack-o-lanterns.
8.) Seraphina and Shadow Scale by Rachel Hartman
Nothing says Halloween like a a dragon attacking a castle on a pumpkin. Plus again in the hands of a skilled pumpkin carver the woodcut design of this cover would look really amazing. It's intricate enough to look really cool all lit up.
11.) Snow Like Ashes and Ice Like Fire by Sarah Raasch
So I'm reading Ice Like Fire right now and the cover is seriously amazing and gorgeous. It would look really cool on a pumpkin. Plus again, if you can do that whole shading thing then you could make is even better but just the chakram would be cool.
9.) The Dead House by Dawn Kurtagich
This cover is so dark and dramatic, I think using it to decorate a pumpkin would be amazing. And it's another one that you could make more complicated with shading but it would look just as cook if you had a basic silhouette with the branches in the background.
10.) Passenger by Alexandra Bracken
Oh man, imagine this cover on a pumpkin with the city in a bottle and the ship underneath. It would look so cool and would probably confuse some people. But also just the letter would look amazing on this.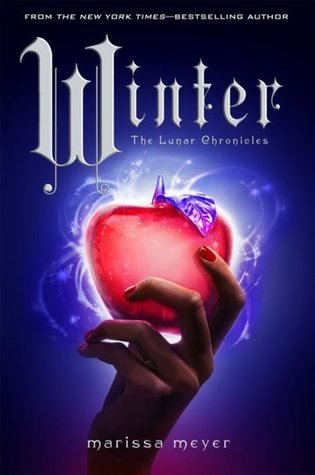 12.) Winter by Marissa Meyer
So this a little inside joke. I mean these covers are great and would look fun on a jack-o-lantern, don't get me wrong. But I just love the idea of putting an apple on a pumpkin because I feel like apple season gets overshadowed by the commercialization of fall and all things pumpkin spice.
There you go. Those are the covers I think would make amazing jack-o-lanters. If you are looking for a last minute way to decorate your pumpkin then here you go, use these covers. What one is your favorite? Which one would you use to decorate your pumpkin? Or what did you carve your pumpkin to look like? Leave me a comment with your thoughts. Thanks for stopping by and HAPPY READING!