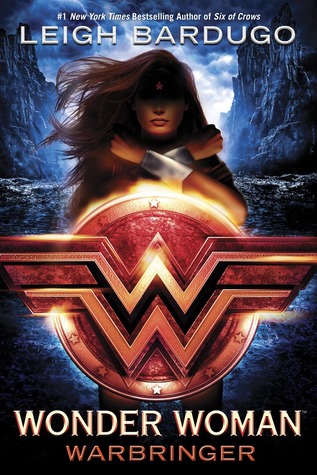 Title: Wonder Woman Warbringer
Series: DC Icons #1
Written by: Leigh Bardugo
Published: August 29, 2017 by Random House
(
Amazon
/
Goodreads
)
Synopsis: She will become one of the world's greatest heroes: WONDER WOMAN. But first she is Diana, Princess of the Amazons. And her fight is just beginning. . . .

Diana longs to prove herself to her legendary warrior sisters. But when the opportunity finally comes, she throws away her chance at glory and breaks Amazon law—risking exile—to save a mere mortal. Even worse, Alia Keralis is no ordinary girl and with this single brave act, Diana may have doomed the world.

Alia just wanted to escape her overprotective brother with a semester at sea. She doesn't know she is being hunted. When a bomb detonates aboard her ship, Alia is rescued by a mysterious girl of extraordinary strength and forced to confront a horrible truth: Alia is a Warbringer—a direct descendant of the infamous Helen of Troy, fated to bring about an age of bloodshed and misery.

Together, Diana and Alia will face an army of enemies—mortal and divine—determined to either destroy or possess the Warbringer. If they have any hope of saving both their worlds, they will have to stand side by side against the tide of war.
*** I received an advance copy of this book from the publisher at ALA in an exchange for an honest review. This fact has not changed my opinion. ***
I am a huge fan of Wonder Woman. She has always been my favorite superhero and not just because she is the most mainstream female hero. So I was really excited to hear that there were going to be YA books about the DC heroes, including this Amazon princess. And then I was even more excited when I heard it was going to be written by Leigh Bardugo, who I also love. And this was an absolutely fantastic read.
The thing I liked the most about this book was the characters. Leigh Bardugo just does such a brilliant job with characterizations and this once again allowed her to show that skill. First of all we have the titular Amazon, Diana Prince. I know that Leigh is a big Wonder Woman fan and it showed in the character she created. It absolutely captured the spirit of Wonder Woman and everything I love about her. Her desire for peace and love of mankind despite their flaws. You also got to see her in full badassery throughout the book defending those who she was sworn to protect, which let's be honest is everyone. I think fans of the character will appreciate Leigh's treatment of her and those who don't know her will connect with Diana just like I have.
But the secondary characters is really where this book shines. Leigh is a master at character depth and creating odious and slightly dark characters. And while these weren't as dark as some of her other books they were still incredibly complex and odious. I spent a lot of the book questioning their localities and I loved that about them. But also, the banter. Oh my gosh you guys, the banter here was on point and like I don't mean romantically. The way the characters talked, their jokes, and wit. It was all so fantastic. My favorite was probably Nim who was full of sass and knowledge. Theo was pretty good as well. He easily could have just been comic relief but Leigh gave him a lot of depth. All of these characters could have been very one-dimensional but none of them were under Leigh's hand.
I also really appreciated that this is a book that was rooted in Greek Mythology. My favorite Wonder Women stories are always ones that have roots in the mythology. This one definitely did just that focusing on the characters from the Trojan War and some lesser known Greek gods and goddesses. It added some interesting dimension to the world and the plot development.
But I will say, it focused more on the Greek mythology then it did on the character mythology. This is not a Wonder Woman origin story. If you are not familiar with the character and how she came to be, jumping in at this stage may confuse you. This is a story all it's own. As someone who does know Wonder Woman really well I appreciated that. It felt like it was written for someone like me. But if you are new to the character then maybe it isn't so accessible. Or maybe I am wrong and you will appreciate not getting bogged down in whether or not Diana was birthed from clay or from an affair between Hippolyta and Zeus. Who am I to say.
No, the plot of this book was something entirely it's own. It was definitely an interesting plot for sure. It was full of surprises and unexpected twists, some of which definitely had me reeling. It also did what a lot of Leigh Bardugo books do where It very slowly built to an exciting conclusion. The beginning was definitely more on the slower side but even during those parts it was still really readable. My only criticism however is that I wanted a little bit more action. Now I don't mean fight scenes. There were just enough of those. I mean I wanted more adventure and drama. There were just some moments where I didn't feel like the stakes were very high. I feel like Wonder Woman deserve that kind of story and it happened in the end but I would have liked more of that throughout.
But all in all this was a really great story. It was everything that I was hoping for in a Leigh Bardugo written Wonder Woman story. There were great characters, a world rooted in mythology, and a plot full of surprises.
I give Wonder Woman Warbringer by Leigh Bardugo 9 out of 10 stars



Buy/Borrow/Bypass:

Buy.

I would definitely recommend this book to fans of Wonder Woman or if you are new to the character. Or even if you are looking for a book full of mythology with great characters then check this out. It's a great read and I'm so excited for more DC Icons.

Have you read Wonder Woman Warbringer? What did you think? Leave me a comment with your thoughts. Thanks for stopping by and HAPPY READING!