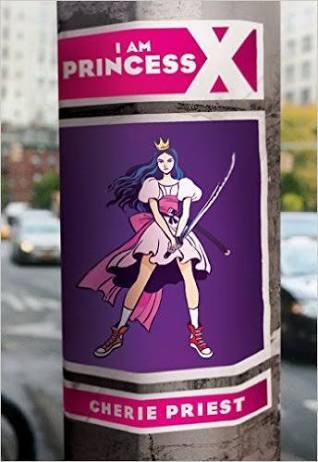 Title: I Am Princess X
Written by: Cherie Priest
Published: May 26, 2015 by Arthur A. Levine (Scholastic)
(
Amazon
/
Goodreads
)
Synopsis: Once upon a time, two best friends created a princess together. Libby drew the pictures, May wrote the tales, and their heroine, Princess X, slayed all the dragons and scaled all the mountains their imaginations could conjure.
Once upon a few years later, Libby was in the car with her mom, driving across the Ballard Bridge on a rainy night. When the car went over the side, Libby passed away, and Princess X died with her.
Once upon a now: May is sixteen and lonely, wandering the streets of Seattle, when she sees a sticker slapped in a corner window.
Princess X?
When May looks around, she sees the Princess everywhere: Stickers. Patches. Graffiti. There's an entire underground culture, focused around a webcomic at IAmPrincessX.com. The more May explores the webcomic, the more she sees disturbing similarities between Libby's story and Princess X online. And that means that only one person could have started this phenomenon - her best friend, Libby, who lives.
I have been wanting to read this book for quite awhile now. But I only recently picked up a copy for myself and I am so glad that I did. This was a fantastic and engaging read that I couldn't put down. It was full of mystery, great characters, and cool art to break things up and add interest.
I Am Princess X is a fast read. The paperback comes in at only 230 pages and it was a breeze to get through this book. I completely devoured it. I finished it in just a few days and if I'm being entirely honest I could have finished it in a day if I had eight hours of uninterrupted reading time to spare. Sometimes I read books fast because there isn't much to them. But don't assume that it was a fast read because there isn't much depth to it because there is. It's a short but eventful read.
Because was the plot of this book ever full of action and adventure. I'm not sure I was really expecting all that plot development. Although I shouldn't have been that surprised by an author who has only ever previously written adult sci-fi and fantasy. The plot development of this book was definitely full action. There were all kinds of daring escapes and thrilling heroics that kept me on the edge of my seat. This is a book that really built to a thrilling conclusion as well. It was pretty well paced but I do think that it dragged a little bit towards the end. I didn't really want it to be over but I was ready for the reveal.
Speaking of the reveal, this was a book with a fantastic mystery. I love a good mystery. I love a big reveal that you saw coming and I love a crazy twist. This book was probably more of the former. It wasn't a huge surprise, in fact it was more of validation for what you and the character was already thinking. But honestly, that wasn't a bad thing. It still gave the book a lot of tension (the plot helped a lot with that as well). Plus it was actually a really unique mystery. I really loved the way that the mystery here unfolded. The clues were built into the comic and it made for a truly unique and engaging mystery which made this a totally engaging read.
Speaking of the comic, I really loved the portions with Princess X. I'm reading this book as a part of my superhero/superpower themed month. Princess X is a fantastic hero. She's part normal girl, part kickass heroine. She is designed by a young girl so the art isn't very complex but it is still fantastic. I loved the way that the book was broken up with the comic as well. It added a lot of interest to the book and made it so readable. I actually was kind of bummed that there wasn't more Princess X. I want this webcomic to be real. I want to find out what happens next to Princess X and her protector with the black ax. I loved her that much.
But Princess X was not the only character that I liked here. This was a book full of interesting and realistic characters. There isn't much attention placed on the characters with this book but they aren't neglected. They are just not the focus here. But they still feel realistic. In particular the main character of May felt really honest and realistic. She felt like someone I would want to know and be friends with in real life. And friendship is definitely a thing that she values. So much of this revolves around friendship. May never gave up on her childhood best friend of Libby even after she died in a car accident, and she develops a great friendship with Trick throughout the book. Speaking of Trick, I liked that he wasn't this perfect hacker. I loved that he had some vulnerability to him. It made him more realistic. I also really liked that this book didn't force them into a romance. It totally could have but it didn't. It let the friendship thrive that way and I really appreciated that.
On the whole I Am Princess X was a fantastic read. It was a fast and engaging read full of mystery, adventure, and friendship. It's a book you will want to read in one sitting because it is that engrossing. I know that I did.
I give I Am Princess X by Cherie Priest 9.5 out of 10 stars



Buy/Borrow/Bypass

: Buy.

Why did I wait so long to read this book. I really loved it and absolutely devoured it. Perfect for fans of mysteries or anyone looking for a fast palette cleanser kind of read.

Have you read I am Princess X? What did you think? Leave me a comment with your thoughts. Thanks for stopping by and HAPPY READING!