Every couple months I go through a phase where I read a ton of comics, and in the past few months I have done just that. But it seems completely fitting that I do this post now because it is my superhero themed month here on the blog. That on top of the fact that I have actually read more comics these past few months than even my normal busy months. So obviously, lots of comics coming.
Runaways, Vol. 1: Pride and Jo and Vol. 2: Teenage Wasteland by Brian K. Vaughn and Adrian Alphona
(
Amazon
/
Goodreads
/
Comixology
)
Synopsis
: Meet Alex, Karolina, Gert, Chase, Molly and Nico - a group of teens whose lives are about to take an unexpected turn... Runaways vol. 1 #1-6
Still on the run from their super-villain parents, this motley crew of super-powered kids finds a kindred spirit in a daring young stranger and welcomes him into their fold. But will this dashing young man help the teenagers defeat their villainous parents...or tear them apart? One troubled member finds out, as she leaves the group's hideout with their new recruit, who reveals his startling secret, putting the entire team in jeopardy Plus: Who do you send to catch a group of missing, runaway teenage super heroes? Marvel's original teen runaway crimefighters, Cloak and Dagger, making their first major appearance in years.
Runaways vol. 1 #7-12
My Thoughts:
I have been wanting to read Runaways for awhile now. I had heard really good things about it and it seems like the kind of comic that I would be really interested in, unique cast of teenage characters, mystery, and a little bit of a sci-fi flair. But then I heard that Rainbow Rowell was writing a new version of the comic. And that sealed the deal. I knew I needed to read this so I could read Rainbow's version.
And just as I suspected, I really enjoyed it. There is a handful of characters here and they are all really interesting. I think my favorite is probably Molly. She is the youngest and the others keep trying to protect her but she is the most physically strong and I know there will come a point when they stop under estimating her. I also really love Gert and Old Lace. I mean Gert is totally snarky and she has a telepathic connection with a dinosaur. Goals, amiright? But honestly they are all really complex. I'm excited to see more from them.
But this comic also has a really great plot to it. If this were a written book then I definitely would say that it has a plot that is the perfect combination of action and mystery. There is tons of thrilling action scenes that you expect in a comic but there's also an overarching plot that is slowly unfolding. In two volumes there is still so much that has not been explained yet and I can't wait to find out.
Only the whole, this is a good series and I think the perfect comic for people who may not necessarily big fans of comics. It's super accessible if you are new to comics and for people who do love them there is enough to enjoy.
Synopsis:
Agent of S.H.I.E.L.D. Bobbi Morse, the former Avenger known as Mockingbird, goes solo in her own incredible adventures! With a scientific mind and a lethal mastery of martial arts, she's one of the most versatile, in-demand assets at Maria Hill's disposal - that makes her ideal for investigating strange goings-on in S.H.I.E.L.D.'s own medical and recovery network. And when Lance Hunter's undercover gig at the London Hellfire Club goes south, Mockingbird sets off, battle staves at the ready, to save him - and the Queen of England! From helping out a teen driven bonkers by her own new powers, to doing a little dog-sitting, Bobbi shows that she's a woman of many talents as bestselling author Chelsea Cain and artist Kate Niemczyk make Mockingbird sing!
COLLECTING: MOCKINGBIRD: S.H.I.E.L.D. 50TH ANNIVERSARY 1, MOCKINGBIRD 1-5
My Thoughts:
So here is another comic that I have been wanting to read for awhile now. I heard about this awhile ago when all that drama about the cover with Bobbi wearing a shirt that said "Ask Me About My Feminist Agenda." Which honestly is so on brand for Bobbi. But I never got around to reading it. But then Marvel got added to Comixology Unlimited and this was one of the first ones I read.
And I really loved it. For one thing, Mockingbird has always been such a kickass female heroine. I loved her on Agents of S.H.I.E.L.D.and I was so excited to see a Mockingbird solo comic. And I was not disappointed. It was Bobbi Morse at her finest. She was brash and kickass but she was also really really fun and funny. If you like the character you will enjoy her solo comic.
But I do think the series as a whole lacked some cohesion. In each issue she went on a different adventure, often with other Marvel characters, which was fun and enjoyable but if you look at it all together there wasn't much of a point. There was supposed to be an over-arching storyline and it did get resolved in the end but it didn't feel like there was a point to those side adventures.
If you are a Wonder Woman fan maybe check this one out, but if you are reading the character for the first time, do not start here. I would also maybe suggest waiting until you have volume 2 and reading them together. I have that one now so we shall see how I feel.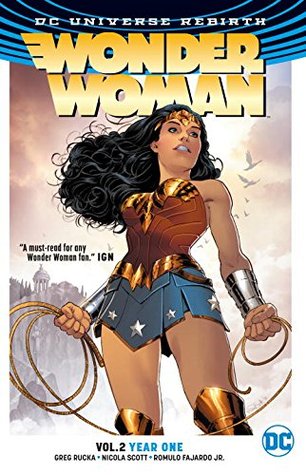 Wonder Woman, Vol 2: Year One by Greg Rucka and Liam Sharpe
(
Amazon
/
Goodreads
/
Comixology
)
Synopsis:
A part of DC Universe: Rebirth!
New York Times best-selling writer Greg Rucka continues his return to Wonder Woman! The team of Rucka and artist Nicola Scott weave the definitive and shocking tale of Diana's first year as Earth's protector.
Paradise has been breached, Ares stirs, and the Amazons must answer with a champion of their own...one who is willing to sacrifice her home amongst her sisters to save a world she has never seen. Wonder Woman's journey begins in this epic origin story!
Collecting: Wonder Woman 2, 4, 6, 8, 10, 12, 14
My Thoughts:
I am actually really enjoying the DC Rebirth version of Wonder Woman. I really like what they are doing with the characters. It's interesting because I feel like in some ways this is a version of the character that is meant for fans of Diana Prince already. There's not a lot of backstory, you're sort of just thrown into her story in the hopes that you know it already.
But it is also a really accessible version of the story because it doesn't get bogged down with a lot of history and mythology of the character.It's very reminiscent of the movie in that it mostly explores why she is in the world of men and why she can't really go back to Themiscyra. I liked the way that the story is going and I'm interested to see how it develops.
But honestly, I think that the best thing about this series is the art. It is one of the most gorgeous books I have seen in awhile. It's got bright colors, creative layout, and lots of movement. I like when comics take that to the next level and they do more than design rectangular panels and that's what this series did.
But I may be a little biased because I am a huge fan of Wonder Woman. I would probably love any of her comics because it is Wonder Woman. I will say though that I didn't realize until I was putting this together that this is not a chronological collection. It is the even numbers where volume 1 in this collection was the odd. If you are going to read these I would suggest picking up both and reading them in chronological order. This one felt like we were getting another volume 1 and I think that would be resolved if you read them that way.
Gotham Academy Volume 3: Yearbook and Second Semester Vol. 1: Welcome Back by Brendan Fletcher. Karl Kerschel, and Becky Cloonan
(
Amazon
/
Goodreads
/
Comixology
)
Synopsis: "Another turning point, a fork stuck in the road. Life grabs you by the wrist..." and hands you this year's Gotham Academy yearbook! The students of Gotham's most prestigious prep school are back and they've just survived one heck of a year within the walls of Gotham Academy. Now it's time for everyone to look back and experience some of the lost adventures from the school year that was. Featuring stories and art by some of comics' best and brightest creators including Dustin Nguyen (BATMAN: L'IL GOTHAM), Derek Fridolfs (BATMAN: L'IL GOTHAM) and Rafael Albuquerque (AMERICAN VAMPIRE), as well as from regular series writer Brenden Fletcher (BATGIRL)!
Collects GOTHAM ACADEMY #13-18.
GOTHAM ACADEMY is back with an all-new storyline for its second semester! When you're Olive Silverlock, winter holidays can be a drag. Luckily, when a new student shows up at Gotham Academy to keep her company while the other students are away, Olive finds what could be a brand new friend…or a whole lot of trouble!
My Thoughts:
I'm a big fan of the Gotham Academy series. I feel like it's a comic that is not talked about enough because it's probably not that exciting for people who are big comic book fans. But it's perfect for me because it's great characters at a Gothic boarding school.
And in the course of four volumes now I have become super obsessed with these characters. Well most of them. I'm not really a big fan of Olive. She has definitely become less likable in the past few volumes. I mean that's kind of the point but still. If you ask me, the real hero here is Maps. I freaking love Maps. She might be one of my favorite comic book characters ever.
I also really like the art in this series as well. It's always been one of those where there are tons of bright colors and lots of different designs on the page. It's like the characters can't be contained by typical panels and they just break out and go wherever they want.
I will say, though, that I think I liked Second Semester better than Yearbook. Yearbook was another one of those books where there are all kinds of different side adventures that are not at all connected to the main plot of the volume. They were fun, but lacked cohesion, and clearly that is something that I need. But Second Semester was great. It was everything I love about Gotham Academy. There were secrets, mystery, big surprises, and lots of drama. I can't wait for what is next in the series because oh boy that ending was great.
And those are all the comics I have read in the past few months. Have you read any of these comics? What did you think? Do you have any comics or graphic novels that you would recommend to me? Leave me a comment with your thoughts. Thanks for stopping by and HAPPY READING!