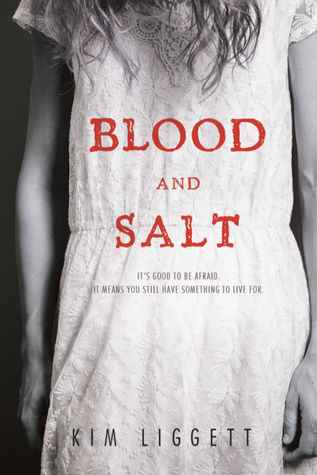 Title: Blood and Salt
Series: Blood and Salt #1
Author: Kim Liggett




Published: September 22, 2015 by Putnam Young Readers (Penguin Random House)


(Amazon / Goodreads)

Synopsis: Romeo and Juliet meets Children of the Corn in this one-of-a-kind romantic horror.
"When you fall in love, you will carve out your heart and throw it into the deepest ocean. You will be all in—blood and salt."
These are the last words Ash Larkin hears before her mother returns to the spiritual commune she escaped long ago. But when Ash follows her to Quivira, Kansas, something sinister and ancient waits among the rustling cornstalks of this village lost to time.
Ash is plagued by memories of her ancestor, Katia, which harken back to the town's history of unrequited love and murder, alchemy and immortality. Charming traditions soon give way to a string of gruesome deaths, and Ash feels drawn to Dane, a forbidden boy with secrets of his own.
As the community prepares for a ceremony five hundred years in the making, Ash must fight not only to save her mother, but herself—and discover the truth about Quivira before it's too late. Before she's all in—blood and salt.
**** I received an advance copy of this book from the publisher in exchange for an honest review. This fact has not changed my opinion. ****
I can't remember how or when I first learned about Blood and Salt but I knew right away I needed to read this book. So when I saw that Kim was going to be signing ARCs at BEA I knew I had to be there to meet her and I was so glad I could. Because you guys, this book was so worth it. Worth the wait, worth the read, worth everything. Blood and Salt is referred to as romantic horror and it fits the bill. It has this kind of old school gothic vibe to it which was so wonderful.


One of the things that gives this book its gothic kind of feel is the plot. There are so many elements of this story that I don't want to give away but they were so creative and enthralling. From the very beginning you know this is the kind of book where there is more than meets the eye. It effortlessly combines so many genres including mystery, fantasy, and romance to make something entirely unique but familiar. I loved the supernatural or horror elements of the book. They affected the plot in a big way and everything that we learned really added to the development of the story. But the book is also full of intrigue and mystery that had me guessing and questioning until the very end. The reveals were so perfectly timed too. Some elements of the mystery I had figured out but others caught me totally by surprise. And the surprises kept coming. Every time I thought that there couldn't possibly be another twist, there was. It really builds to a climax that will have you gasping and holding your breathe. The plot development was very well done and it was completely engaging.
Another thing that gave this book it's gothic feel was the setting. When the characters first enter Quivira you know that things are about to get strange real fast. For one thing, it's surrounded by forty-five miles of corn. Yes, you heard that right forty-five miles of corn. But this isn't your average corn. It's as much a character as anyone else, which I always love because there is always so much conflict and drama when the setting is a character. But this corn is also enchanted. Like everything else, it is tied to the more sinister and supernatural elements of the book. For five hundred years, the corn has kept people out of the town but it has also kept everyone in. So Quivira is like a town lost in time which again is always such an interesting and engaging concept. But needless to say, it has also made the residents of the town a little quirky, to put it mildly. They're a little creepy, a lot cultish, and they too add to the compelling setting and gothic nature of the book.
Kim's writing style perfectly matched the atmosphere of the book. It was pretty in a simple kind of way. I'm not usually the kind of person who like's highlighting passages but I found myself writing down quotes and finding sections I found so beautiful or relatable. But her prose made things seem magical and mysterious at the same time it captured the thrills and drama. The only drawback to me however is that in the desire to create an atmospheric read, I lost a little something with the pacing, the beginning was a little bit slower. I was expecting to be immediately drawn in and it took a little while for things to pick up. But when they did, I loved every second.
Finally, what gothic novel is complete without some romance? The romance here is just as tied to the fantastical elements of the story as anything else. It's pitched as a Romeo and Juliet kind of story and I didn't exactly get that kind of tortured love affair from the characters of Ash and Dane (although there is another romance that may fit the build a little better) but that's not necessarily a bad thing. Our characters were told they shouldn't be together and that forbidden attraction does have it's appeal. And for someone like me who is pretty romance-phobic the fact that I liked the steamier scenes says something. But I think because the romance was tied to other elements of the book it had more of a draw to me. I didn't feel like the romance was superfluous, I found it just another important part to a complex and interesting story. It gave it that extra something else and added to the gothic nature of the book.
But one thing that I will say about this book is that even though I keep talking about how mysterious and gothic it is, Blood and Salt was also really lighthearted at times. There was the perfect amount of comic relief and sweet-natured characters to balance it out. I particularly liked Rhys, skeptical and sarcastic Rys. I also really liked effervescent and kind Beth. Even Ash had her moments of fun that made her more well-rounded and complex. A lot of times these kind of off-hand jokes or light-hearted humor can seem off-kilter for a mystery or horror novel but they were really well done and made the book more well-rounded. It's not non-stop thrills, it's slow and steady adventure with some fun along the way.
Blood and Salt brilliantly combines so many different elements to craft a story that was engaging and atmospheric. The mystery, the fantasy, the horror, it all worked together in an efforltless and engaging way. When it was all over I was left desperately wanting more because it was just so good. Seriously, an amazing read.
Buy/Borrow/Bypass:

BUY!

If you are looking for a creative an interesting read for the fall then get thee to a bookstore and purchase this book. I would especially suggest this to people who are fans of supernatural mysteries and supernatural romances. It's a great fall read that traverses genres so there is something for everyone.
Have you read Blood and Salt? What did you think? Leave me a comment with your thoughts. Thanks for stopping by and HAPPY READING!