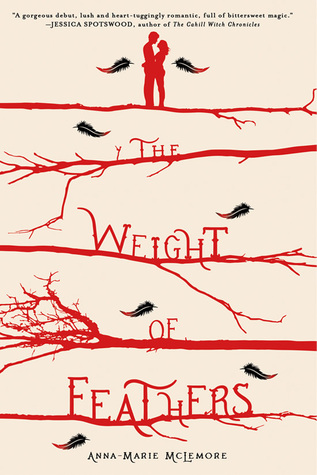 Title: The Weight of Feathers
Author: Anna-Marie McLemore




Published: September 15, 2015 by St. Martin's Griffin


(Amazon / Goodreads)

Synopsis: For twenty years, the Palomas and the Corbeaus have been rivals and enemies, locked in an escalating feud for over a generation. Both families make their living as traveling performers in competing shows—the Palomas swimming in mermaid exhibitions, the Corbeaus, former tightrope walkers, performing in the tallest trees they can find.
Lace Paloma may be new to her family's show, but she knows as well as anyone that the Corbeaus are pure magia negra, black magic from the devil himself. Simply touching one could mean death, and she's been taught from birth to keep away. But when disaster strikes the small town where both families are performing, it's a Corbeau boy, Cluck, who saves Lace's life. And his touch immerses her in the world of the Corbeaus, where falling for him could turn his own family against him, and one misstep can be just as dangerous on the ground as it is in the trees.
Beautifully written, and richly imaginative, The Weight of Feathers is an utterly captivating young adult novel by a talented new voice.
**** I received an advance copy of this book from the publisher via Netgalley in exchange for an honest review. This fact has not changed my opinion. ****
The Weight of Feathers is a subtle kind of story. It's the kind of book that works it's way into your heart and mind long before you even realize that it's there. I'm usually a very plot-driven reader. I like my books to take me on an adventure. I like a clear and succinct plot development. The Weight of Feathers doesn't have that and yet I never felt like I wan uninterested. It slowly built until an interesting conclusion with some unexpected twists and was thoroughly entertaining. The author's gorgeous and lyrical writing was atmospheric and an immersive reading experience. The general plot of this book is the Romeo and Juliet-like story. It's about two feuding families and the young lovers caught between them. It's an all too familiar concept but McLemore writes it in a way that felt creative and interesting.
A lot of the creativity that came into the book was with the world. These families are not your average people. First of all they are traveling performers. I had just listened to a podcast (
Stuff You Should Know
) that talked about Circus Families so that context was fresh in my mind. I liked seeing them practice and perform their acts, both the Paloma's mermaid shows and the Corbeau's high-wire fairy shows. It wasn't a big part of the story but it added a lot of color. We also got to spend part of the book learning about the history and culture of both families, which really added to the world. They each had their own way of life, even speaking Spanish or French from time to to time which helped immerse you in their world and culture. But that was just the beginning. The Weight of Feathers also has really great and subtle fantastical elements. The Palomas had their scales and the Corbeaus their feathers. And as strange as that sounds, it was handled in such a way that it felt natural and I would forget about them until they were referenced. It was just part of the world, part of the characters, which made them and the book so interesting.
And it's a good thing too that the characters were so interesting because with the slower plot they had to take a lot of the focus. I particularly enjoyed our two main characters, Lace and Cluck. They both felt like old souls. The sort of people that you could tell had been through a lot and had lived not the easiest life, Cluck especially. They find a lot of solace in one another. Lace with her sense of justice and fairness comes to Cluck's aid while he gives her support and kindness when she needs it most. I wasn't entirely sure I connected to the romantic aspect of their relationship but I did find them completely adorable and I loved them together. They just seemed to understand one another on such a deep level and that made it easier for me to connect with them both. In the end I wanted them to be together because they made each other better. But the book was also full of a large cast of characters from both families. Some of them were sympathetic, others were odious at best. But every character was interesting and added to the creation of an engaging and immersive reading experience.
But when the book was all over I wasn't as satisfied with it as I expected to be, especially based on this review. It is a standalone but I didn't feel like there was a strong and clear resolution. There were just a few elements that I felt were left unresolved or unexplained. A lot of those elements kind of had to do with the mystery of the book. With mystery elements I always like there to be an "aha moment" where it all comes together. But everything about this was subtle and almost simplistic. There is definitely something to be said about that but for me I felt like I was missing something. But that may have just been me. I was waiting for a big reveal or explanation and when a smaller one happened I figured that can't be all. Maybe that's because it comes after reading Queen of Shadows and The Dead House which are crazy intricate. But The Weight of Feathers is a short read that you'll probably finish before you even realize. In fact that may have been what didn't work for me. I wanted more.
On the whole The Weight of Feathers was a beautiful story. To me The Weight of Feathers felt like a modern fairy tale. It was new and creative but there was something familiar and fantastical about it all. It was like I was reading a long lost story from the Grimms Brothers. It had so many elements that have stood the test of time with classic fairy tales, including an atmospheric tone and subtle magic and romance. It wasn't full of action and mystery but it was a lovely and engaging story.
Buy/Borrow/Bypass: Buy. It seems weird for me to write this review and not give it a higher rating. I liked it, it just didn't blow me away. There were lots of really great elements that will appeal to all different kinds of readers. It's a subtle character-driven story with a fascinating world and great characters. Fans of fairy tales and magical realism should pick this up.
Have you read The Weight of Feathers? What did you think? Leave me a comment with your thoughts. Thanks for stopping by and HAPPY READING!