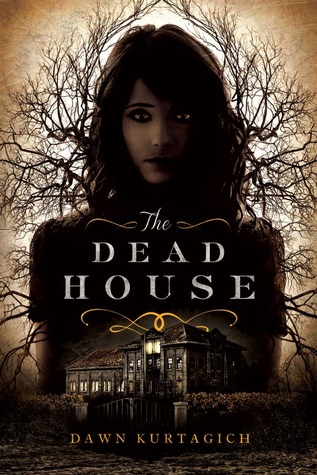 Title: The Dead House


Author: Dawn Kurtagich




Published: September 15, 2015 by Little, Brown Books for Young Readers


(Amazon / Goodreads)

Synopsis: Debut author Dawn Kurtagich is dead on in this terrifying psychological thriller!



Over two decades have passed since the fire at Elmbridge High, an inferno that took the lives of three teenagers. Not much was known about the events leading up to the tragedy - only that one student, Carly Johnson, vanished without a trace...





...until a diary is found hidden in the ruins.





But the diary, badly scorched, does not belong to Carly Johnson. It belongs to Kaitlyn Johnson, a girl who shouldn't exist Who was Kaitlyn? Why did she come out only at night? What is her connection to Carly?





The case has been reopened. Police records are being reexamined: psychiatric reports, video footage, text messages, e-mails. And the diary.





The diary that paints a much more sinister version of events than was ever made publicly known.
**** I received an advance copy of this book from the publisher in exchange for an honest review. This fact has not changed my opinion. ****
THIS REVIEW IS IMPOSSIBLE! IM-POSS-I-BLE. I cannot talk about this book without mentioning spoilers. It will be like two sentences long. But I really want to try because 1.) I never back down from a challenge (totally false) and 2.) I really want to persuade you to read this book because it's fantastic.
Okay, okay. So this book is about Carly and Kaitlyn. They are sisters but not in the usual sense. They share one body. But Carly has the day and Kaitlyn has the night. The girls are very different. Carly more demure and reserved while Kaitlyn is reckless and a self-proclaimed "child of darkness." But despite these nontraditional circumstances they are supportive and caring. If you are also a fan of books about very different sisters in tough circumstances then you will enjoy that aspect here. Throughout the book we get to know them and there is such great character development for them both. Both characters are dealing with a lot following their parent's death and not coping very well. They both come off as unreliable narrators and it really adds to the atmosphere and mysterious tone of the book.
But it's also a really fantastic thriller. I'm not a huge horror fan but I do love psychological thriller and that is exactly what The Dead House is. It's not a scare your pants off read but it is a mess with your head, creepy kind of read. It had me worrying and questioning everything. When I reached a certain point in the book I was so freaked out I had to talk to someone who had also read the book just to flail with them about how crazy and confusing this book is. But that was only the beginning. Things got creepier, more confusing, and more interesting. I am the kind of person who likes knowing what will happen in a book. I like solving twists and hearing spoilers. It was a rare and refreshing change to read a book where I had no idea what was going on.
That wasn't the only refreshing and interesting thing about The Dead House. It is written in an epistolary format. At the beginning of the book we learn about a mysterious fire at a school that happened 20 years ago when Carly went missing. A diary is found in the remains that gives privileged information, Kaitlyn's diary. So we get the strange and interesting peak into her mind and her communications with Carly and other students via notes and emails. We also get transcribed videos from her best friends Nadia and we get the detective investigating the cold case who includes notes and interviews to give context. It was the perfect format for this kind of book. It made things all the more mysterious and confusing.
That is The Dead House in a nutshell. Mysterious and confusing. Even when the book was over I was left just as confused as when it began. I really want to talk so much about the ending but I don't want to give too much away. Okay, let's try this... If you read the book, highlight this spoilery talk about the ending.
I personally thought that the ambiguous ending was perfect. Nothing about this book made sense, why should the ending? It didn't have a clear resolution, something that I usually like in my books, but it worked here. The fact that is was open to interpretation and the fact that that there are two really plausible options added to that uncertainty. It also gave the characters a whole unreliable narrator feel to them which I just loved.
In general I will say for those who don't want spoilers, the ending perfectly fit with the atmosphere of the book which just blew my mind overall and I loved it for that. When I closed the book it left me totally numb and confused but that is such a rare thing. Well done book, well done.
The Dead House is a crazy and creepy thrill ride and I loved every second of it. It is not the book for the faint of heart but if you are looking for something to mess with your head and keep you awake at night, look no further.
I give The Dead House by Dawn Kurtagich 9.5 out of 10
Buy/Borrow/Bypass

: Buy.

If you are a fan of horror or psychological thrillers then this one is worth a read. It's the perfect creepy and mysterious Halloween read. I definitely recommend it.