A weekly meme hosted by
Breaking the Spine
This is about the third book in a series so beware of spoilers! (Like in the synopsis). If you haven't read Steelheart do it and come back. Here's my review to encourage you -
READ IT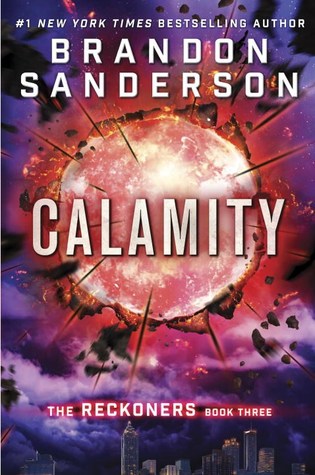 Title: Calamity


Series: The Reckoners #3

Author: Brandon Sanderson

Published: February 16, 2015 by Delacorte Press




Synopsis: When Calamity lit up the sky, the Epics were born. David's fate has been tied to their villainy ever since that historic night. Steelheart killed his father. Firefight stole his heart. And now Regalia has turned his closest ally into a dangerous enemy.

David knew Prof's secret, and kept it even when Prof struggled to control the effects of his Epic powers. But facing Obliteration in Babilar was too much. Once the Reckoners' leader, Prof has now embraced his Epic destiny. He's disappeared into those murky shadows of menace Epics are infamous for the world over, and everyone knows there's no turning back...

But everyone is wrong. Redemption is possible for Epics—Megan proved it. They're not lost. Not completely. And David is just about crazy enough to face down the most powerful High Epic of all to get his friend back. Or die trying.
It's Sanderson week if not on the blog then in my mind. Shadows of Self came out yesterday so I'm diving into that at this very moment. So of course I had to pick this book as my Waiting on Wednesday. The first book in this series, Steelheart (
FULL REVIEW
), was my very first Brandon Sanderson book. I was completely blown away by how brilliant this book was.
This series is about superheroes, no supervillains, no villainous superheroes? Uh, it's about people with superpowers who do not really use them for good. Or do they? It's all very unclear. WHICH IS AWESOME! The "magical system" here is incredibly unique and detailed. Everyone with powers has something distinct to them and there is a hierarchy of powers. But what really got me is the plot twists. Both of the first two books in this series completely blew my mind with their revelations and I know this one will wreck me. But that's Brandon Sanderson for you. He is flawless and a magnificent bastard!
I have to try really hard to compartmentalize my feels for this series because otherwise I will be overwhelmed by them. I mean I can't even think about the synopsis of this book without bursting into tears. I am seriously in a glass case of emotion. Mostly because I love these characters so much and I'm terrified about what will happen to them. Sanderson always does an impeccable job of creating characters that you can't help but love. Every one of The Reckoners is interesting and well-rounded and I need to find out what happened and will happen to so many of them especially Prof. But also David! David is one of my all-time favorite MCs and I am so worried for him.
But this series is also full of humor. It's hilarious with David's bad puns and the banter between the characters. Especially the banter between David and Megan, a relationship I ship so hardcore. I need this one to sail when everything is all said and done. OTP status to the extreme. I'm going to be doing an audiobook reread in probably January or February for this series and I can't wait.
What about you? What are you waiting for this Wednesday? Have you read Steelheart? Are you waiting on Calamity along with me? Leave me a comment with your thoughts. Thanks for stopping by and HAPPY READING!