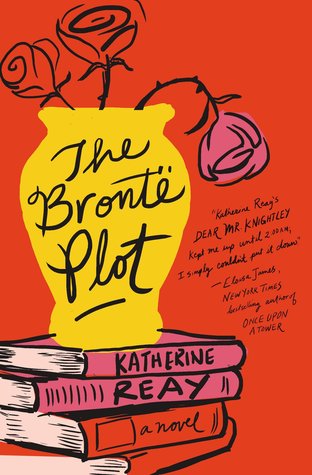 Title: The Bronte Plot
Author: Katherine Reay
Published: November 3, 2015 by Thomas Nelson
(
Amazon
/
Goodreads
)
Synopsis: Lucy Alling makes a living selling rare books, often taking suspicious measures to reach her goals. When her unorthodox methods are discovered, Lucy's secret ruins her relationship with her boss and her boyfriend James—leaving Lucy in a heap of hurt, and trouble. Something has to change; she has to change.
In a sudden turn of events, James's wealthy grandmother Helen hires Lucy as a consultant for a London literary and antiques excursion. Lucy reluctantly agrees and soon discovers Helen holds secrets of her own. In fact, Helen understands Lucy's predicament better than anyone else.
As the two travel across England, Lucy benefits from Helen's wisdom, as Helen confronts the ghosts of her own past. Everything comes to a head at Haworth, home of the Brontë sisters, where Lucy is reminded of the sisters' beloved heroines, who, with tenacity and resolution, endured—even in the midst of change.
Now Lucy must go back into her past in order to move forward. And while it may hold mistakes and regrets, she will prevail—if only she can step into the life that's been waiting for her all along.
**** I received an advance copy of this book from the publisher via Netgalley in exchange for an honest review. This fact has not changed my opinion. ****
For me, the Bronte sisters are hot or miss. I love Emily, Wuthering Heights is one of my al-time favorites, but couldn't stand Jane Eyre at all. But I was excited to give this book a try and learn more about the authors and fall for a modern character at the same time. Unfortunately for me this fell a little bit more to the miss side of the equation.
One thing I did like is that this was a book for bookish people. You know the type, the main character loves books as much as you do and maybe they work in a bookstore. But one thing is for sure, they're you and you're them. That was the case with Lucy. Not only is she a huge fan of reading, especially Gothic literature, but she's a book collector too. She works for a designer and art dealer as the person responsible for buying and selling books. Throughout the book we learn how deeply her connection with books is. I could totally relate to Lucy in that aspect too and it endeared her to me as a character.
The other thing I liked about Lucy is that she wasn't perfect. She makes mistakes, big ones, and throughout the book she has to live with the consequences of those actions. Those consequences are actually huge ones too. She burns bridges and ruins relationships because of morally corrupt decisions. It was a bit like Wuthering Heights in that way which I enjoyed. Plus it was kind of nice to see a book where that happens. It also led to some really interesting development with her character throughout the book. It had a lot of coming-of-age kind of undertones.
Unfortunately however most of the plot didn't quite work for me. A lot of it was tied with the bookish storyline, which you would think I would enjoy however it ended up just reading like a how to guide in literary tourism. You may know how I feel about travel monologues, unfavorably, so for most of the book I found myself not all that entertained. But I think this aspect of the book could have worked if there was a build more explanation or expansion of the world building. I just felt like the characters were going to each place for a day or two and not seeing much of anything. Even when they did go to important places like the Bronte home, we didn't even get to see much of. If you're going to provide us with a travel story then I at least want more exploring.
But I think what really held me back from enjoying this book was the pacing and prose. It felt protracted. Moving from place to place, moment to moment, without much exposition or explanation. There was no real flow to it. The moments of plot development were then punctuated and advanced with dialogue that felt forced and unnatural. And because of that it took me awhile to get into the book and the writing. I feel like I spend practically all month reading this book and sadly it felt like a bit of a slog. In the end I did like the way it concluded but it was hard to get to that point.
I give The Bronte Plot by Katherine Reay 7 out of 10 stars



Buy/Borrow/Bypass:

Bypass.

I think if you are a fan of the author or you are looking for a bookish book than maybe check this one out. It's a decent character driven story about a woman who makes bad decisions and loves books.

Have you read The Bronte Plot? What did you think? Leave me a comment with your thoughts. Thanks for stopping by and HAPPY READING!