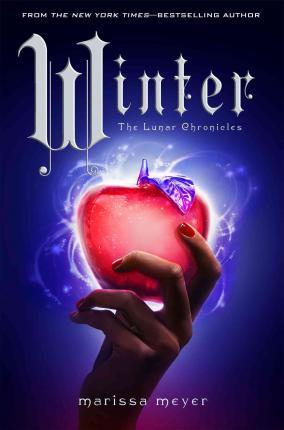 Title: Winter
Series: The Lunar Chronicles #4
Author: Marissa Meyer
Published: November 10, 2015 by Feiwel and Friends (Macmillan)
(
Amazon
/
Goodreads
)
Synopsis: Princess Winter is admired by the Lunar people for her grace and kindness, and despite the scars that mar her face, her beauty is said to be even more breathtaking than that of her stepmother, Queen Levana.
Winter despises her stepmother, and knows Levana won't approve of her feelings for her childhood friend—the handsome palace guard, Jacin. But Winter isn't as weak as Levana believes her to be and she's been undermining her stepmother's wishes for years. Together with the cyborg mechanic, Cinder, and her allies, Winter might even have the power to launch a revolution and win a war that's been raging for far too long.
Can Cinder, Scarlet, Cress, and Winter defeat Levana and find their happily ever afters?
**** This is the final book in a series and there may be spoilers so proceed with caution. Read the rest of The Lunar Chronicles series first and come back. Here's
my review of book one, Cinder
to encourage you. ****
What a fantastic ending for a fantastic series. I feel so satisfied. Well done Marissa Meyer. Last winter (February 2014) I read the first three books in this series back to back and since then the wait for Winter has been slow and painful. I of course needed to know what would happen to these characters but I didn't want it to end. But this book was everything I had hoped it would be and more.
The plotting in particular was incredible here. It took things and brought them full circle. Little elements came back in a big way. One of the things that I have loved about this series is the fairy retelling elements. Once again Meyer played with the classic stories that we know and love, giving them a post-modern twist and unique flair. I loved the way that she played with the elements of the Snow White story with Winter. Things like the poisoned apple, the glass coffin, even the dwarfs. Some elements were obvious while other were subtle, it didn't hit me until much later than they should have. But the other characters also got elements from their stories come into play in the conclusion. In general however this was a big picture kind of story though. There is so much drama and action. It is incredibly fast-paced with over 800 pages on non-stop thrills and excitement. So many times throughout the book I was on the edge of my seat incredibly concerned for our fearless heroes.
That may have been because I seriously love those heroes so much. This book, this series, has some serious squad goals. I would love nothing more than to be flying around in the Rampion with everyone going on adventures. I spent a lot of the book wishing they could all be in one place because everyone interacts so well together there is just great banter. Cinder of course is in the center of it all with her sarcastic wit. Here she becomes much more of a leader and she definitely had me on board for her revolution. But my favorite character is still Thorne who is such a flawless loveable rogue. I also adored Cress who I can't help but root for and relate too as a contrast to the other characters who are overly-confident. But speaking of characters unlike any of the others, here we also spent more time getting to know Winter and Jacin who are both fantastic. Winter has such effervescence and is so sweet it's obvious why the people love her. Plus her crazy off-beat comments make her so endearing. Jacin is surly and tough but with a heart of gold. I have only known them for a short period of time but they are really likeable so they made a lasting impression. And of course our villain leveled up her crazy as well. I though after Fairest, I had seen the worst of Levana but nope she proved once again why she is such a fantastic villain. Marissa Meyer's characterization has always been a strength in my opinion and the development of these characters had that on full display.
But Marissa Meyer also does romance so well. I am not one for swooning, in most of my books I could do without the romance. But here despite the fact that every single character has a love interest, it works so well. I ship every last one of them and if I'm not trying to smoosh their faces together (Cress and Thorne, I'm looking at you) I am melting at their romantic moments. But who am I kidding, for most of them I want to smoosh their faces together. There is so much in the way of all these romances that even though so many of them could be thought of as insta-love they become really complex and deeper by the end of this book and series. They're just all so adorable you guys. This book has thawed my cold, romancephobic heart.
My only criticism with Winter is that it's long, like a little too long. I don't mind long. I've loved books that were over 800 pages, over 1,000 pages even but sometimes you just get bogged down when there is a lot of plot development. There is just so much going on here and with it being the last book in a series it all packs so much weight. With final books I usually prefer if they just wrap things up instead of introducing new things and that's what this book did. It took us to a new location, introduced new characters, and had a whole big new storyline. I almost wish there was another book and some things could have been stretched out a little more. I would also say that if you haven't read Fairest, read that first. It gives a lot of context to some important moments in this book. Maybe if Fairest had been full-length that would have helped too.
But on the whole, a fantastic read. It was everything that I would hoped it would be and more with a thrilling plot, amazing characters, and swoony romances. I'm sad for the series to end but when I closed the book I was left so satisfied and happy.
I give Winter by Marissa Meyer 9.5 out of 10 stars
Buy/Borrow/Bypass
: BUY!
Fans of The Lunar Chronicles will not be disappointed with this last installment.This series is just absolutely brilliant. It's one of the most creative retellings I have ever read and the plot development and characterizations are top notch. If you are a fan of sci-fi definitely check it out but honestly just read it regardless.
Have you read Winter? What did you think? Are you sad to see The Lunar Chronicles be over? Leave me a comment with your thoughts. Thanks for stopping by and HAPPY READING!