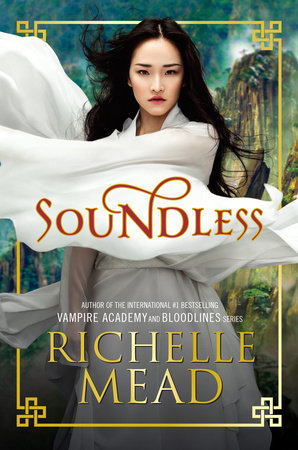 Title: Soundless


Author: Richelle Mead




Published: November 10, 2015 by Razorbill (Penguin Random House)




(

Amazon

/

Goodreads

)





Synopsis: From Richelle Mead, the #1 internationally bestselling author of Vampire Academy and Bloodlines, comes a breathtaking new fantasy steeped in Chinese folklore.





For as long as Fei can remember, there has been no sound in her village, where rocky terrain and frequent avalanches prevent residents from self-sustaining. Fei and her people are at the mercy of a zipline that carries food up the treacherous cliffs from Beiguo, a mysterious faraway kingdom.





When villagers begin to lose their sight, deliveries from the zipline shrink and many go hungry. Fei's home, the people she loves, and her entire existence is plunged into crisis, under threat of darkness and starvation.





But soon Fei is awoken in the night by a searing noise, and sound becomes her weapon.





Richelle Mead takes readers on a triumphant journey from the peak of Fei's jagged mountain village to the valley of Beiugo, where a startling truth and an unlikely romance will change her life forever...

*** I received an advance copy of this book from the publisher at BEA in exchange for an honest review. This fact has not changed my opinion. ***

Soundless is the first book I have read by Richelle Mead. Honestly, it's the first book of hers I have even been interested in. This is such a hard book to review. I mean I liked it, but there were just so many parts that didn't work for me. Those middle of the road kind of books are the hardest to review because for better or worse nothing really made much of an impression, positive or negative.

But that focus on the world-building did create a world that was lush and engaging. The mountain setting was interesting and descriptive. Everything in the village that Fei lived in seemed to come alive in my mind and it felt like the kind of place I would want to visit and experience for myself. This is where I think the influences of Chinese culture came in. In the back of my mind this helped to build a visual on a society that could have seemed odd and backwards, but instead felt creative. Plus Richelle Mead's prose was poetic and worked well to create something different and interesting. I especially liked when Fei got her hearing back, the exploration and explanation of sound to someone who didn't know what that was. It felt very genuine especially her confusion and curiosity. It added an unique element to the world and character development.

I know this is a bit of a critical review but I don't think this is a bad read. I just don't think it is for me. I like my books to have a big focus on the plot development and that wasn't the case here. The world-building and setting is interesting and the main character is likeable. On the whole, with the focus on world building and lack of plot development, Soundless felt a lot like a classic fairy tale or myth. It was as if it was some culture's origin story or something help to explain why things were a certain way. That part of the book was interesting, it's just that is not my kind of read. If you are into those kinds of books then you may enjoy this a bit more.

Buy/Borrow/Bypass

: Borrow.

This book was definitely not for me but it does have some good aspects that I think a certain kind of reader would really enjoy. I think I would honestly recommend to those who are interested in fairy tales and folklore.

Have you read Soundless? What did you think? Leave me a comment with your thoughts. Thanks for stopping by and HAPPY READING!