Read in October:
Dark Fantasy
And the slow months of reading continue. Last month I thought it was because I was in a reading slump but considering that this month was worse I think now it's because I was really busy and didn't have a lot of time to read. This is my busy time for work and honestly things will not be slowing down until the holidays. But I'm no longer concerned about. I'll read when I can. So this month I once again read 11 new books and did 1 reread (despite wanting to learn more) which brings things to a total of 12 books for the month.
For challenges, I'm still doing okay thanks to some really good months early this year. I don't think I'm going to meet my reach goals for many of the individual challenges but I'm still doing okay. My total for the year is 141 books this year which is towards my Goodreads goal of reading 150 books. I'm way ahead of my goal and will complete it a month early which is good because then I can go into the end of the year and not feel stressed. I'm still hoping I can do it without rereads but we'll see when it gets closer. I have officially completed my goal for the
Debut Author Challenge
and have read over 25 debuts, one more this month which brings my total to 27. I'm thinking maybe I can do 30 by the end of the year. I'm also slowing down for the
Netgalley/Edelweiss Challenge
. It was a slow month for that, having only read 2 books for that challenge. I don't think I can reach my goal of 50 for the year, I'm currently at 38 but we shall see. And I'm also not really on track for the
Rock My TBR Challenge
. I only read 1 book for that this month getting a total of 20 towards my goal of 25 for the year. I need to be good about this the next couple months and then I will do it. And finally, the
Audiobook Challenge
. I listened to 4 audiobooks this month, giving me a total of 36 for the year which is behind my goal of 50. I am usually very competitive but for some reason I'm not stressing about these.
Okay... Here are the books I read this month: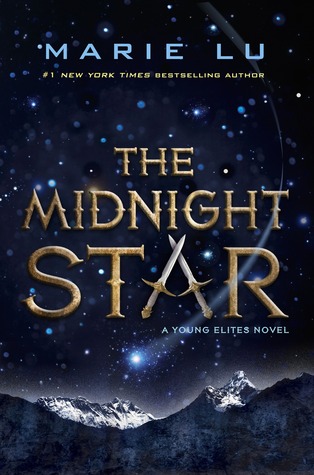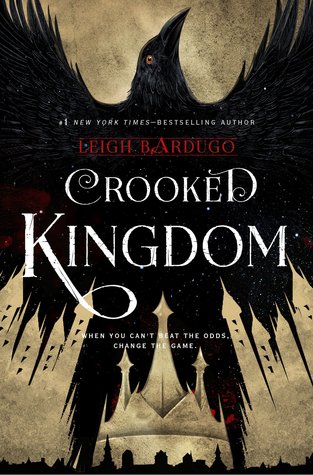 1.) Crooked Kingdom by Leigh Bardugo
Rating: 9.5 out of 10 [
My Review
]
2.) Three Dark Crowns by Kendare Blake
Rating: 8 out of 10 [
My Review
]
3.) Last Seen Leaving by Kaleb Roehring
Rating: 8 out of 10 [
My Review
]
4.) The Midnight Star by Marie Lu
Rating: 10 out of 10 [
My Review
]
5.) The Night Circus by Erin Morgenstern
Rating: 8.5 out of 10 [
My Review
]
6.) Gemina by Amie Kaufman and Jay Kristoff
Rating: 9.5 out of 10 [
My Review
]
7.) Glitter by Aprilynne Pike
Rating: 6 out of 10 [
My Review
]
8.) The Women in the Walls by amy Lukavics
Rating: 7.5 out of 10 [
My Review
]
9.) Blood for Blood by Ryan Graudin
Rating: 10 out of 10 [
My Review
]
10.) A Tyranny of Petticoats Edited by Jessica Spotswood
Rating: 9 out of 10 [Review to Come]
Rereads [Reviews to Come]:
12.) The Young Elites by Marie Lu
To Be Read in October:
Steampunk and Sci-Fi
Sticking with my favorite genres again this month, I am doing a loose theme around steampunk and science fiction. There are some exciting new releases that fit the theme coming out so I decided to make that the theme for the whole month. I've even been saving a few steampunk reads so I could get to them now. But there are also some more hard sci-fi reads I am excited about which is why it's a loose theme.


I have been saving this to read in November thinking that it was more of a steampunk world but it's not. It's just a standard historical fantasy, which is cool with me.
This is not steampunk either. I know, I know. But I love Marissa Meyer and this one sounds fantastic. I got a copy at BEA and I am finally reading it.
I have also been saving this book to read during my steampunk month and it is actually steampunk. I haven't read any Kristen Simmons books but I hear good things so...
I was originally going to read this last month when it came out but I didn't get to it. So let's see if I get to it this month.
The Diabolic
by S.J. Kincaid
-
Add to Goodreads
I really liked Kincaid's other sci-fi trilogy about a school for teenagers learning to fight a war in virtual reality games. And plus I have heard really good things about this one too.
I'm really excited about this debut. It seems super creative and I love the combination of steampunk and time travel. Plus I think this also has an LGBT+ protagonist so lots of cool things.
The Sun is Also a Star by Nicola Yoon -
Add to Goodreads
I really liked Nicola's debut Everything Everything so I'm excited to read another of her books. Plus I think I need to read a contemp to shake things up/
Spare and Found Parts
by Sarah Maria Griffin
-
Add to Goodreads
I picked this up at BEA because it sounded interesting and it fits this month's theme so if I have time I may read it.
A Millions Worlds Above You by Claudia Gray
-
Add to Goodreads
I love this series and I cannot wait for the conclusion. If you read the rest of the books in this series you know why I am excited to experience the "darkest timeline characters."
The Reader by Traci Chee
-
Add to Goodreads
I was considering reading this last month but I didn't get the chance.I'm hoping to get to it this month instead. I think it's a fantasy but it does have dystopian and sci-fi vibes.

Soulless by Gail Carriger -
Add to Goodreads
You can't have a steampunk month without Gail Carriger. I've only read her YA stuff despite owning a copy of this book. Well, I'm finally taking the time to read the first book in the original series.
The Wrong Side of Right by Jenn Marie Thorne
-
My Review
This book is totally up my alley but I never bought myself a copy until recently. So when the election is over, I may actually take the time to read it when I'm not so burned out by politics.
There you have it. All the books I hope to read in November. We'll see. As always, these are subject to change. I may read all of these or I may only read a few and then read a bunch of different one. But honestly I think this list I can stick to. Thanks for stopping by and HAPPY READING!