**** This is a sequel and therefore may contain spoilers. If you have not read You, proceed with caution. But seriously, read You. It's amazing. Here's my review.****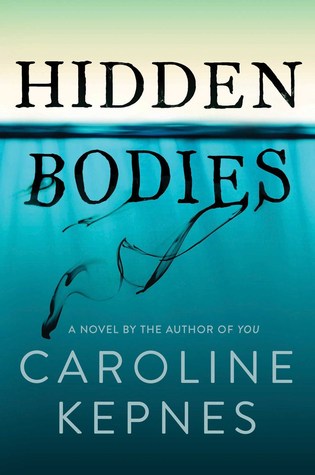 Title: Hidden Bodies
Series: You #2
Written by: Caroline Kepnas
Published: February 23, 2016 by Simon & Schuster
(
Amazon
/
Goodreads
)
Synopsis:
Joe Goldberg is no stranger to hiding bodies. In the past ten years, this thirty-something has buried four of them, collateral damage in his quest for love. Now he's heading west to Los Angeles, the city of second chances, determined to put his past behind him.
In Hollywood, Joe blends in effortlessly with the other young upstarts. He eats guac, works in a bookstore, and flirts with a journalist neighbor. But while others seem fixated on their own reflections, Joe can't stop looking over his shoulder. The problem with hidden bodies is that they don't always stay that way. They re-emerge, like dark thoughts, multiplying and threatening to destroy what Joe wants most: true love. And when he finds it in a darkened room in Soho House, he's more desperate than ever to keep his secrets buried. He doesn't want to hurt his new girlfriend—he wants to be with her forever. But if she ever finds out what he's done, he may not have a choice...
This book is seriously messed up. I'm totally reeling by the way it ended. It was so freaking crazy. I loved the first book in the series so I had to read the second one and find out what Was going to happen next. And I was not disappointed. Everything I liked about the first book made this book seriously entertaining.
For one this, this is such a fantastic thriller. The author did a great job pulling in moments and loose ends from the first book while still creating a completely new plot lines for this story. It felt like a continuation of the story and yet still completely unique. It's not really a book with a heavy mystery element which I usually prefer but it is a book full of twists and thrills. It had me guessing and on the edge of my seat from beginning to end. There were so many omens throughout the book that had me shocked in the best possible way. It just had me so surprised and when it was all said and done I was left practically speechless. The plot development is seriously crazy.
But he craziest thing about this book is the characters, especially the main character of Joe. I mean if I didn't know it in the first book I definitely know now that Joe is an absolutely horrible human being. He is a selfish, egomaniacal psychopath who can justify even the most awful behaviors. Yet there is something so compelling about him. You secretly want him to get away with it all even though you know he should get punished. Kepnas does such a great job in making him strangely likable.
A lot of what makes Joe so likable I think is that every character here is super unlikable. He surrounds himself or is surrounded by equally awful people. Albeit none of them are serial killers, but still. They are awful, vapid, annoying, and self-centered. It oddly justifies some of Joe's baser actions because you can almost let him convince you of their terribleness because in the darkest let of your soul, you were kind of thinking it yourself.
That's what this book does, it appeals to the darkest part of your soul. Because seriously, this book is dark. It's brutal and vulgar and dark. I loved that about the first book and I loved the fact that this second one was just as dark. This is a book that is definitely firmly in the adult category. Not that teens or fans of YA read can't read but just be warned that it is on the mature side. It's full of sex and violence and terrible people doing terrible things but I kind of loved that. This series is not for the faint of heart but if you like those kind of books then totally read this one.
All in all I loved it. It's really amazing and I thought it was a fantastic sequel. I once again listened to the audiobook and it was great. No one does morally ambiguous characters like Santino Fontana. He truly embodies the charm of Joe while also capturing his terrible characteristics. He makes him a character that you love to hate.
I'm honestly not ready to see this series go. I don't think there are any plans for a third book but I would seriously love it if there was. There are definitely some possibilities of where this story can go but it ended in a very messed up and very satisfying way.
I give Hidden Bodies by Caroline Kepnas 9.5 out of 10 stars



Buy/Borrow/Bypass

: Buy

. Definitely get a copy of this book. If you enjoyed the first book you have to get this one. It's just as messed up. And seriously if you like thrillers and books with terrible people doing terrible things you need to read this series. If you like audiobooks I recommend this one.

Have you read Hidden Bodies? What did you think? Leave me a comment with your thoughts. Thanks for stopping by and HAPPY READING!