A weekly meme hosted by
Breaking the Spine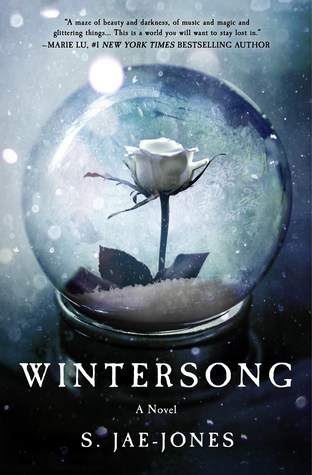 Title: Wintersong


Author: S. Jae-Jones

Published: February 7, 2016 by St. Martin's Press




Synopsis: Beware the goblin men and the wares they sell.

All her life, nineteen-year-old Liesl has heard tales of the beautiful, mysterious Goblin King. He is the Lord of Mischief, the Ruler Underground, and the muse around which her music is composed. Yet, as Liesl helps shoulder the burden of running her family's inn, her dreams of composition and childish fancies about the Goblin King must be set aside in favor of more practical concerns.

But when her sister Käthe is taken by the goblins, Liesl journeys to their realm to rescue her sister and return her to the world above. The Goblin King agrees to let Käthe go—for a price. The life of a maiden must be given to the land, in accordance with the old laws. A life for a life, he says. Without sacrifice, nothing good can grow. Without death, there can be no rebirth. In exchange for her sister's freedom, Liesl offers her hand in marriage to the Goblin King. He accepts.

Down in the Underground, Liesl discovers that the Goblin King still inspires her—musically, physically, emotionally. Yet even as her talent blossoms, Liesl's life is slowly fading away, the price she paid for becoming the Goblin King's bride. As the two of them grow closer, they must learn just what it is they are each willing to sacrifice: her life, her music, or the end of the world.
I mean... COME ON! It's a YA Labyrinth retelling. Is it a retelling? I don't know. I don't care. It's a YA Labyrinth. It has the Goblin King. Mysterious and beautiful Goblin King. I am seriously so excited about this book. I am always looking for a unique and interesting YA fantasy and I feel like this would totally fit the bill. It doesn't feel like your typical saving the world epic fantasy.
Not to mention this also seems a little bit like a Hades and Persephone or Beauty and the Beast kind of retelling. I'm not a huge fan of that motif but when it is done well it is a really great romantic trope because it becomes one of those love to hate kind of relationships which I am a fan of. What I'm saying is, I'm interested to see how the romance in this goes.
But more than anything I am excited about the characters. For one thing I couldn't be more excited for this Goblin King. I love odious characters like this and the fact that he is "Lord of Mischief" sounds fantastic. And I'm interested in the sister motif here. That is kind of popular lately but I love that concept so I'm into it. Not to mention that the MC seems like a reluctant hero which I love.
I recently got a copy of this book from the publisher as part of the blog tour and I am so excited to read it. It is one of my most anticipated debuts of 2016.
What about you? What are you waiting for this Wednesday? Are you waiting on The Last Harvest along with me? Leave me a comment with your thoughts. Thanks for stopping by and HAPPY READING!