A weekly meme hosted by
Breaking the Spine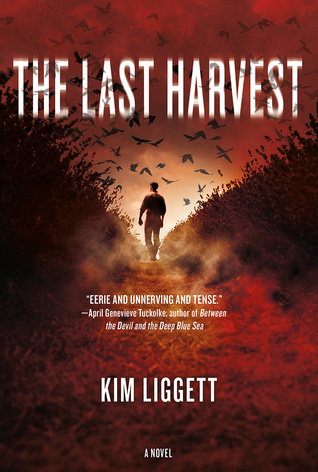 Title: The Last Harvest


Author: Kim Liggett

Published: January 10, 2016 by Tor Teen




Synopsis: "I plead the blood."

Those were the last words seventeen-year-old golden boy quarterback Clay Tate heard rattling from his dad's throat when he discovered him dying on the barn floor of the Neely Cattle Ranch, clutching a crucifix to his chest.

Now, on the first anniversary of the Midland, Oklahoma slaughter, the whole town's looking at Clay like he might be next to go over the edge. Clay wants to forget the past, but the sons and daughters of the Preservation Society—a group of prominent farmers his dad accused of devil worship—won't leave him alone. Including Ali, his longtime crush, who suddenly wants to reignite their romance after a year of silence, and hated rival Tyler Neely, who's behaving like they're old friends.

Even as Clay tries to reassure himself, creepy glances turn to sinister stares and strange coincidences build to gruesome rituals—but when he can never prove that any of it happened, Clay worries he might be following his dad down the path to insanity...or that something far more terrifying lies in wait around the corner.

I loved Kim's debut Blood and Salt which was creepy, complex, and a great mystery. Since then I have been anxiously awaiting another one of her books. Plus this one sounds even darker and creepier. It's more traditional horror which I'm excited about. I liked the historical aspect of Blood and Salt but I'm interested to see Kim's take on a more classic horror. I know it will be great.

Not to mention I heard this book at one point described as Friday Night Lights meets Rosemary's Baby. I love Friday Night Lights and if this is like the horror version of that, I am all for it. Seriously, here for that.

I recently saw a preview for this on Netgalley and I totally snagged it. I usually hate previews but when it is a book I am super excited to read, I make an exception. I only wish it had been up a few weeks earlier, this would have made a perfect read for the Halloween season. Oh well, it's never a wrong time for good books.