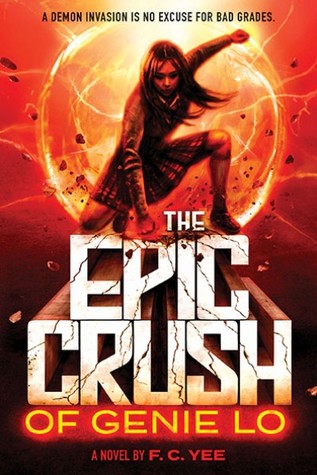 Title: The Epic Crush of Genie Lo
Written by: F.C. Yee
Published: August 8, 2017 by Amulet Books
(
Amazon
/
Goodreads
)
Synopsis: The struggle to get into a top-tier college consumes sixteen-year-old Genie Lo's every waking thought. But when her sleepy Bay Area town comes under siege from hell-spawn straight out of Chinese folklore, her priorities are suddenly and forcefully rearranged.
Her only guide to the demonic chaos breaking out around her is Quentin Sun, a beguiling, maddening new transfer student from overseas. Quentin assures Genie she is strong enough to fight these monsters, for she unknowingly harbors an inner power that can level the very gates of Heaven.
Genie will have to dig deep within herself to summon the otherworldly strength that Quentin keeps talking about. But as she does, she finds the secret of her true nature is entwined with his, in a way she could never have imagined…
*** I received an advance copy of this book from the publisher at ALA in an exchange for an honest review. This fact has not changed my opinion. ***
This book seemed totally up my alley, which is why I picked up a copy at ALA. I've heard good things about this one so I was totally excited to read this as part of my superhero month. The Epic Crush of Genie Lo is a fun and fast superhero story with diverse characters and a fascinating world. It didn't blow me away but I did really like it.
One of the things that I loved about this book was the world. I'm always looking for a unique fantasy world and that is exactly what I found here. It's not super uncommon to find fantasy influenced by Asian culture and yet this still felt like something unique. Much of the basis for the world was in Chinese mythology. I'm not very familiar with these stories but I did find them, and therefore this, incredibly compelling. I love when my fantasy incorporates a mythology so it was even more fantastic that this one used an actual mythology. Part of that mythology also involved the magic of this book. There was a lot of magical creatures and characters who can do all kinds of magic. It was fantastic and engaging.
I also liked the characters of this book. I particularly enjoyed the main character of Genie. She was not your typically heroine but that's why I enjoyed her even more. She's a little unlikable sometimes, being somewhat brash and overly-aggressive. But honestly I loved that about her. I love that she has a short temper and is quick to act. She's also incredibly heroic in that she would sacrifice anything for those she cares about. I would have liked a little bit more of a personal development for her as she attempted to save the world and realized that it wasn't all about the college you get into. There could have been some good opportunities for personal development but it never took advantage of that.
As far as the other characters go, they were good but not many of them were not totally memorable. Much of the book focused on Genie and it sort of sacrificed some of the other characters. Genie's parents were involved but only minimally, same for Genie's friends. Her best friend Yunie was one of the more involved characters and even she didn't get much screen time. The characters who did get the most attention were the immortals like Quentin. But if I am being totally honest, I didn't love Quentin. He was fine as far as mythical creatures come but not totally engaging as a male lead. As usual, I wish there wasn't a romantic element. But I did like the other mythical character. I think Gaunyin and Erlang Shen were among my favorites. They were both complex and engaging. I which all the characters were as complex and even dubious as these two.
The plot too was really interesting. Like most superhero books it was full of action and adventure. There were all kinds of great fight scenes as the characters battles demons and attempted to save the world. It slowly built to a thrilling conclusion with plenty of drama along the way. It was also really fun. It's one of those irreverent kind of superhero stories where there is plenty of humor to cut the more serious moments. It was a good balance and it made for an interesting plot. It was also pretty fast paced. If you have the time I think it it is entirely possible for you to finish this book on just a few days. It's definitely an engaging read.
That about sums it up. It's an engaging read. There are a lot of really great things about this book. It had a fantastic world inspired but Chinese mythology, a great main character, and a plot full of action. I do which there was more character development but on the whole I enjoyed this book.
I give The Epic Crush of Genie Lo 8.5 out of 10 stars



Buy/Borrow/Bypass

: Buy/Borrow.

I've heard some pretty rave reviews of this book and I get it. It's really good. If you like YA fantasies and are looking for a really unique one with a world inspired by a different kind of mythology then check this one out. And I would definitely recommend this to fans of YA superhero stories.

Have you read The EPic Crush of Genie Lo? What did you think? Leave me a comment with your thoughts. Thanks for stopping by and HAPPY READING!