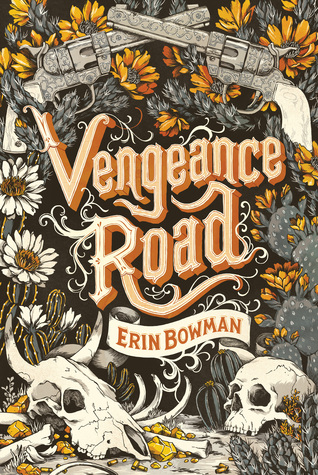 Title: Vengeance Road


Author: Erin Bowman




Published: September 1, 2015 by Houghton Mifflin Harcourt


(Amazon / Goodreads)

Synopsis: When Kate Thompson's father is killed by the notorious Rose Riders for a mysterious journal that reveals the secret location of a gold mine, the eighteen-year-old disguises herself as a boy and takes to the gritty plains looking for answers and justice.

What she finds are devious strangers, dust storms, and a pair of brothers who refuse to quit riding in her shadow.





But as Kate gets closer to the secrets about her family, she gets closer to the truth about herself and must decide if there's room for love in a heart so full of hate.



In the spirit of True Grit, the cutthroat days of the Wild West come to life for a new generation
**** I received an advance copy of this book from the publisher at BEA in exchange for an honest review. This fact has not changed my opinion. ****
I'm so glad YA westerns are becoming a thing because they are just so fantastic and I have loved the last few I have read. Vengeance Road was no exception. I was a little nervous going in because the synopsis could very easily go into cliche territory but instead it stayed in a place that was both interesting and engaging. (I wanted to try and make an Wild West joke there but nothing came to me). It was a thrilling read with complex and interesting characters that was creative and so entertaining.
One of my favorite things about this book was the world. I'm a big fan of historical fiction and while I wouldn't say that this is really the traditional kind of historical fiction that I love, it had an old world feel to it. Erin Bowman does a fantastic job of immersing the reader in the world of the Wild West and the legends were rooted in the time period and lasted until today. It took the reader right to Arizona in 1877. Her descriptions were visual and set the tone but it was more than that. It showed the reader what it is was like to live during the period. One of the best example of this was the slang and manner of speech the characters use. It could have been really frustrating but it wasn't at all. It drew you in and gave the book a really authentic feel. Furthermore, the attitudes of the characters felt authentic to the period. It was vigilante justice and a time when prejudice was normal. It all worked to create a fascinating and engaging world.
But my favorite thing was probably the characters. They were all really complex and interesting. I hate when characters are single-minded in their search for revenge and I really feared that here but Kate maintains her vulnerabilities. She's a kickass female protagonist but she is multi-faceted too, which are always my favorite type of women. You empathize with her throughout her journey and she has a great character arc. But she wasn't the only character that was more than they seemed and had some great character arcs. Erin also created some really interesting and likable secondary characters. I liked the Colton Brothers a lot and grew attached to them and even characters who were only a small part of the book made an impression whether they were quirky or villainous. The biggest surprise for me though was that I even liked the romance and the way that all resolved. You know me, I'm romance-phobic but here it really added to Kate's character instead of taking away from it and I wanted there to be a good resolution to that part of the story as much as the general plot. That is the sign of good character development, if I am just as invested in that as I am in the plot. With Vengeance Road, I was.
Which is even more of a big deal because the plot too was really fantastic. It flowed so beautifully and while it was a quick and fast-paced read it was deliberate and well-plotted. I was nervous there would be a lot of travel montages and tropes I don't love but Vengeance Road never fell pray to them. It could very quickly could have turned cliche but it was creative and engaging from beginning to end. Throughout the book there were tons of action scenes and it all really built to a thrilling conclusion that had a great resolution. My only criticism is that I would have liked a little more mystery. I knew there was going to be some kind of left field twist so when it occurred I wasn't totally surprised but it would have worked a little bit better if it was more purposeful and with clues to solve.
Maybe that is because this was part of my mystery theme and the synopsis mentions a mystery but it just did feel like a big part of the books plot. But in general the plot was really great and had me on the edge of my seat.
But on the whole this was definitely a great read and I am a bit surprised just how much I liked it. If you are looking for an action-packed read with a tough but vulnerable female protagonist pick this up.
I give Vengeance Road by Erin Bowman 9 out of 10 stars



Buy/Borrow/Bypass

: Buy.

If you are a fan of historical fiction or you are just looking for an action-packed and engaging story that will take you on an exciting ride then pick this book up. If you are like me and loving the trend of YA Westerns then you will not be disappointed by the drama and the exciting world Erin Bowman has created.

Have you read Vengeance Road? What did you think? Leave me a comment with your thoughts. Thanks for stopping by and HAPPY READING!