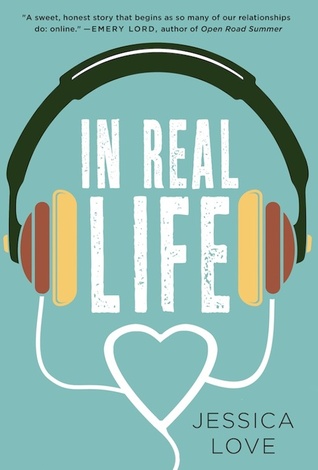 Title: In Real Life
Written by: Jessica Love
Published: March 1, 2016 by St. Martin's Press (Macmillan)
(
Amazon
/
Goodreads
)
Synopsis: Hannah Cho and Nick Cooper have been best friends since 8th grade. They talk for hours on the phone, regularly shower each other with presents, and know everything there is to know about one another.
There's just one problem: Hannah and Nick have never actually met.
Hannah has spent her entire life doing what she's supposed to, but when her senior year spring break plans get ruined by a rule-breaker, she decides to break a rule or two herself. She impulsively decides to road trip to Las Vegas, her older sister and BFF in tow, to surprise Nick and finally declare her more-than-friend feelings for him.
Hannah's surprise romantic gesture backfires when she gets to Vegas and finds out that Nick has been keeping some major secrets. Hannah knows the real Nick can't be that different from the online Nick she knows and loves, but now she only has night in Sin City to figure out what her feelings for Nick really are, all while discovering how life can change when you break the rules every now and then.
*** I received an advance copy of this book from the publisher via Netgalley. This fact has not changed my opinion. ***
In my desire to break out of my comfort zone and read more contemporaries I came across this book. It sounded cute and fun so I grabbed a copy. In fact it was a cute and fluffy contemporary that was a good palette cleanser between the more action-packed fantasy reads I usually have on my nightstand.
This is one of those books with a complicated story that takes place over one day. I'm usually a fan of that concept, a moment in time kind of thing where you are pinpointing all the things that went well or the things that didn't so well. In Real Life was just that. The highs and lows of a really memorable day. Honestly it will probably take you as much time to read this book as the timeline of the book. This is a pretty short book that comes in at only 250 pages and it is the kind of thing that you can devour in a single day. It was incredibly fast moving and interesting as the characters impulsively drive to Vegas for an adventure. Of course there was a bunch of drama and shenanigans along the way which added to the enjoyment. It's not often that I can picture contemporaries as movies but this one seemed like it would make a really fun movie. It was a fun and engaging plot that had me entertained from start to finish.
But I didn't totally love the characterizations. The characters on the whole were fine. Hannah was likeable enough. I appreciated her awkwardness and uncertainty as she her final year of high school was winding down. It felt honest and realistic. But her lack of communication felt grating at times and being in her head made me want to shake her and tell her to just use her words. And while I understand why she was hesitant, it got old fast. And her development, while good, felt forced.The metaphor for her realization at the end was the most literal and loosely veiled thing I have read in a long time. And the rest of the characters felt like a bit one note. Nick, the romantic lead and virtual BFF was sweet and fun but I didn't quite get the "alternative" vibe from him, although that was actually kind of nice and made him less of a stereotype unlike some of the other band members. Hannah's friend Lo was nice but not super memorable and the same can be said for her sister. They didn't get a lot of screen time and that may have hurt them. Maybe I'm becoming more of a character-driven reader but usually the characters don't bother me as much but here it didn't work.
But I did like the relationships in this book. The romance in particular. It was a really cute friends to more kind of thing. The affection that Hannah and Nick felt for each other was adorable. I loved their banter and their awkward flirting and crushing. It was a great slowburn that was worth the wait. And I liked that it wasn't a whole catfish/we haven't met and I'm keeping secrets kind of thing. You could tell they genuinely knew each other well and had a strong affection for one another. And honestly, I felt that the other relationships were really honest. Nick and his brother constantly fighting but caring for the other person when it came right down to it, Hannah's sister Grace pushing her into something and then standing by while she struggles to make her way and then catching her when she falls. That's how siblings are. And the relationship between the main characters and ther friends was great too. They wanted to do their own things but have their friends along for the ride and talk to them all about it after. That too felt really honest. I think one of the things this book did really well was the intrapersonal relationships.
On the whole this was a fast and fun book that was good break between the serious and emotional fantasy and historical fiction reads that I have been reading lately. It had an interesting and engaging plot and great relationships despite characters that didn't quite jump off the page.
I give In Real Life by Jessica Love an 8 out of 10



Buy/Borrow/Bypass:

Buy/Borrow.

This was a cute and fluffy read that I think fans of contemporary romances ala Stephanie Perkins and Morgan Matson will enjoy. If you are looking for a fun one shot to cleanse the palate check this out.

Have you read In Real Life? What did you think? Leave me a comment with your thoughts. Thanks for stopping by and HAPPY READING!