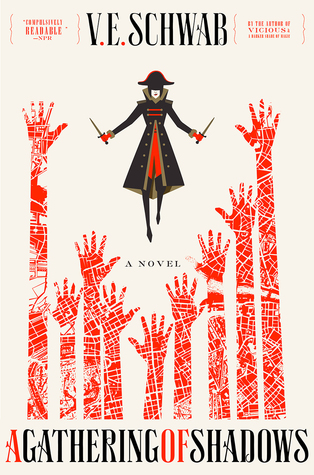 Title: A Gathering of Shadows
Series: Shades of Magic #2
Written by: V.E. Schwab
Published: February 23, 2016 by Tor (Macmillan)
(
Amazon
/
Goodreads
)
Synopsis: Four months have passed since the shadow stone fell into Kell's possession. Four months since his path crossed with Delilah Bard. Four months since Rhy was wounded and the Dane twins fell, and the stone was cast with Holland's dying body through the rift, and into Black London.
In many ways, things have almost returned to normal, though Rhy is more sober, and Kell is now plagued by his guilt. Restless, and having given up smuggling, Kell is visited by dreams of ominous magical events, waking only to think of Lila, who disappeared from the docks like she always meant to do. As Red London finalizes preparations for the Element Games—an extravagant international competition of magic, meant to entertain and keep healthy the ties between neighboring countries—a certain pirate ship draws closer, carrying old friends back into port.
But while Red London is caught up in the pageantry and thrills of the Games, another London is coming back to life, and those who were thought to be forever gone have returned. After all, a shadow that was gone in the night reappears in the morning, and so it seems Black London has risen again—meaning that another London must fall.
GIVE ME A MINUTE! I have still not come to terms with the way this book ended and it's been 72 hours. I mean it was absolutely brilliant and an amazing sequel to a book that I loved but I want more, I need more. I am ravenous in my desire for these characters, this world, and the knowledge about them.
My favorite thing about this book is the characters. I fell for them in A Darker Shade of Magic and in A Gathering of Shadows I fell deeper in love with them and their darkness and complexity. The main characters in this book are dealing with the backlash of what happened in the first book. Kell has always been serious and cautious and after what happened in the first book he is even more so but he also has some reckless moments that lead to some more consequences. It was great seeing Kell at his best and his worse. But it was even better to see Lila in the same capacity. She's such an amazing roguish character which I especially love because she's female. Here we get to see her as a for real pirate which was amazing. She's tough, smart, and snarky. She has some great development in this book and I am so excited to learn more about her history and her relationship with magic. Then there is Rhy. He takes a more prominent role here and it's amazing. He's sweet and funny but being in his head you get this sense that he will never be enough. And the pain of what happened in the last book is still wearing on him and taking away some of his effervescence. It made him all the more sympathetic. But there were also some great new characters like Alucard Emery who is even more of a lovable rogue. He's a charming pirate who's a brilliant element magician who has great relationships with all our characters.
In fact it's these relationships that make the characters even more fantastic. If you were to ask who I shipped in this book I would say that everyone. I ship a polyamorous love fest between all the characters. Their interaction as so brilliant. There is so much going on between all of them. Kell and Rhy have such an great relationship, you could call it a bromance or brotherly love but it doesn't matter as long as you admit it's amazing. Despite some challenging moments it comes out even stronger and you know they will always be there for each other. And despite the fact that Kell and Lila are apart, you get the same sense from those two. They spend a lot of the book pining for one another and when they are together they fought a lot but they make such a good team. Then there is Alucard who has a great friendship with Lila and history with Rhy that makes for a delightful reunion much to Kell's chagrin and my pleasure. Some of the relationships definitely get tested here bur it makes for such a complex book.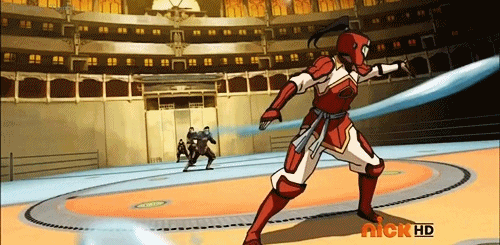 Other than the characters, I have always been blown away by Schwab's world building and her ability to create interesting and complex worlds. She once again proved that she is a master at crafting a fantasy world in this book. In AGOS we spend most of our time in Red London but there are some great moments in Grey London and White London that add context and intrigue to the larger plot of the book. But here the exploration wasn't so much about the other worlds, but the magic of the world. Magic has always been kind of a dark force here. And though there was less focus on power and control there were moments about the negative affects of magic on people. It has it's benefits but as Kell often reminds us, it comes at a price and we have to treat it with respect. The best part of the magic though was that we get to see much more elemental magic with the Essen Tasch, or Elemental Games. It had a very Avatar: The Last Airbender (like very Legend of Korra pro-bending) feel to it which was amazing and the fight scenes were fantastic and action packed moments that kept me on the edge of my seat. I continue to be blown away by the world(s) of this series and I cannot wait to explore it more in the next and final book.
And while I did really enjoy the plot development of AGOS, it was the part of the book that I didn't enjoy as much as the rest. This very much felt like a middle book in a trilogy. It connected events from the first book in what is sure to be an epic conclusion to the series but it didn't have as much of it's own self-contained plot which I usually prefer when it comes to books in a series. And yes, that individual plot point of Essen Tasch was great and interesting, that was only the tip of the iceberg for the plot of this book. But in general I felt like at times this was asking more questions than it was answering. And it definitely dragged out some reveals for questions that were brought up in the first book. Not to mention that cliffhanger that left me staring at the book in desperate need of more words. But that being said, it was full of action and adventure and crazy plot twists that had me shocked and excited, including the ones that I predicted.

On the whole this book was a brilliant sequel to a phenomenal book. This series is absolutely a new favorite for me and I cannot wait to see where it goes. It is full of amazing and complex characters, a interesting world full of dark magic, and a plot full of mystery and adventure.

Buy/Borrow/Bypass

: BUY!

If you loved A Darker Shade of Magic than you absolutely need to read this book for more of Kell, Lila, Rhy, and the magic of Red London. If you haven't read ADSOM and you like fantasy then don't even think twice about picking this book up. It's brilliant and amazing.

Have you read A Gathering of Shadows? What did you think? Leave me a comment with your thoughts. Thanks for stopping by and HAPPY READING!