A weekly meme hosted by
Breaking the Spine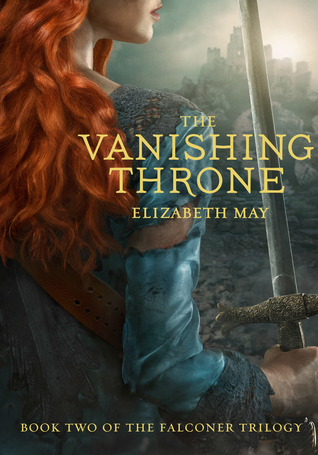 Title: The Vanishing Throne


Series: The Falconer #2
Author: Elizabeth May

Published: June 7, 2016 by Chronicle




Synopsis: The second book in the Falconer trilogy is packed with surprises and suspense.

Aileana Kameron, the Falconer, disappeared through the portal that she was trying to close forever. Now she wakes up in the fae world, trapped and tortured by the evil Lonnrach. With the help of an unexpected ally, Aileana re-enters the human world, only to find everything irrevocably changed. Edinburgh has been destroyed, and the few human survivors are living in an uneasy truce with the fae, while both worlds are in danger of disappearing altogether. Aileana holds the key to saving both worlds, but in order to do so she must awaken her latent Falconer powers. And the price of doing that might be her life.

Rich with imaginative detail, action, fae lore, and romance, The Vanishing Throne is a thrilling sequel to The Falconer.

It's been almost two years since I read The Falconer. And the wait for this book has been so painful. I mean if you read The Falconer then you know why it's been so painful. That was without a doubt the meanest cliffhanger I have ever experienced. Who ends a book at the climax! WHO? Elizabeth May that's who. Because that's exactly what happened in The Falconer. Just as the main character was about to do something huge, the book ends. It was one of those times where you're flipping through the book like "wait, where are the rest of the pages. That can't be it. THERE MUST BE MORE." And it will be over two years before the more.

Plus everything about this book is totally up my alley. Well, not everything. I mean it does deal with fae which I am usually hit or miss for but here it really works. I love the dark fairies that are in this book and the antagonist in particular is very interesting. Plus it's a subtle steampunk world which I love and the main character is the kind of kicking ass in a dress kind of hero which I can get behind.

I received an ARC of this book from the publisher months ago but I'm being good and waiting to read it closer to release date. But I honestly can't wait much longer.