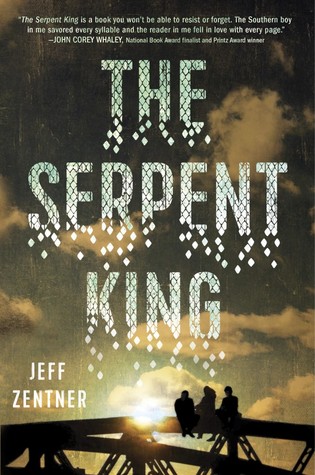 Title: The Serpent King
Written by: Jeff Zentner
Published: March 8, 2016 by Random House
(
Amazon
/
Goodreads
)
Synopsis: Dill has had to wrestle with vipers his whole life—at home, as the only son of a Pentecostal minister who urges him to handle poisonous rattlesnakes, and at school, where he faces down bullies who target him for his father's extreme faith and very public fall from grace.
He and his fellow outcast friends must try to make it through their senior year of high school without letting the small-town culture destroy their creative spirits and sense of self. Graduation will lead to new beginnings for Lydia, whose edgy fashion blog is her ticket out of their rural Tennessee town. And Travis is content where he is thanks to his obsession with an epic book series and the fangirl turning his reality into real-life fantasy.
Their diverging paths could mean the end of their friendship. But not before Dill confronts his dark legacy to attempt to find a way into the light of a future worth living.
*** I received an advance copy of this book from the publisher via Netgalley. This fact has not changed my opinion. ***
This is one of those books that while not necessarily being very hyped, has amazing reviews from people within the blogosphere. It's not my typical read but it sounded interesting and because of the great reviews I decided to give it a try. I'm glad that I did because this was a deep and emotional read that I really enjoyed.
For one thing. the author does a great job of setting the scene in this book. It is a look at small town life but unlike a lot of books, it's a darker and grittier look. I'm not from the South so I can't speak to the accuracy of that setting but I did grow up in a small town. I know what it feels like to think you're trapped in a dead end place where you don't fit in. That's the sense that you get from this book. It's a place where people don't leave and just wanting to makes you unpopular and unlike other people. Plus the town itself was so well described. You can perfectly visualize the dilapidated houses, the train bridge, and the small businesses where everyone works. You really felt how it was ugly and beautiful at the same time. It was so descriptive in setting the stage for the book and the town of Forrestville definitely came alive in the eyes of the characters.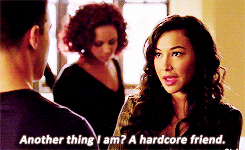 Speaking of the characters, they were the heart of the story. The book alternated perspectives between three very different characters, Dill, Lydia, and Travis. They were each different kinds of artistic types who didn't fit in but found solace in each other. They're not your typical band of misfits but they have that quality. Dill and Travis definitely didn't have an easy life. Things were not good and home or at school and you felt for them. Lydia was different though. She had a way out. But she was the tough and sassy female character that you support for standing up for the others with her quick wit. The best part was probably the friendship with the three MCs. You could feel the deep connection they had for one another and that no matter what happened to them, they would be there for each other. But there were also not so healthy relationships as part of this book. About half of the parents in this book are not particularly kind to their children. They have high expectations or are just generally taking out their frustrations on their children. It makes for a lot of drama throughout the book and makes it even easier to connect with the characters. But that connection makes it an even more emotional read. These are characters I related to and liked so seeing bad things happened to them was painful.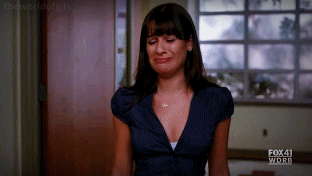 And painful things did happen. The Serpent King is the kind of book that works it's way deep into your soul and your consciousness without you even realizing it. Zentner's prose is both beautiful and tragic in a way that is so impactful. You're going along reading, minding your own business, and all of a sudden you are so deeply hooked that you are feeling things that you never expected. Feeling lots of things. This book is a roller coaster ride of emotion. Because you guys, the one thing that's for sure about this book is it's a sad book. It's sad on purpose, something I don't often enjoy reading. But it's a dark and difficult look at life. There were about 50 pages toward the end that I was openly sobbing through. But that's just because I was so deeply connected. And it did manage to bring itself back up out of that cloud of sadness in the end. I've seen some reviews call it hopeful at the end and that is completely accurate. I don't usually read books that are sad on purpose but I'm glad I did read this one because it was a good read.

But it does have a bit of a slower start. I don't read a lot of contemporary books and I'm not usually big on character driven narratives. The Serpent King is that kind of read. The whole first two-thirds of the book was just kind of setting the scene and developing the characters. It wasn't that it was boring, it just wasn't exactly a page turner. At least not until the last 100 pages. At that point I was so hooked I needed to keep reading to find out what would happen next. I read the first half of the book in three days and then finished the second half in a day. Although even then I read it at a bit of a slower pace but that was mostly because I found myself having to stop periodically to compose myself from all the crying.

On the whole, The Serpent King is a fantastic read. It's a slice of life kind of book but that life is far from easy. The writing is gorgeous and it will work it's way into you soul and then rip your heart out with feels but you'll gladly have your heart broken.




Buy/Borrow/Bypass:

Buy/Borrow.

I would absolutely recommend this book to fans of more serious contemporary. It's a compelling and emotional read that is not to be missed. And if you are planning to read it, grab the tissues.

Have you read The Serpent King? What did you think? Leave me a comment with your thoughts. Thanks for stopping by and HAPPY READING!