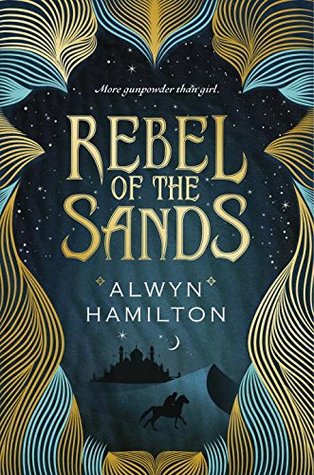 Title: Rebel of the Sands
Series: Rebel of the Sands #1
Written by: Alwyn Hamilton
Published: March 8, 2016 by Viking Books for Young Readers (Penguin Group)
(
Amazon
/
Goodreads
)
Synopsis: Mortals rule the desert nation of Miraji, but mythical beasts still roam the wild and remote areas, and rumor has it that somewhere, djinn still perform their magic. For humans, it's an unforgiving place, especially if you're poor, orphaned, or female.
Amani Al'Hiza is all three. She's a gifted gunslinger with perfect aim, but she can't shoot her way out of Dustwalk, the back-country town where she's destined to wind up wed or dead.
Then she meets Jin, a rakish foreigner, in a shooting contest, and sees him as the perfect escape route. But though she's spent years dreaming of leaving Dustwalk, she never imagined she'd gallop away on mythical horse—or that it would take a foreign fugitive to show her the heart of the desert she thought she knew.
Rebel of the Sands reveals what happens when a dream deferred explodes—in the fires of rebellion, of romantic passion, and the all-consuming inferno of a girl finally, at long last, embracing her power.
In addition to having a written review for this book, it is also the review for this month on Please Feed My Bookworm Thoughts, a podcast with me and
Britt from Please Feed the Bookworm
. SO if you would rather listen to the review scroll down for the embedded audio or head over to
Soundcloud
or
iTunes
to listen to our joint review.
This was one of my most anticipated debuts of 2016. It's a total me book. I mean it's a YA fantasy with a Western-style world in a Middle Eastern setting with a magical system based on mythology and a tough female protagonist. And I was so glad this book lived up to my expectations.
For one thing, I absolutely love the world of this book. There are times where authors put a lot of different things together and it makes for a messy setting but her it worked so well. The high fantasy Western in a Middle Eastern dessert setting all worked together to make something so compelling. I heard on a podcast where the author disgusted how the two parts of the world were in conflict with one another and that really added so much drama to the world. I also really liked the way that the magic slowly creeped its way in as the book developed. And the magic was so interesting too. It was my favorite kind of magical system where each character has their own specific magic that was kind of like a super power. All of this combined to make a fantastic world that I loved.
The characters too were complex and interesting. The main character of Amani is the kind of protagonist I love. She's tough, smart, and subverts gender norms. I loved seeing her develop throughout the book. Then there was the male lead, Jin, a mysterious foreigner who was full of secrets. He was interesting enough but I think for he kind of blended in with some of the other characters. While their romance didn't totally blow me away, I loved seeing them work together as a team and learning more about Jin and his past. But there was also all kinds of great secondary character that added a lot of interesting drama and relationships to the book. And while I liked getting to know the characters throughout the book there were a lot of them and it often got hard to keep them straight. Other than Amani and the villains who were incredibly diabolical, I didn't really connect with a lot of the other characters who just kind of blend to together in my head.
But I think what struck me most about this book was the plot development. This is definitely an action-packed book. There is so much adventure and narrow escapes. Hamilton's writing was so engrossing and compelling and was honestly really well-plotted. It's a book that slowly builds to a thrilling conclusion that was so satisfying because little things from the beginning of the book had a big impact on the ending. I am usually good at solving twists and every times something was revealed in this one it caught me totally off guard. And it's not that there weren't clues, I just didn't pick up on them. But this book was just so full of amazing mystery. I can't wait to see where it all leads in the rest of the series.
My only criticism is with the pacing. It was very up and down. There would be some huge bit of action and then forty pages of travel monologues before very little would happen. And then sometimes a chapter would end with a bang and then pick up days later with out any discussion of the timeline. It was jarring at times. And it honestly made me drag my feet when it came to finishing the book. I reached a point where I had to put it down and read something else but I'm so glad that I went back to it because the last pages were so fantastic.
On the whole this is an incredible debut and a thrilling read that I absolutely loved. I love it when books exceed expectations and that's what this book did. It had a fantastic setting, a great main character, and a thrilling plot full of action and mystery.
I give Rebel of the Sands by Alwyn Hamilton 9.5 out of 10 stars



Buy/Borrow/Bypass:

Buy.

This is a great debut and a fantastic start to a YA fantasy series that I am really excited to continue. I would absolutely recommend this book, especially to fans of fantasy or anyone looking for an action-packed read.

And for more of my thoughts on this book, thoughts from Britt, and some spoilery details check out our most recent podcast.

And speaking of podcasts, I have some great news! You can now listen to

Please Feed My Bookworm Thoughts on iTunes

so check us out there and subscribe for all the podcasts as soon as they come out.

Have you read Rebel of the Sands? What did you think? Leave me a comment with your thoughts. Thanks for stopping by and HAPPY READING!