Wow! I had a really fantastic reading month. The shortest month of the year and I read more books than I did in any month last year. To be fair there were a few comics, novellas, and short reads in the pile but still, a victory is a victory. The highlight of my month was once again being blown away by some highly anticipated reads. Most of the books I read too were good 4 star reads, although there were a few disappointments, and a few that were even better than I expected. I read a total of 16 books this month which is amazing. There was 12 new books this month and 4 rereads.
As far as challenges go, I'm doing well. YAY! I actually ahead for my Goodreads goal of reading 150 books this year, which I want to bask in because I don't it will stay that way. Thanks comics and novellas! I'm also ahead of my goal for the
Debut Author Challenge
of reading 25 debuts by reading 5 debuts this month for a total of 7 for the year. I'm also ahead for the
Netgalley/Edelweiss Challenge
having read 5 more books for that challenge reaching a total of 8 towards my goal of 36, that secondary goal of 50 may be possible if I keep this up. And I'm also on track for the
TBR Pile Challenge
by reading two books for that this month getting a total of 4 towards my goal of 25 for the year. And finally, a new challenge for me this year, the Audiobook Challenge. I listened to 5 audiobooks this month including rereads, giving me a total of 7 for the year which is on track for my goal of 30 or more. I am killing these challenges so far which is a great way to start the year.
But let's get to the good stuff...
2.) The Abyss Surrounds Us by Emily Skrutsie
Rating: 9 out of 10 [
My Review
]
3.) Salt to the Sea by Ruta Sepetys
Rating: 9 out of 10 [
My Review
]
4.) Blackhearts by Nicole Castroman
Rating: 8.5 out of 10 [
My Review
]
5.) Rebel Bully Geek Pariah by Erin Jade Lange
Rating: 8.5 out of 10 [
My Review
]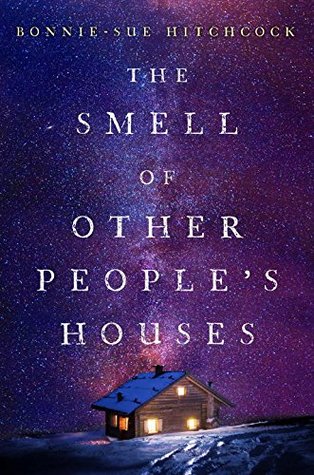 6.) Revenge and the Wild by Michelle Modesto
Rating: 7.5 out of 10 [
My Review
]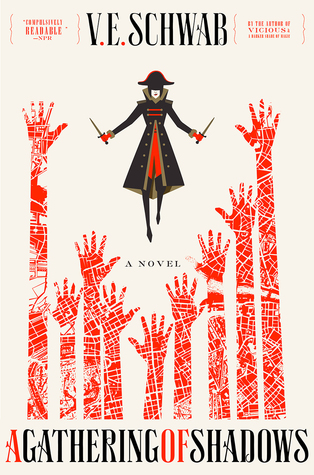 7.) Calamity by Brandon Sanderson
Rating: 10 out of 10 [
My Review
]
8.) The Girl from Everywhere by Heidi Heilig
Rating: 8 out of 10 [
My Review
]
9.) The Smell of Other People's Houses by Bonnie-Sue Hitchcock
Rating: 9.5 out of 10 [
My Review
]
10.) The Lies of Locke Lamora by Scott Lynch
Rating: 8 out of 10 [
My Review
]
11.) The Royal We by Heather Cocks and Jessica Morgan
Rating: 9 out of 10 [
My Review
]
12.) Lumberjanes by Noelle Stevenson, Grace Ellis,
and Brooke E. Allen
Rating: 9 out of 10
12.) A Gathering of Shadows by V.E. Schwab
Rating: 9.5 out of 10 [Review to Come]
Rereads:
13-15.) The Reckoners Trilogy by Brandon Sanderson
[
Reread Review
]
16.) A Darker Shade of Magic by V.E. Schwab
[
Reread Review
]
To Be Read in March: Retellings
My March theme month is another exciting one. I love a good retelling and I'm really exciting about some of these books. There is a great balance between fairytales, folklore, and Shakespeare. There is also a good balance between genres which is exciting. There are also some amazing new releases coming this month that I'm so so excited to read. As usual I have my definite reads including review copies and new releases that I have preordered, then my potential reads that I may or may not read depending what I have time to read. I'm not sure I can keep this reading rate up but either way, it's going to be another great month, I can feel it.
1.) In Real Life by Jessica Love
-
Add to Goodreads
This is not a retelling but it looks like an interesting contemporary. I'm about a third of the way in and I'm liking it so far. It's fun and fluffy. Thanks St. Martins!
2.) Charmed by Jen Calonita
-
Add to Goodreads
This will also be fluffy. It's the second book in the Fairy Tale Reform School series which I read last year and really liked. It's a cute MG fairy story about villains rubbing a boarding school. Thanks Sourcebooks!
3.) The Steep and Thorny Way by Cat Winters
-
Add to Goodreads
My first Cat Winters book and I can't wait! She's been on my list for awhile. Plus gender-bent, diverse Hamlet set in Oregon in the 1920's. How cool is that! Thanks Abrams!
4.) The Serpent King by Jeff Zentner
-
Add to Goodreads
This is a standard contemporary but it sounds good and I've heard great reviews from people. I have heard that it's emotional and that slightly worries me but I'm excited. Thanks Random House!
5.) Rebel of the Sands by Alwyn Hamilton -
Add to Goodreads
I'm so excited about this debut. I've heard really good thing about it and it sounds right up my alley. It's both a Western and set in a Middle Eastern setting with folklore and fantasy elements. I'm so excited to read it.
6.) The Skylighter by Becky Wallace
-
Add to Goodreads
The Storyspinner was one of my favorite books of 2015 and so it's sequel is obviously one of my most anticipated reads. I flailed so hard when I got a copy in the mail. Thanks Simon!
7.) Exit, Pursued by a Bear by E.K Johnston
-
Add to Goodreads
This sounded interested, I mean it's marketed as Veronica Mars meets Shakespeare but I wasn't really excited until I read a preview and it is fantastic! The voice is amazing and I need to know what happens next.


8.) Tell the Wind and Fire by Sarah Rees Brennan
-
Add to Goodreads
This is a modern retelling of A Tale of Two Cities with magic so I'm on board. I've seen some mixed reviews but I'm interested so I snagged a copy on Negalley. Thanks HMH!
So those are the books that I have planned. I'm still trying not to plan out too many reads and keep some backup books in case I have holes in the schedule. I have a few potential or backup books that I may end up reading as well.
The Winner's Trilogy by Marie Rutkowski:
The Winner's Curse
,
The Winner's Crime
The final book in this trilogy is coming out at the end of the month so I'm getting ready by reading the first two books to refresh my memory and marathon it.

Scarlet by A.C. Gaugen
-
Add to Goodreads
Beauty by Robin McKinley
-
Add to Goodreads
Briar Rose by Janet Yolen
-
Add to Goodreads
Stars Above by Marissa Meyer
-
Add to Goodreads
Elantris by Brandon Sanderson
-
Add to Goodreads
The Passenger by Lisa Lutz
-
Add to Goodreads
There you have it. All the books I plan to read in March and a few potential reads. What are you reading this month? Are there any of the same books on your list? Have you read any of these? Leave me a comment with your thoughts. Thanks for stopping by and HAPPY READING!