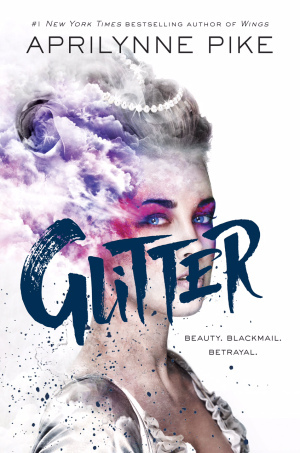 Title: Glitter
Written by: Aptilynne Pike
Published: October 25, 2016 by Random House Books for Young Readers
(
Amazon
/
Goodreads
)
Synopsis: From #1 New York Times bestselling author Aprilynne Pike comes a truly original new novel—Breaking Bad meets Marie Antoinette in a near-future world where the residents of Versailles live like it's the eighteenth century and an almost-queen turns to drug dealing to save her own life.
Outside the palace of Versailles, it's modern day. Inside, the people dress, eat, and act like it's the eighteenth century—with the added bonus of technology to make court life lavish, privileged, and frivolous. The palace has every indulgence, but for one pretty young thing, it's about to become a very beautiful prison.
When Danica witnesses an act of murder by the young king, her mother makes a cruel power play . . . blackmailing the king into making Dani his queen. When she turns eighteen, Dani will marry the most ruthless and dangerous man of the court. She has six months to escape her terrifying destiny. Six months to raise enough money to disappear into the real world beyond the palace gates.
Her ticket out? Glitter. A drug so powerful that a tiny pinch mixed into a pot of rouge or lip gloss can make the wearer hopelessly addicted. Addicted to a drug Dani can sell for more money than she ever dreamed.
But in Versailles, secrets are impossible to keep. And the most dangerous secret—falling for a drug dealer outside the palace walls—is one risk she has to take.
*** I received an advance copy of this book from the publisher via NetGalley in exchange for an honest review. This fact has not changed my opinion. ***
I really wanted to love this book. Glitter seemed like a book totally up my alley, a unique setting that combined history and science fiction and unlikable characters. It should have been a great read but unfortunately it didn't really work.
One thing that did work was the setting. I really liked the interesting way that the author combined historical fiction and dystopia. The French court of Louis XVI and a crazy conglomerate company in the near future worked together so well. It had a really great historical feel to it with the fashion and culture of era. But the more interesting part to me was the business stuff. In some respect of felt like we were seeing a dystopia from the perspective of the oppressors which was cool. But I think I would have like to explore that side of things more.
I think for me, the pacing of the book is what didn't work. This was a book that was developing while at the same time keeping things a little too close to the vest. I wasn't sure where it was going and what was happening until very late in the book. And I mean VERY late. It took way too long to get the climax. So long that the book was almost over and it still hadn't gotten there. It felt to me like it was off the rails and then just quickly jumped back on at the very end.
You see the plot of this book was mostly independent of the more traditional dystopian stuff. It was a character-driven story about a girl who is trying to break out of her really bad situation. It's not that this wasn't interesting, I just think after awhile it seemed both overly-dramatic and not dramatic enough. There was definitely a lot of complex and interesting things that were happening throughout the book but they just didn't get that much attention. Even things that you would expect to have a huge sway in the characters behaviors and psyche were glossed over for what felt like more superficial things. I think I just wanted something more out of it than it gave me.
But I think that the plot development could have been okay if I had liked the characterization a little more. These were pretty unlikable characters. And don't get me wrong, I like unlikable characters. I like when people do terrible things, but I need to understand why. And in some respects I understood Danica. I understood why she so desperately wanted to get away from the king. But I didn't understand why she was so uncaring about everyone else. When she did start to care it just felt like it was too little to late. But the thing I understood the least was the romance. Oh gosh, it was so cliche. It was instalove and it was eye roll inducing. The characterization here just didn't work for me and this is a character-driven read so it really got in the way of my enjoyment of the book.
In the end, I just think this one didn't work for me. It had a compelling world but the plot and pacing were too convoluted and not dramatic enough for me and the characterizations really made it not for me.
I give Glitter by Aprilynne Pike 6 out of 10 stars



Buy/Borrow/Bypass

: Bypass.

Like I said, I really wanted to love this book. It has such a brilliant and it could have been amazing, it just didn't quite get there for me. I think being such a plot driven reader I just needed more from that. If you are into more character-driven books and like unlikable characters maybe check this out.

Have you read Glitter? What did you think? Leave me a comment with your thoughts. Thanks for stopping by and HAPPY READING!