*** This is the third book in a trilogy. If you have not read
The Young Elites
and
The Rose Society
proceed with caution during this review for read of spoilers. Also... READ THEM! They're amazing.***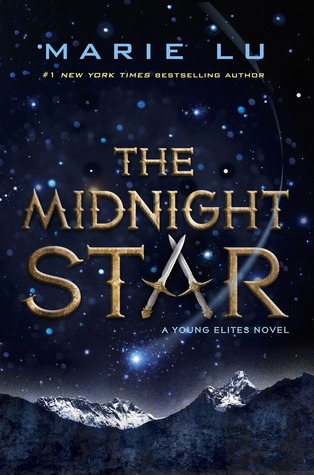 Title: The Midnight Star
Series: The Young Elites #3


Written by: Marie Lu




Published: October 11, 2016 by G.P. Putnam's Sons Books for Young Readers (Penguin Group)




(

Amazon

/

Goodreads

)



Synopsis: The thrilling finale to the New York Times bestselling Young Elites series from "hit factory" Marie Lu.



There was once a time when darkness shrouded the world, and the darkness had a queen.





Adelina Amouteru is done suffering. She's turned her back on those who have betrayed her and achieved the ultimate revenge: victory. Her reign as the White Wolf has been a triumphant one, but with each conquest her cruelty only grows. The darkness within her has begun to spiral out of control, threatening to destroy all that she's achieved.





Adelina's forced to revisit old wounds when a new danger appears, putting not only Adelina at risk, but every Elite and the very world they live in. In order to save herself and preserve her empire, Adelina and her Roses must join the Daggers on a perilous quest—though this uneasy alliance may prove to be the real danger.





Bestselling author Marie Lu concludes Adelina's story with this haunting and hypnotizing final installment to the Young Elites series.

I knew going into this book that it was going to be fantastic and would wreck me, which is exactly what it did. I loved the first two books in the series, they have been among my favorites of the year so I was nervously anticipated the ending of the series. And it did not disappoint, The Midnight Star was just as amazing and dark and emotional.

My favorite thing about this series and one of the major reasons this book was so good and emotional is the characters. In the course of three books I have become insanely attached to all these characters. For one thing, I love how dark and complex they are. This book has multiple perspectives and it gives a much more well-rounded look at them, which I like. And multiple perspectives is key because every single character in this series is dark, damaged, and devious. They do terrible things but at the same time they are sympathetic. You are able to get inside their head and understand their motivation, however flawed it may be. Because of that you root for them, you want them to succeed, and that's what makes this book so good.

But the main character here and the most symapthetic dark character of all is of course Adelina. I love her SO MUCH. Throughout this series we have seen her at her best and we have seen her at he worst. Here she is absolutely at her best. I went into this book thinking that this was going to be a villain origin story and in some aspects, it is. But what makes this book so good is that it goes deeper than that. And in The Midnight Star we are taken deeper still. I don't want to give too much away but there is such great development here with Adelina. I'm not entirely sure that I would call this a villain origin story anymore but I've always felt like Adelina was more of a hero, albeit an antihero, than anything else. She's so likable despite the fact that she does terrible things. And in the end I was so glad that I was rooting for her all along.

But things here are not easy for Adelina, her allies, and her adversaries. Many of the most emotional moments when in this book came from the fact that the characters go through such hardship. The fact that this is the last book in a trilogy it should come as no surprise that the plot is full of thrills and surprises. There is a lot of action and adventure here. I wasn't really expecting an end of the world epic fantasy vibe but there were elements of that. There were also fantastic elements of a Hero's Journey. The two really combined to create a plot that really built to a thrilling conclusion that had me on the edge of my seat and in tears. Not freak you out or anything but I haven't cried this much at the ending of a book in a very long time. But I was openly sobbing here because it was so emotional and so perfect. But that was this book on the whole, emotional and perfect. I absolutely loved it.

I also really love the world of this series. In particular, I find the magical system so fantastic and it was great seeing it at play here. The Elite powers are so interesting and they were very much tied to the plot of the book. In The Midnight Star we got to learn more about the larger reason behind the powers, why they have them, and how they are wielded. We also get to see a lot more about the consequences of the power. It's one of my favorite things when the magic of a series doesn't solve problems, but creates them and that was the case here. The powers and the plot were also really connected with the history and religion of the world which added another interesting later to the world and the story. I loved being in the world so much that I'm not ready to let it go.

The Midnight Star was a great ending to an amazing series. This is without a doubt one of my new favorite YA fantasy series. It complex characters that you will become attached to, thrilling action and a plot full of emotional turmoil, and a fantastic world full of magic.




Buy/Borrow/Bypass:

BUY!

If you liked the first two books in this series do not hesitate, get this one and read it. (Be prepared for feels). And if you have not yet read this series and like dark YA fantasies or villain stories, or books about sympathetic antiheroes, just read this series. It is amazing and this book was the perfecting ending for it.

Have you read The Midnight Star? What did you think? Leave me a comment with your thoughts. Thanks for stopping by and HAPPY READING!